Some of the links listed on this page are affiliate links. This means that, at zero cost to you, we will earn an affiliate commission from the vendor if you click through the link and finalize a purchase. We strive to always keep all our content free to the reader. Thanks.
Campfire cooking kits are a vital component of any successful camping trip. It is easy to become used to your home kitchen with all the amenities you could need. However, when you are out in nature whether tent camping or RV camping, you don't always have the luxury you do with your home kitchen. 


This is where the best campfire cooking kits can come in handy. These kits provide campers with essential items they need to all in a convenient set. You'll be able to cook delicious food while enjoying the smokey taste of food cooked fresh over a fire. 


Types of Campfire Cooking Kits 
The type of heat source you cook over will affect what you are looking for in an outdoor cooking kit. Camp stoves are great for camping trips since they provide a convenient and safe way to cook food quickly. They require some type of fuel, such as propane or wood, which you will need to bring with you. Grills are perfect for making delicious campfire meals like burgers and hot dogs. Our Blackstone griddle is a personal fan favorite for Joel and me. Almost every other RVer I've talked to also loves it. 


Dutch ovens are also excellent cookware to bring on camping trips. They provide a versatile and efficient way of cooking over an open fire or charcoal. You can use Dutch ovens for everything. From one-pot meals, to roasts, casseroles, breads, pies, cakes and cobblers Dutch ovens do it all. So, looking for one in your kit is a smart idea of you like to try different receipes. 


Joel and I have also found it wise to bring along our own portable fit pit. That's because some campsites don't have a fire ring. We love our BioLite smokeless portable campfire pit and have used it to cook many times. 


However, if you don't have a campfire cooking kit, your snazzy new griddle or firepit won't do you much good. Keep reading for the best campfire cooking kits for 2023.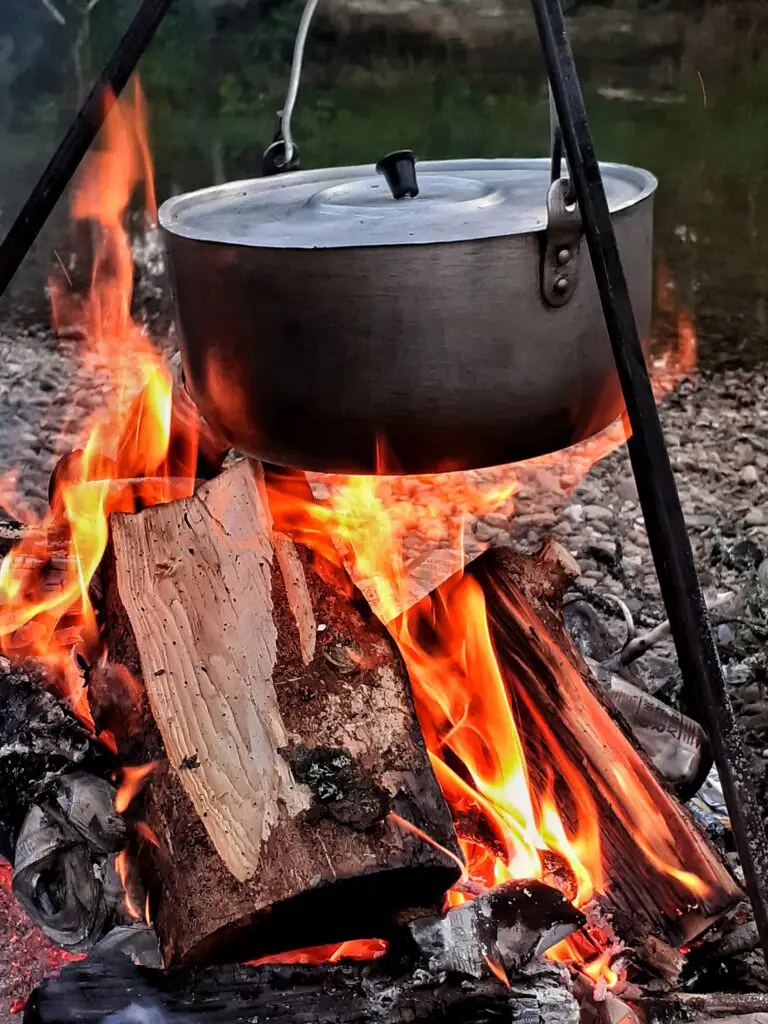 The Best Campfire Cooking Kits
These campfire cooking kits offer the best blend of quality, convenience, and durability. Any of them would be a super choice for your next camping trip. 


The Lodge Pre-Seasoned Cast Iron Campfire Cooking Set
The Lodge Pre-Seasoned Cast Iron Skillet Bundle is the perfect campfire cooking kit for your next outdoor adventure! This set includes everything you need to make delicious campfire meals, including a 12", 10",  and 8" skillets. For the complete campfire cooking kit you can also add on a 5-quart Dutch oven with lid and a care kit.


The set is pre-seasoned and ready to use right out of the box. This means you don't have to worry about seasoning your cookware prior to first use. With this campfire cooking kit, you can whip up delicious campfire meals in no time! 


Plus, it's easy to clean and can be used over a campfire or on a camp stove. The versatility and durability of this set make it a great investment for campers, campfire chefs, and outdoor adventurers. With the Lodge Pre-Seasoned Cast Iron Set, you can enjoy delicious campfire meals anytime! Heck, you could even use it at home. I call that a win-win. 


The Stanley Base Campfire Cooking Kit For 4 
The Stanley Base Camp Cookset For 4 is the perfect campfire cooking kit for campers and outdoor adventurers. With one large durable stainless steel pot and one large frying pan, each with a lid, this cookset lasts through years of campfire cooking. The cookware is scratch and rust-resistant so you don't have to worry about it wearing out. 


The Stanley Base Camp Cookset For 4 is perfect for campfire cooking. Not only does it provide campers with the pots and pans they need to make delicious meals, but it also offers them the dishes and utensils needed to actually eat all everything. All 21 pieces nest inside the pot which you can keep closed with the included bungee. What really sets The Stanley Base Camp Cookset For 4 apart from other campfire cooking kits is its space-saving design. 


All the utensils, dishes, pots, and pans can also be washed by hand or put in the dishwasher when you get home from your camping adventure. That means less time scrubbing and more time exploring. 


Even with all these features, this campfire cooking kit comes in under $100 as of this writing in 2023. 



Snow Peak Multi Compact Cookset
Campfire cooking kits just reached a whole new level with the Snow Peak Multi Compact Cookset. It seems even when you are RVing space is always at a premium. That's where this outdoor cooking kit comes in handy. It is compact and lightweight making it ideal for RV use and also for backpacking or car camping trips. 


This cooking kit comes with everything you need to get started. It has two pots and two pans which also double as the lids for the pots. How cool is that?! The handles on both the pots and pans are also foldable for space-saving storage. They make all the pieces from lightweight titanium for easy transport and durability. Plus, the set even nests together and comes with a mesh storage bag for easy storage in your camp kitchen.


All in all, this set is everything you need to make campfire meals fun and easy in no time.

Stanley Even-Heat Camp Pro Cookset
With the Stanley Even-Heat Camp Pro Cookset, campfire cooking has never been so easy. If you've ever had campfire food that was scorched on the bottom, you'll love the even-heat design of this outdoor cooking kit. 


It comes with everything you need to cook over an open flame or campfire. The Stanley kit includes a 4.75-quart pot, 1.9-quart saucepan, 8.5-inch frying pan, locking lid bungee, collapsible cutting board, spatula, spoon, and two trivets. The unique design of the Even-Heat Camp Pro Cookset allows for even heat distribution. This feature helps to ensure food is cooked perfectly every time. With all these great features, campfire cooking has never been so enjoyable!


Stanley is one of the most longstanding names in camping. That means when you buy campfire cooking kits from this company, you know you'll be getting a quality product. The pots and pans are also dishwasher safe and made of rust-proof stainless steel. Finally, they nest together to save valuable space in your RV, car, or even your backpacking backpack! 


The Even-Heat Camp Pro Cookset comes with a higher price tag. Considering the price of all that burned food you could have otherwise though, you'll probably come out ahead in the end. 

Bruntmor Camping Cooking Set of 7
The Bruntmor Camping Cooking Set of 7 is a campfire cooking kit like no other. It comes with a 12-inch skillet, a 4.5-quart Dutch oven, 2.5-quart saucepot, a cast iron griddle, a trivet and a Dutch oven lid lifter. With the Bruntmor outdoor cooking kit you don't scorch your hands trying to get it out of the fire thanks to the lid lifter. All the pieces come pre-seasoned so you can use them right out of the box. 


The set also includes a wooden storage box that fits everything inside. Cast iron doesn't nest as easily as stainless steel or titanium outdoor cooking kits. If space is a constraint, this may not be the best choice for you. However, if you've got the room, you will certainly cook in style with this campfire cooking kit. Everything is made of heavy-duty cast iron that ensures even heat distribution and long-lasting durability. Plus, the pre-seasoned finish makes it easy to clean and always ready for your next campfire cooking adventure.



GSI Glacier Pinacle Camper Cooking Set 
If you're in the market for campfire cooking kits another one of the best choices is the GSI Glacier Pinacle Camper Cooking Set. Joel and I have a slightly smaller version of this outdoor cooking set. While we don't use it much when RVing, we use it all the time for car camping and backpacking trips. It nests inside itself to fit compactly into your camp trunk or vehicle for easy transport. It is also lightweight, nonstick, and durable. Clean up is also easy which means we don't waste valuable time scrubbing away after each meal. 


The GSI Glacier Pinacle outdoor cooking kit serves 4 people and includes both cooking supplies and mess kits. It comes with four plates, four cups, and four bowls as well as a 2L and 3L pot with a strainer lid for each, and a frying pan. If you're looking for an all-in-one campfire cooking kit, this is it. Not to mention GSI is a well-known and trusted brand in the camping world. Get the GSI Glacier Pinacle Camper Cooking Set today and get ready to enjoy campfire meals with friends and family!


 
Bisgear Camping Cooking Kit 
If you're looking for an all-in-one campfire cooking kit that is lightweight and packable, the Bisgear Backpacking kit is a budget-friendly option. It's made of anodized aluminum and comes with one pot, one pan, two cups, two plates, and utensils. It has everything you need to make campfire meals. This outdoor cooking kit also includes a kettle which is a pretty unique feature in something so small and compact. So if warm beverages are your jam, they made this set for you. 


 The set also includes a mesh bag for easy storage and transportation. Plus, it's so durable that it'll last through years of campfire cooking! So if you're looking for an affordable and reliable campfire cooking kit, the Bisgear backpacking kit is definitely worth considering. It'll make campfire meals a breeze!



MSR Flex 4 Group Camping Cook Set
The MSR Flex 4 Group Camping Cook Set is great for campfire cooking anywhere you want to go! With a 5.3L pot, a 3.2 L pot,  strainer lid, four plates, and four cups, you can whip up delicious outdoor meals for your friends and family. 


This camp cookware set is perfect for camp chefs who like to get creative with their campfire cooking. It's made from hard-anodized aluminum, so it's durable and built to last. It's lightweight enough for campers who like to stay light on the trail, but strong enough to handle any campfire cooking techniques you can think of. Plus, the non-stick coating makes cleanup a breeze! 


This is one of the best campfire cooking kits you can choose and MSR is another reliable outdoor gear company. 

Bruntmor Pre Seasoned Cast Iron 8 Piece Bundle
Cooking with cast iron over a campfire is about as outdoorsy as it gets. Bruntmor makes an 8 piece campfire cooking kit that you won't want to miss. Items that really stand out include the 16-inch pizza pan, double dutch oven, and square grill pan. It also comes with three skillets and a deep frying pan. 


If you're a foodie, this cooking set will let you make whatever you want over the fire. Everything is nonstick and comes preseasoned making set up and clean up a breeze. All the cast iron cookware is also safe to use on a stovetop so you can use it at home and on your next camping vacation. You can use it on any type of surface including induction stovetops and everything is also oven safe. 



Wealers Stainless Steel Campfire Cooking Kit 
An Amazon favorite, the Wealers outdoor cooking kit is another solid choice. It has two pots and two pans that all pack down into a stylish tote bag. The pots are designed to cook hanging over an open fire and come with a lid for each size. The pans have a foldable handle which allows all the items to nest together. 


The entire campfire cooking kit is made of stainless steel making it both durable and lightweight. The pots are also a larger size than some other nesting options. So if you are cooking for a large group, this kit may be the choice for you. 

Bonus The Best Campfire Cooking Utensils Kit: The IRONSTEN Camping Cooking Utensils Set
If you plan to camp with your family or a larger group, you'll also want to consider adding the 40-piece IRONSTEN Camping Cooking Utensils Set. While it is heavier than most cooking utensil sets, the high-quality materials are worth the added weight. This is especially true if you're an RVer with space to spare. This campfire cooking utensil kit has everything you need to make your camping experience complete. 


It includes a spatula, barbeque sticks, steak knife and fork, serving spoons, a cutting board, and more. All the items are made of durable, food-safe materials. This campfire cooking kit is perfect for campers of all experience levels. The pieces are easy to use and store securely in a quality storage bag. 

How Much do Campfire Cooking Kits Cost?
If you're looking for campfire cooking kits, I found out that pricing varies. You can find campfire cooking kits with basic materials for as little as $30 and ones with more high-end tools for over $100. It really depends on what type of camping experience you're hoping to create. 


As you can see from the best campfire cooking kits above, most cost around $100 and up. Although the price tag is higher, in the long run you will save you money. That's because they will last longer than something cheap. Joel and I received our GSI campfire cooking kit for our wedding seven and a half years ago. It is still going strong and not even close to needing a replacement!


How to Store Food and Campfire Cooking Kits Safely While Camping Outdoors
When camping outdoors, it's essential to store your food and cookware properly in order to avoid attracting animals, pests, and bacteria. Here are a few tips for keeping yourself safe:


– Store food away from sleeping areas. A good rule of thumb is to set up camp at least 100 meters away from where you plan to store food. This will help you avoid attracting wildlife and pests.

– Hang your food on a tree branch or use a bear canister if necessary. Bear canisters are airtight containers that are designed to keep bears away from your food.

– Put any leftovers in sealed containers and store them in the cooler or an airtight bag.

– Clean up after every meal and dispose of any food waste away from the campsite, preferably in a designated area. This will help you avoid attracting wildlife to your camp.

– Keep all cooking equipment clean and store it away from food items when not in use.


By taking these precautions, you can ensure you store your food safely while camping outdoors.


Other Things to Consider to Pick The Best Campfire Cooking Kit
For picking campfire cooking kits, there are a few special factors worth considering. Weight is important for backpackers who don't want to lug a heavy load around with them. Look for lightweight materials such as aluminum or titanium that still provide durability. Choose high-quality materials that won't scratch easily and can withstand the flames of campfires – no one wants metal scrapings in their dinner! 


You should also look for campfire cooking kits that are easy to clean – having a kit with removable parts or components can make cleaning much easier. RVers may not need to worry about weight as much, but they still should prioritize materials and ease of cleaning when choosing the right campfire cooking kit. 


Also consider the size of your group. If you're cooking for two, you probably don't need three skillets and three pots. If you have a sizeable group to cook for, choosing a campfire cooking kit with larger pots and pans will ensure everyone has enough to eat. 


Benefits of Campfire Cooking Kits
Having a camping cooking kit is really useful for any outdoor adventures you may have. With the right tools and equipment, you can create delicious meals and snacks in the outdoors. Plus, having a designated camping kitchen means you don't need to worry about packing up a ton of supplies and gear from your house each time you go out. 


All you need is your campfire cooking kit, and you're ready! So why not get yourself a camping cooking kit today and start planning your next outdoor adventure? Let the fun begin!
 Facebook Comments
One moment, please. If the comments fail to load, FB may have been too slow responding so try reloading.