Some of the links listed on this page are affiliate links. This means that, at zero cost to you, we will earn an affiliate commission from the vendor if you click through the link and finalize a purchase. We strive to always keep all our content free to the reader. Thanks.
If you want to ensure a smooth RV road trip, RV Trip Wizard should be on your radar. This website is part of the RV Life suite of tools designed by RVers for RVers. 


Ready to say goodbye to sketchy routes from Google Maps? Or gas stations you could never fit your rig into? Read on to find out how you can do just that! 


What is RV Trip Wizard?
RV Trip Wizard a great tool for RVers who want to plan the perfect road trip. With it, you can find all of the best RV parks. It takes your RV membership into account when you are planning your route as well. This means if you have a Good Sam membership you can search for member campgrounds. Have a Thousand Trails membership? You can search for that too! It is even possible to customize features to make sure your experience is tailored specifically to your rig. You can do this by entering details regarding your RVs length and weight as well as if you need to avoid any specific tunnels due to having propane.


Plus, you can use RV Trip Wizard to look up overnight parking spots, gas stations, and points of interest near your route. This way you can be sure that you won't miss out on any fun activities. It's also great for budgeting purposes since it has a cost estimator that lets you fill in your RV's gas mileage details to get an idea of how much your trip will end up costing.


This RV trip planner is a great tool for any RVer, whether you're planning your first trip or your fiftieth. So if you want to make sure that your next big road trip goes off without a hitch, look no further than RV Trip Wizard!

How Much Does RV Trip Wizard Cost?
The great news is that this amazing tool only costs $59 a year! And the even better news is that there's a 7-day free trial. So you can check out all of the features before committing for an entire year.


For this price, you also get access to RV Life Maintenance, a one-stop shop for keeping your RV in tip-top shape. 


Why Should I Use RV Trip Wizard?
If you're an RV enthusiast, then RV Trip Wizard is a great way to plan your journey and keep your family safe. With this program, you can avoid routes that are hazardous for RVs, saving you time and worry. Plus it's super easy to use! It integrates with Google Maps and other GPS options to give you turn-by-turn directions. So, no more getting lost trying to find your destination – RV Trip Wizard has got you covered! So, if you're looking for an easy and safe way to plan your RV trip, this is it.


Many RVers who use RV Trip Wizard also recommend cross checking the route with Google Maps prior to leaving. You can see if the route is the same and make sure you end up exactly where you want to be.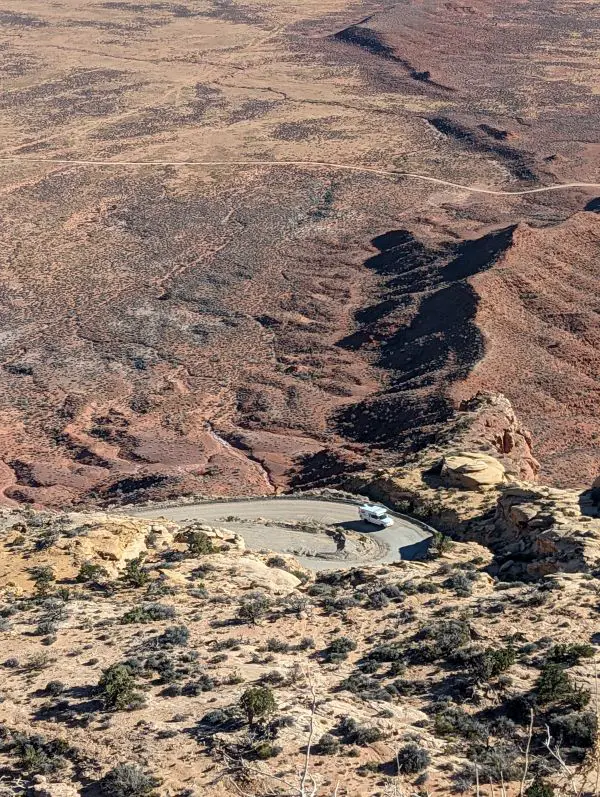 Why RV Trip Wizard is Better than Google Maps?
Well, for starters, it takes into account your RV's length, height, and weight restrictions – something Google Maps can't do. This added information means you won't end up on a road that isn't suitable for your vehicle. Plus, RV Trip Wizard makes it easy to find all the amenities you'll need while on the road. Everything from RV Parks, to gas stations, to attractions along the way. That saves you time scouring the web for all that info.


And it's even better because RV Trip Wizard will adjust your arrival time based on your RV's speed – something Google Maps won't do which could lead you to end up arriving much later than planned. Driving an RV in the dark can be more dangerous. Not to mention setting up your campsite in the dark is a real pain that also disrupts other RVers. So, if you're planning an RV trip, I'd definitely recommend using RV Trip Wizard over Google Maps. It's way more accurate and makes planning much easier!


Why RV Trip Wizard is Better than an RV GPS or Trucker GPS?
When compared to a traditional RV GPS or Trucker GPS, RV Trip Wizard proves itself as the better option. Not only is it more affordable than shelling out hundreds of dollars for an RV GPS and investing in regular updates, but it also offers features that go far beyond what these devices can do.


One of the key features that sets Trip Wizard apart is the campground filters. These allow you to easily narrow down your search for the perfect campsite, based on any criteria that are important to you. You can filter by RV length, pet friendly campsites, and more! So if you're looking for a specific type of campground or location, RV Trip Wizard has got you covered.



Using Campground Filters
When you're planning an RV trip, this tool can be your best friend. The campground filters are particularly helpful when it comes to finding the best prices.


You can rank memberships through Good Sam, Passport America, Thousand Trails, Escapees, and dozens more so that you get the most bang for your buck. No memberships? Don't sweat it. RV Trip Wizard shows parks regardless of affiliation, so you can find the best prices available.


The great thing is that all of this information is right at your fingertips. You don't have to waste time researching or calling around—all the details are just a few clicks away.


Other RV Trip Wizard Features
This RV trip planner has so much to offer! Not only are there 57,000 points of interest and 20,000 campgrounds across the United States, but you can also customize your journey however you'd like. You can set a driving time and distance that works best for you—so no matter how long your trip is, you won't have to worry about overdoing it and driving too far.


You can also easily see how far away each point of interest is from your destination or route, which makes planning much easier. And the best part? This trip planner is web-based, so you don't have to download anything special—just open up your browser and you're ready to go. If you want, you can even export the information to your favorite GPS app on your phone.


Reviews from Real Users
RV Trip Wizard has an average rating of 4.9/5 stars from voer 1,500 happy RVers. Personally, I find RV Trip Wizard to be easy to use, especailly if you watch the demo video first. It will walk you through everything you need to know to get started. This tool is also one of the most highly and often recommended trip planning tools in the Cool RV Stuff Facebook Group. Considering there are over half a million RVers in that group, you can rest easy knowing you're choosing a solid and trusted product.


Here are a few quotes from RV Trip Wizard users from their testimonials page.


"My husband and I are full time RVers in a 45ft 5th wheel toy hauler. I use RV Trip Wizard to plan our route. It has made my trip planning so much easier since I can filter out campgrounds that cannot accommodate our trailer." – Jana A.


"If you are worried about low bridges on your trip or where the best, low-cost parks are, worry no more because this App is absolutely the best RV trip planner out there. We've tried them all and this one smokes them all. "- Pat K.


A Bit More About Features 
RV Trip Wizard has tons of features. Here is just a bit more about some of the most useful ones. 

Area Attractions
Never miss an amazing sight that was just minutes from your drive again. With this route planning tool, you can easily view attractions on the map. With just a click of a button, you can learn more about places you might like to stop and add them to your route. 


Overnight Parking
Sometimes on a long drive you might not want to pay to stay at a campground when you'll just be there one night. Joel and I often stay at rest areas or Walmart parking lots overnight. RV Trip Wizard makes it even easier to find places you can sleep overnight. No more hoping for the best only to see a "No overnight parking" sign posted when you arrive. 


Gas Stations
When you plan your gas stops in advance you don't have to stress about running out of gas or being unable to get into the lot. Since you can enter your gas mileage it also makes it simple to know just how far you can go before a fill-up. 

Rest Areas
Need a quick pit stop or an overnight snooze? RV Trip Wizard makes it easy to find rest areas all along your route. Sometimes getting out and stretching your legs is so necessary on long cross-country road trips. 

Dump Stations
RV Trip Wizard also shows dump stations. So if you are a boondocker, this tool can help you too. 


Frequently Asked Questions 
Here are a few more questions you may have about RV Trip Wizard.


How Many Trips Can I Create?
If you have an RV Trip Wizard membership, you can make and plan as many trips as you want. Whether you're dreaming or actively hitting the road, you won't miss out on anything when using this tool.


Can I Only Travel to RV Parks?
No, you can enter any destination you would like and RV Trip Wizard will give you an RV safe route to get there.


Is There a Limit on How Many Stops I Can Plan?
No, you can plan unlimited stops with RV Trip Wizard.


Does RV Trip Wizard Work in Canada?
You betcha. Although not as extensive, RV Trip Wizard does include many Canadian RV parks as well.


Alternatives to RV Trip Wizard
Alternatives are out there, and The Dyrt Pro is one to consider. It's a great choice for those looking for a more affordable option – it costs only $35.99 per year. However, it does not have all of the features that RV Trip Wizard offers. Still, if you're just looking for basic trip planning and mapping capabilities, The Dyrt Pro can do the job. It's a great choice for anyone who wants to explore the outdoors without breaking the bank!


If you're looking for another alternative is, Togo RV might be a great option. It's only $49.99 a year after a 7-day free trial, and it has all the features you need to plan your RV trip. With Togo RV, you can customize your navigation features for your RV. Plus, it includes over 15,000 campgrounds and RV parks so you'll always have plenty of options no matter where you go. And if that wasn't enough, it also has a cell coverage overlay from Campendium which is really helpful for those of us who work on the road. So if you're looking for an alternative to RV Trip Wizard, give Togo RV a try. You won't be disappointed.


Other Ways to Stay Safe on an RV Trip 
Staying safe while on your RV trip is just as important as having fun! There are a few simple things you can do to help ensure that your travels go smoothly.


First, it's always a good idea to have safety equipment with you. This includes items such as fire extinguishers, first aid kits, flashlights, and tools. Having these items readily available can help you to be prepared for any potential emergency situation.


Next, it's important to remember to travel at a safe speed. Not only will this reduce your chances of having an accident but it will also make sure that you don't miss out on any of the sights along the way!


Finally, it's best to try and arrive at your destination during the day whenever possible. This is especially true if you are planning on staying overnight in an unfamiliar area. Traveling in daylight will help you to be more aware of any potential dangers so that you can keep yourself, your family, and your RV safe.


By following these simple tips, and using an RV trip planner to plan a safe route, your journey can be a fun and safe experience. Enjoy the ride!


RV Trip Wizard Summary
Here is a quick summary. It is an RV trip planning tool that lets you pick an RV safe route, plan stops, find gas stations, and more. It costs $59/year which also includes access to Maintain My RV.

Among RVers, this tool is a popular choice that most people are satisfied with.

 Facebook Comments
One moment, please. If the comments fail to load, FB may have been too slow responding so try reloading.