Whether you're new to RVing or you've been at it for years, there is always something to learn. For example, one common question folks have is " are monthly rates at RV parks a thing? And if so, is it worth it to stay somewhere for a month at a time"?


Keep reading to learn about your options for RV park stays and decide what is the best choice for you and your travel journey. 


Do All Places Have Monthly Rates for RV Parks?
No, unfortunately not all places offer monthly rates for RV parks. It's much more common for RV parks to offer nightly or weekly rates, especially in popular areas. For example, some Florida RV beach resorts offer monthly rates only in the off season. Others don't offer monthly rates ata ll. Parks in highly desirable areas can make more money from consistent nightly reservations than they can from monthly rates. However, in places that aren't as popular for tourists, the park may want the security of a monthly renter to have that income guaranteed.


Some places that don't always have monthly RV park rates may still offer them during certain months like the off-season. If you are looking for monthly rate options, it's best to call the RV park directly. Monthly rates are sometimes available but often the prices won't be listed directly on the website. That's because there are various factors that play into the cost of monthly rates for RV parks.


How Much Are Monthly Rates for RV Parks?
Joel and I have stayed at places with monthly rates for RV parks ranging from $395 a month to $1300+ a month. The lowest prices we've encountered have been on the Southern Oregon Coast, while the highest prices have been in California.


In California, we even got a quote from one RV park with a monthly rate of over $2,000! (We didn't end up staying there.) I have also heard from fellow RVers of places that have monthly rates for RV parks as low as $200-$300 a month. These lower rates are more common in the Midwest and some Eastern states.


You can sometimes find privately owned RV sites that offer monthly rates that may be more affordable than the typical campground. On average, Joel and I pay around $600 – $700 per month when staying somewhere monthly. Of course, this can vary depending on where you are traveling to and what amenities the park offers.


But it's definitely possible to find monthly rates that fit within your budget. Now that we boondock more often, we haven't been able to stay places for a month at a time (most places allow only up to 14 days) but the cost has been a whopping $0. So there really are options for RVing at any price point.


Another thing to keep in mind is that some RV parks that offer monthly rates have metered electricity while others don't. Make sure you ask about this beforehand so you don't get surprised by the added cost of electricity.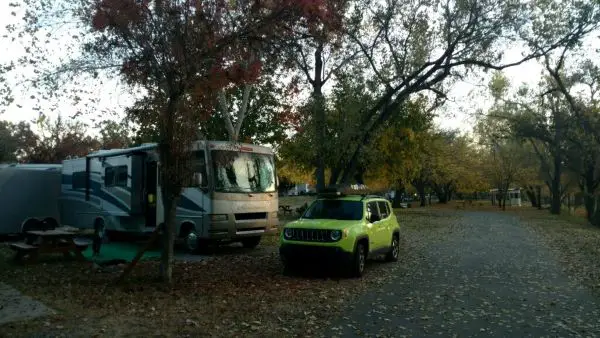 How Can I Find Monthly Rates for RV Parks?
If you're looking for monthly rates for RV parks, the best place to start is by deciding which area you'd like to stay in. Once you have that settled, do some research and check out websites focusing on RV parks in your area. Most sites will list rental rates for nightly and weekly stays. They may also state that monthly rates for the RV park are available, so look closely and see if monthly rates are offered.


If the information isn't clearly stated or the price for a monthly stay isn't listed, call the park and ask. It might surprise how many parks provide monthly rates for long-term stays.


Benefits of Monthly RV Park Stays
For RVers, monthly rates for RV parks offer an amazing amount of savings. Sometimes, monthly stays can be hundreds of dollars cheaper over time than paying the nightly rate for 30 days each month. Not to mention the convenience and flexibility you get from staying in one place for a month at a time. It's like having your own home away from home!


Not only will you have more time to explore the area and make the most of your surroundings, but monthly stays can also be a great way for families to keep in touch. For example, we are planning to spend a month near my sister in the upcoming year. Something that wouldn't be nearly as easy without an RV.


Whether you're visiting relatives or just need some extra time for a long-term stay, monthly RV park rates are an excellent option to consider. With all these advantages, it's no wonder monthly RV park stays are becoming increasingly popular!


Another benefit of monthly RV park stays is that moving your RV every day or even every week can get very tiring. There is a lot you need to do before leaving an RV park to head to your next destination. If you follow our free RV departure checklist, you won't have to worry about forgetting any steps.


However, it still takes a lot of time to complete all these tasks. If you stay somewhere for a month, you won't need to take down camp as often. Traveling is fun but it can burn you out if you don't slow down at least every once in a while.


Finally, when you stay somewhere longer, you will save money on gas. Given how high gas prices have been lately, we can't overlook this benefit.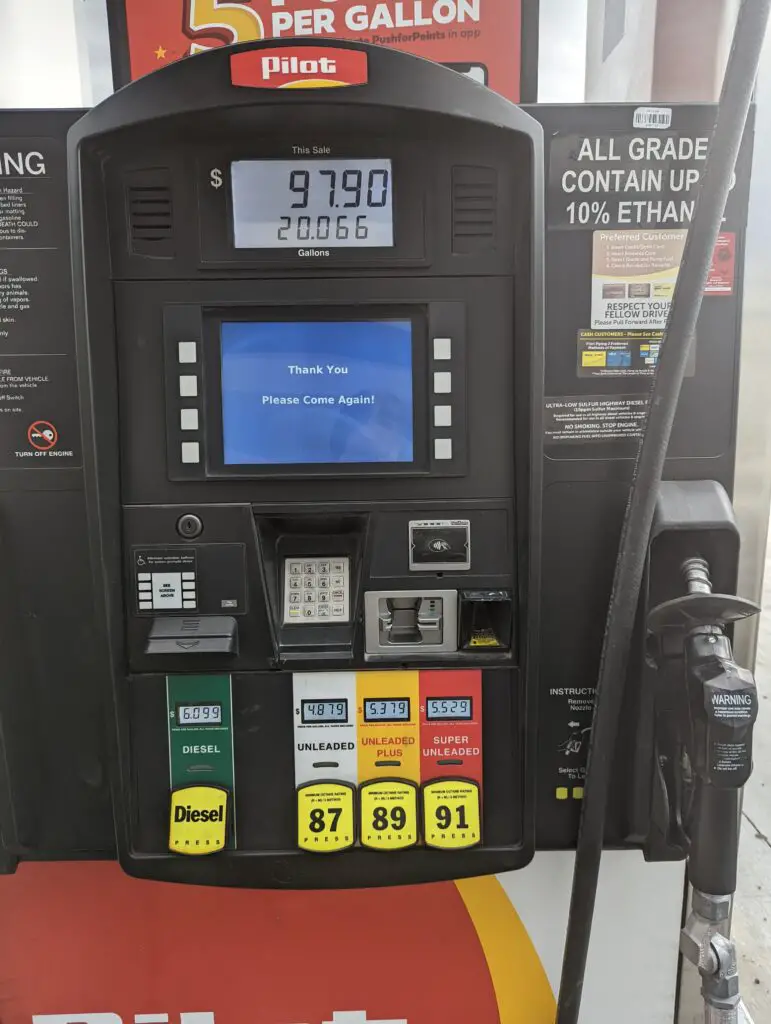 What is an RV Park?
An RV park is basically a camping ground that is specifically designed for people who are driving and living in recreational vehicles. It's a great place to stay and get away from the hustle and bustle of city life. You can enjoy beautiful scenery, peaceful surroundings, and amenities like laundry facilities, swimming pools, playgrounds, restrooms, showers and more.


The cost of staying at an RV park is usually much less than renting a hotel room. Whether you're just passing through or planning to stay for a while, an RV park can be the perfect place to relax and enjoy your travels. Many RVers like to stay places for longer periods of time, hence the monthly rates for RV parks. In fact, there are people who stay permanently stationary at RV parks as well.


The cost of staying at an RV park is usually much less than renting a hotel room. Whether you're just passing through or planning to stay for a while, an RV park can be the perfect place to relax and enjoy your travels. Some people stay for longer periods of time, hence the monthly rates for RV parks. In fact, there are people who stay permanently stationary at RV parks as well.


Do Mobile Homes Have Monthly Rates for RVs?
RV parks differ from mobile home parks in several ways. Unlike most mobile home parks, RV parks don't always offer monthly rental rates. Instead, they typically charge by the night or week, making them a great choice for travelers who are just passing through an area.


Additionally, RV parks often provide more amenities than mobile home parks do, such as RV hookups, laundry facilities, and swimming pools. They may also offer activities like outdoor movie nights or hikes through the woods.


On the other hand, mobile home parks are often more permanent places of residence for people who live in recreational vehicles full-time. It gives more permanent residents a place to store their things and provides access to basic services like water, sewer, and sometimes cable. 


They may not have the same amenities as an RV park, but mobile home parks usually offer more affordable monthly rental rates. So if you're looking for a place to stay for an extended period, a mobile home park is worth considering. It's always important to do your research and read reviews before renting from any type of accommodation, regardless of whether it's an RV park or a mobile home park.


Some RVers may find that staying in a mobile home park doesn't feel as luxurious as staying in an RV park. However, if you're looking to save money or can't find a better option, mobile home parks may serve you well.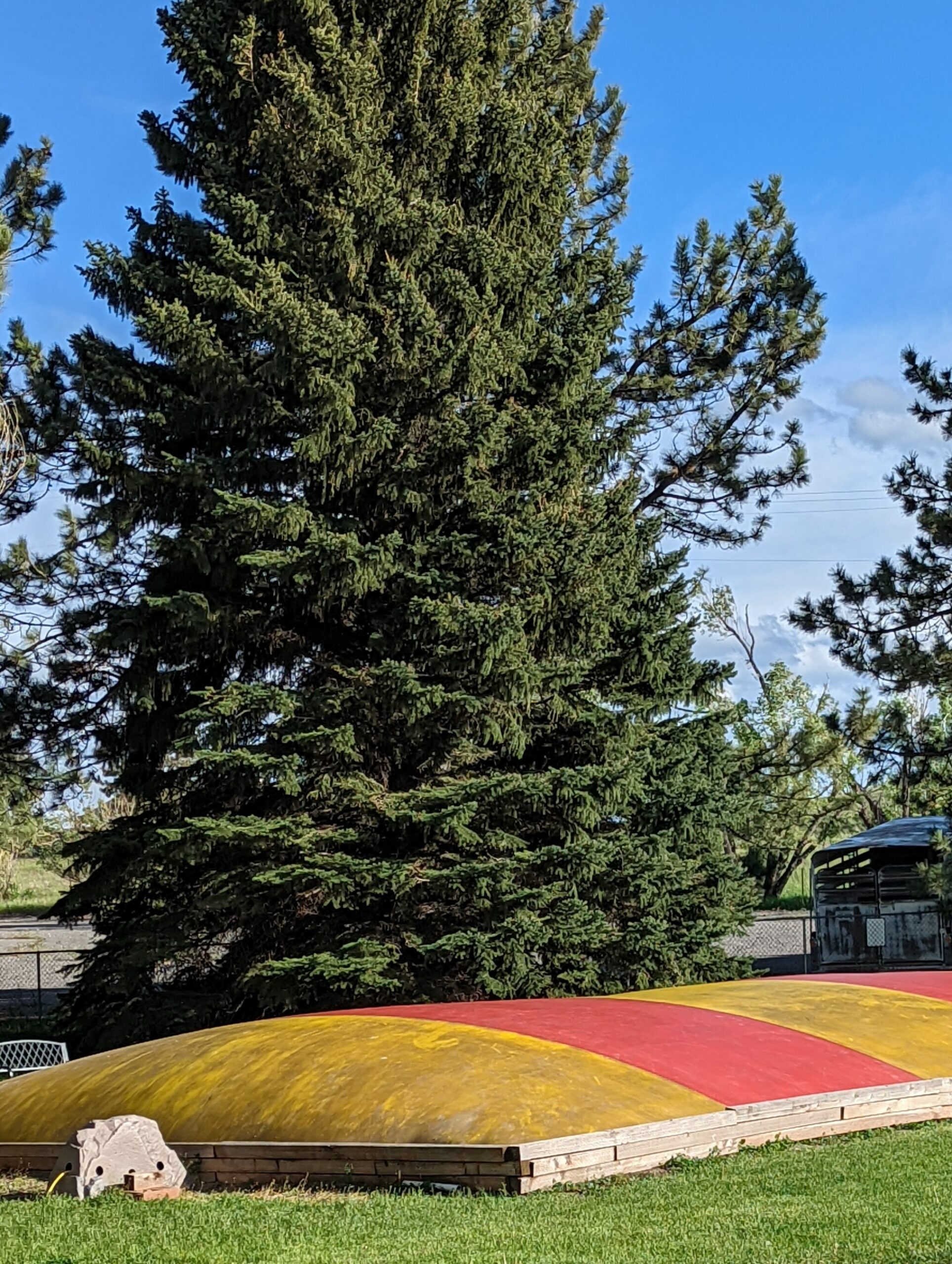 Which States Are Most Popular for RVers?
According to a 2020 report from Camper FAQs, the states most popular for RVers include California, Arizona, Utah, Colorado, Wyoming, Texas, New Mexico, Florida, Oregon and South Dakota. These states have a variety of factors that make them especially attractive for RVer's.


Some are popular travel destinations or warm locations for snowbirds while others have no state income taxes, making them particularly desirable for full time RVers. Whether you're looking to explore the great outdoors or enjoy a more relaxed lifestyle, there's something for everyone in these states! ​


Which States Offer the Best Domicile for Full Time RVers?
For establishing residency for full time RVers, South Dakota, Florida and Texas offer some of the best domicile rules. All three states have no state income taxes, making them attractive for budget-minded travelers. Additionally, Escapees offers a virtual mail service in each of these locations so that you can easily stay connected without having to establish a physical address. 


These domicile rules make them especially attractive for those who are just getting started with full time RVing and want to do so without costing an arm and a leg! So if you're in the market for a new home, these three states might just be your best bet.


Do State Parks Allow Monthly RV Stays?
The answer is no. Unfortunately, monthly rates are not available for RV parks in state parks. Generally, the maximum stay you can have at a state park is 14 days and after that you must move on to another location. If you need to stay longer than two weeks, your best bet will be to look for monthly rates at a private RV park.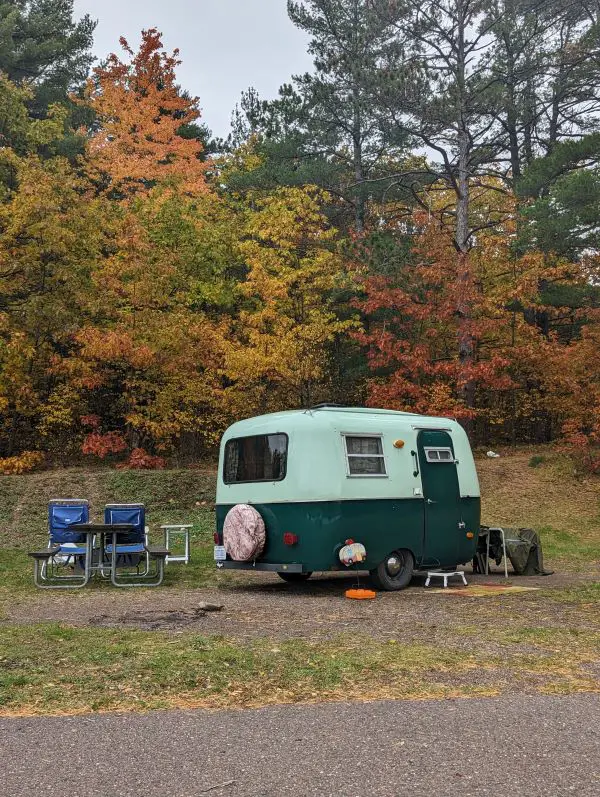 Are There Monthly Rates for RV Parks at National Parks?
Unfortunately, no. National parks do not allow monthly stays. Like state parks, most national parks only allow a maximum of 14 days at one time. It's also important to remember that national parks can have long wait times. You may need to make a reservation 6-12 months in advance if you're planning on staying at one. 


So if monthly stays are what you're after, it might be better to look into monthly rates at RV parks in the area instead. That way, you'll be able to stay for as long as you'd like without having to worry about finding a new spot each time your reservation expires. As always, it's important to research thoroughly and call ahead – different RV parks may have their own rules and regulations.


Monthly Rates at RV Parks Summary 
In summary, you can find monthly rates at RV parks in many places. You can spend anywhere from a few hundred dollars to many thousands of dollars to stay for a month at an RV park. It really comes down to where you want to stay and what amenities you would like to have. 
 Facebook Comments
One moment, please. If the comments fail to load, FB may have been too slow responding so try reloading.