This is a sponsored post on behalf of Tough Top Awnings. All opinions are our own.
Embarking on an RV adventure means enjoying the freedom of the open road, but it also means having a comfortable and functional living space. One essential component to consider in maintaining your RV's comfort is getting an RV awning fabric replacement when needed.


Over time, your awning fabric or slide toppers may become worn, damaged, or simply outdated. When this occurs, it's time to think about getting an RV awning fabric replacement to keep your RV looking great and providing the shade and protection you need.


Now if you're like most RVers, the thought of replacing your awning fabric yourself may make you want to run for the hills. However, it's not as tricky as it seems. Replacing your RV awning fabric is a straightforward process that you can tackle yourself, all while saving money on professional services. 


If the thought of a do-it-yourself awning replacement still seems out of reach, it's still worth it to know what steps are involved. That way you can play an active role in selecting the perfect fabric that will leave your RV looking brand new. And who knows, you just might decide you can manage the project after all.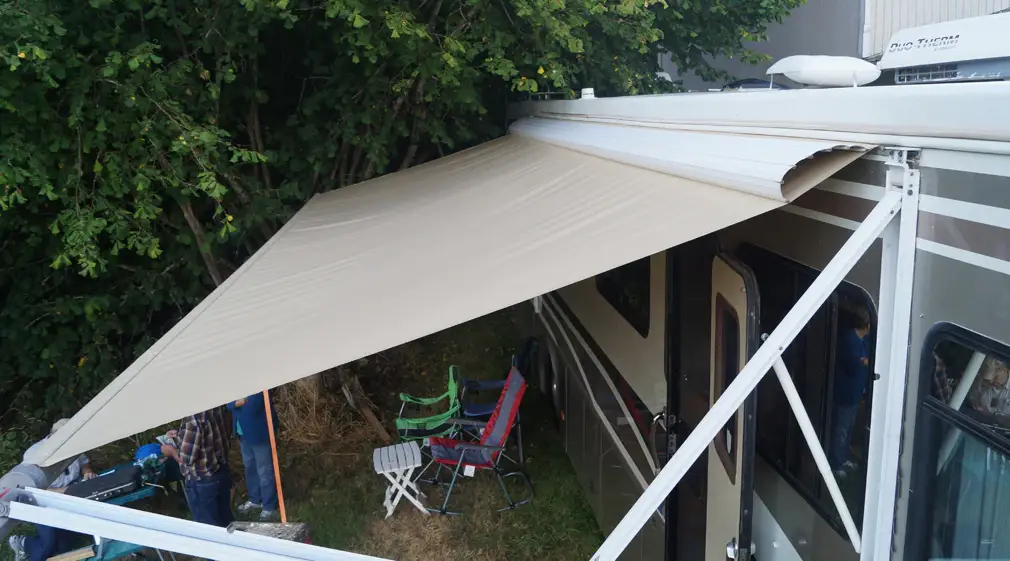 Signs You Need RV Awning Fabric Replacement
Wondering if your RV awning or slide toppers will make the cut this camping season? Chances are, if you're questioning the need for RV awning fabric replacement, you need to replace yours. But if you truly aren't sure, here are a few tell-tale signs that show your awning or slide toppers are on their last leg. 


Tears and Holes
As your RV's awning ages, it's natural for wear and tear to occur. Keep an eye out for any noticeable tears or holes in the fabric. These not only impact the appearance of your RV but also diminish the awning's functionality. If you spot any tears, holes, or frayed edges, it's time to consider getting the fabric replaced. You may be able to patch tears and holes temporarily, but it isn't a permanent solution.


When you start patching up your fabric, it is definitely time to check out Tough Top Anwing's replacement material. That way you won't be kicking yourself on your next camping trip when your awning totally falls apart or your slide topper rips clear off.  


Fading
Another sign that your awning fabric may need to be replaced is fading. Prolonged exposure to sunlight and weather may cause the colors of your RV awning fabric to fade.


Fading not only affects the overall appearance but also might indicate a degradation of the material, making it more susceptible to wear or damage. If the colors on your awning are noticeably faded, it's likely time for a replacement. Vinyl awning fabric can also be treated with a UV-resistant coating that might help your new awning last longer. 


Mold and Mildew
Mold and mildew are common culprits for RV awning issues. They can form on the fabric when it's consistently damp or in high humidity conditions. It's essential to check for mold and mildew regularly, as they can lead to health issues and further damage to the awning fabric. If there's a significant buildup of mold or mildew, consider replacing the fabric to maintain a healthy and functional awning.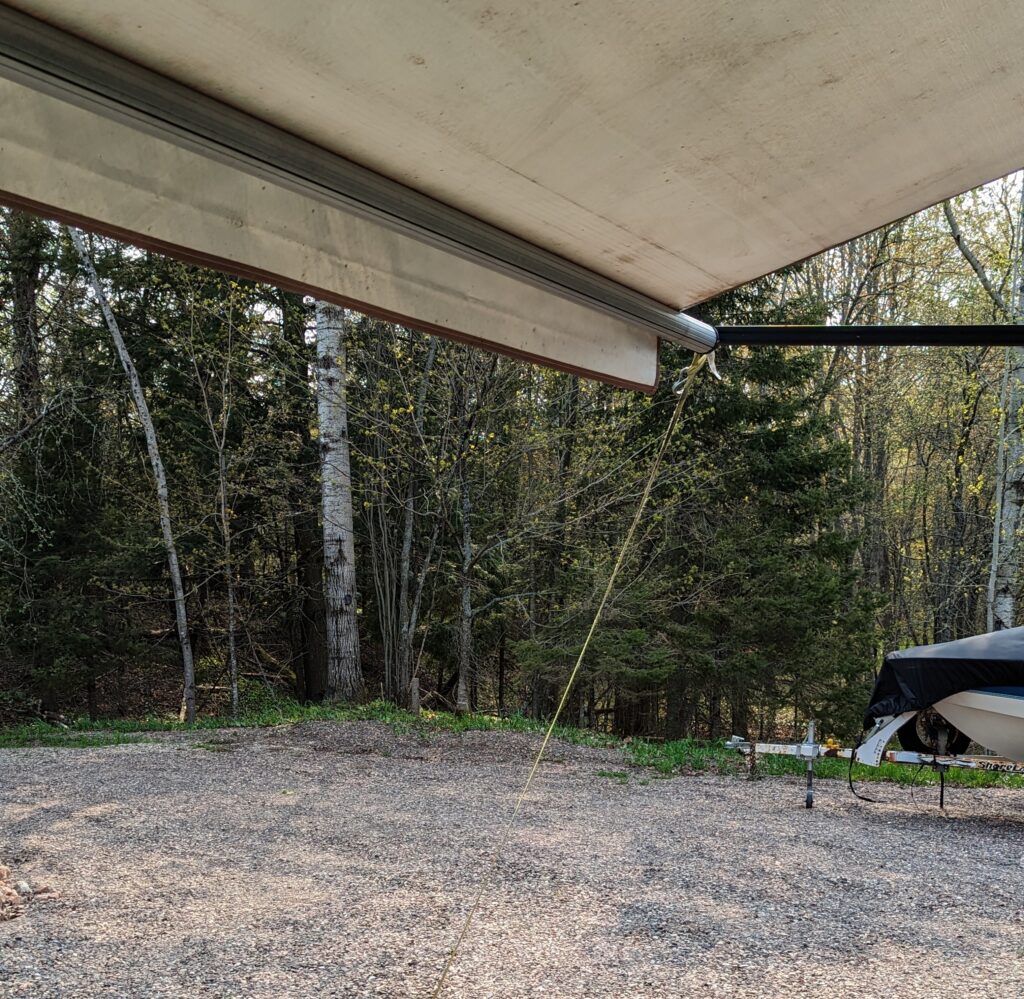 You may be able to clean your RV awning to get it to last longer, but once mold and mildew have set in, it can be hard to get rid of them. Magic eraser mops are a popular solution among RVers. You don't want to use them too often since they can degrade the material over time, but it's definitely better than mold! 


About Tough Top RV Awning Fabric
The key to success in replacing your awning or slide toppers lies in selecting a high-quality fabric and understanding the proper steps to follow. Many awning fabrics are available in vinyl or acrylic materials, with various colors and designs to suit your personal preferences. 


However, due to the drawbacks of many other awning fabric replacements, Tough Top Awnings designed its own proprietary vinyl fabric that is perfect for patio awnings, slide toppers, and more.


You'll find that replacing your RV awning fabric is a manageable task. With a little patience and attention to detail, you'll have your RV looking refreshed and ready for your next adventure.


Benefits of Tough Top Awnings Vinyl Versus the Other Guys
Here are some factors that set Tough Top Awning RV awning fabric replacements apart from other manufacturers and materials. 


First of all, we have all heard horror stories and tons of complaints when buying anything RV-related from big box stores. When you buy from Tough Top Awnings, you are buying from a family-owned and operated company based right here in the United States. If you call them for questions, you'll get to talk to an actual person, not some automated system. 


Tough Top Awnings material is 18 oz industrial-grade coated vinyl, not some flimsy fabric that will easily tear. It starts as a woven scrim that will be covered with vinyl. The coating contains UV and mildew-resistant agents that give the fabric the ability to last for long-term outdoor use. This is exactly what you want for an RV awning that is constantly exposed to the elements.


Tough Top Awnings also use double stitching and its beading is sewn in place with marine stitching. Most other manufacturers use a thinner cotton-based thread. That is why the stitching always is the first thing to fail on other RV awning fabric replacements. 


Because of the creation process, Tough Top awning and slide topper material is waterproof, and mildew can't grow inside the material. Of course, mildew can grow anywhere, but because it can't penetrate the material, it can be easily washed off. Acrylic awnings you can get from other companies, on the other hand, are notorious for being mildew factories. 


For many other companies that make "vinyl" awnings, they often aren't even vinyl!  Many times the material is a laminated plastic that allows water to work between the layers and mildew develops from the inside. It can't be cleaned because it is growing in between layered plastic. If you want to ditch the manufacturing process that's been around since the 80s and is clearly subpar, Tough Top Awnings offers the perfect alternative. 


What Tough Top Awnings Customers Are Saying
Given Tough Top Awnings' excellent materials and workmanship coupled with customer service you can count on, it's no surprise people who buy its product are happy. 


Here are just a few reviews I pulled from Google to show you what customers are saying about their RV awning fabric replacements. 


Excellent product, great service, excellent support. We purchased a patio awning and a slide topper for our 04 Winnebago sightseer. Service was responsive with any questions I had, they called and emailed. I knew what was going on. The videos and other support was especially well done and very helpful. It was right on. The awning arrived and there was a slight misunderstanding on the order. They made it right immediately and got me the correct awning.


The awnings were beautiful. Quality vinyl and well-stitched. Everything fit and worked better than expected. The installation was easy and pain-free. I've am very happy with Tough Top and will definitely do business with them again. ~Jay K, Tough Top Awnings customer 


Replaced both awning covers and the three slide-out toppers last year. Have been very happy with them. Installed them myself.  Not too difficult.  Just need the right tools. Definitely notice they do not flap as much in the wind.  Company has great customer service.  Thank you Tough Top Awnings! ~Todd B, Tough Top Awnings customer 


Measuring Your RV Awning for Replacement Fabric
So you've determined you need RV awning replacement fabric. What's a camper to do now? First of all, don't panic. Measuring and replacing your awning fabric doesn't have to be an ordeal. If you have a few friends to lend a helping hand, you can have this project done in no time. 


When replacing your RV awning fabric, taking accurate measurements is crucial to ensure a proper fit. This section will guide you through the process of measuring your RV awning. Once you have your measurements, Tough Top Awnings will custom-make your new awning fabric. 


There are a few patio awnings that Tough Top can't make fabric for because its high-quality material is too heavy-duty for the hardware to handle. These include Paramount, Mirage, Freedom, Apex, and Freestyle. But for most RVers, you can get your awning fabric ready to ship in less than a week. 


Measuring Your RV Slide Toppers for Replacement Fabric
Measuring your RV slide toppers to purchase replacement fabric is also not a difficult process. To measure the width of the material, measure the roller tube from end cap to end cap. Then subtract 1.5 inches to give you a ¾ inch clearance on each side. 


To measure the depth, measure how deep your slide-out room is. Simple! 


How to Measure Your RV Awning 
First, measure the length of your awning. To do this, measure the entire length of the roller tube from end cap to end cap. After obtaining this measurement, subtract 4 inches to give you 2 inches of clearance on each side. This will prevent the fabric from getting caught up by the end cap when being rolled out.


It's essential to ensure the measurements are accurate because if the camper awning fabric is too wide, it may create issues during installation or use. Always double-check your measurements before ordering RV awning replacement fabric. 


When it comes to the depth of the awning fabric, there's no need to worry about measuring it when ordering from Tough Top Awnings. The depth is standard across awning fabrics to accommodate the hardware. 


When ordering your fabric, you will also specify your awning manufacturer and the model of the awning. So many RVers love to order products from Amazon for convenience and perceived savings. But there is nothing convenient about finding out you have the wrong size awning fabric. Tough Top Awnings' ordering process makes it easy to avoid this common pitfall.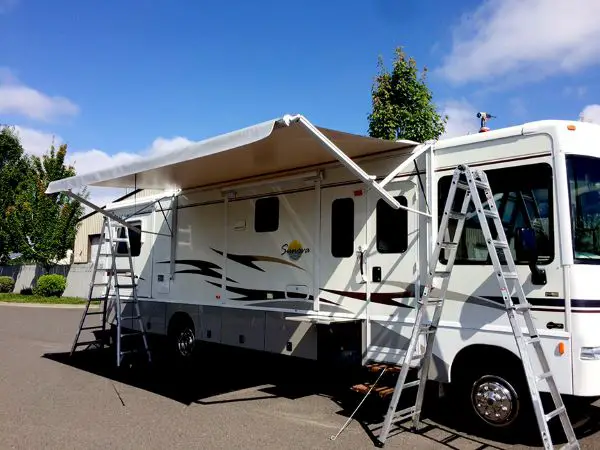 Steps to Replace RV Awning Fabric or Slide Toppers
Now that you know how to measure and select the perfect RV awning fabric replacement, the next step is to go out with the old and in with the new. Depending on what type of awning you have, manual or electric, and from which manufacturer, the process can vary slightly. Similarly, replacing the slide toppers is different from replacing your main patio awning. 


The best way to learn to replace your patio awning, slide toppers, or window/door awnings is on Tough Top's website. It has an abundance of videos that walk you through just how simple this process can be.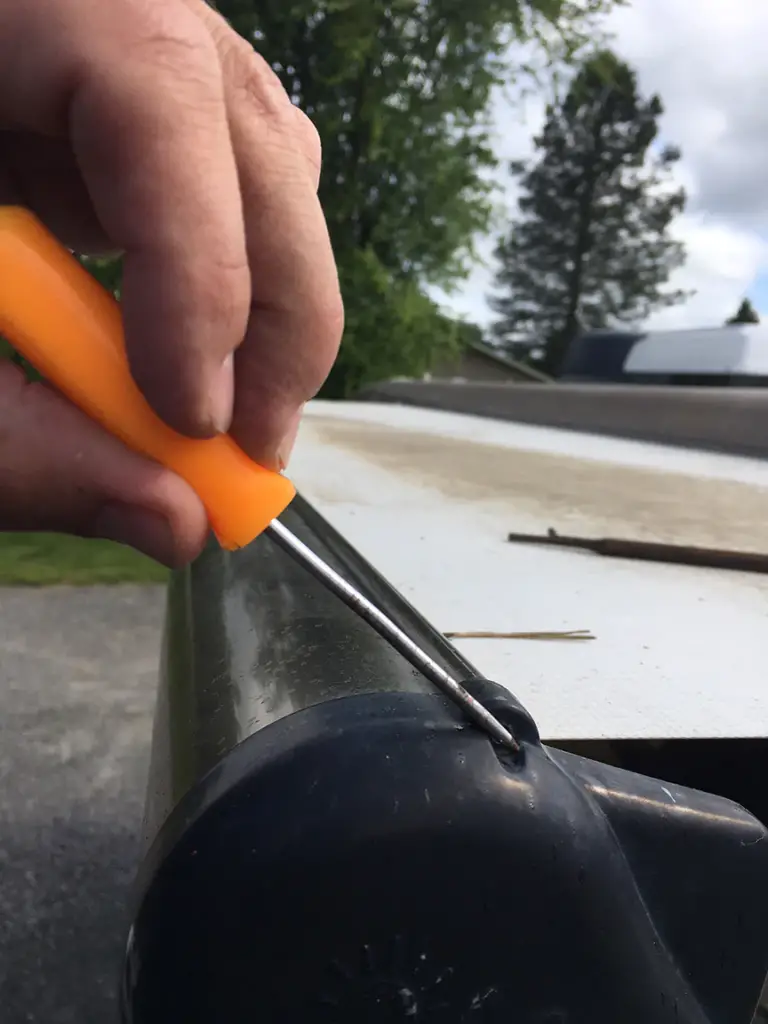 Maintenance Tips for RV Awning Fabric
After installing your brand spankin' new Tough Top Awning, it is important to maintain it. That way it will last for years to come. Here are some basic tips for maintaining your RV awning fabric replacement. 


Regular cleaning of your RV awning fabric is essential for prolonging its lifespan. Whether your awning is made of acrylic or vinyl, always be gentle during the cleaning process to avoid damaging the material. Follow these steps for a thorough, yet gentle cleaning:


Extend your awning and hose it down with water to remove any loose dirt and debris.


Use a soft-bristle brush, sponge, or cloth to gently clean the awning fabric with a mixture of warm water and mild soap.


Avoid using harsh chemicals or abrasive cleaners, as they can cause damage to the fabric and may void your awning's warranty.


Rinse your awning thoroughly with water to remove all soap residue.


Allow your awning to air-dry completely before retracting it.


Cleaning your Tough Top RV awning fabric replacement is so much easier because of how the material is created, as discussed earlier. The design process ensures mold and milder can't grow inside the layers of the awning like it can with many other manufacturers' products.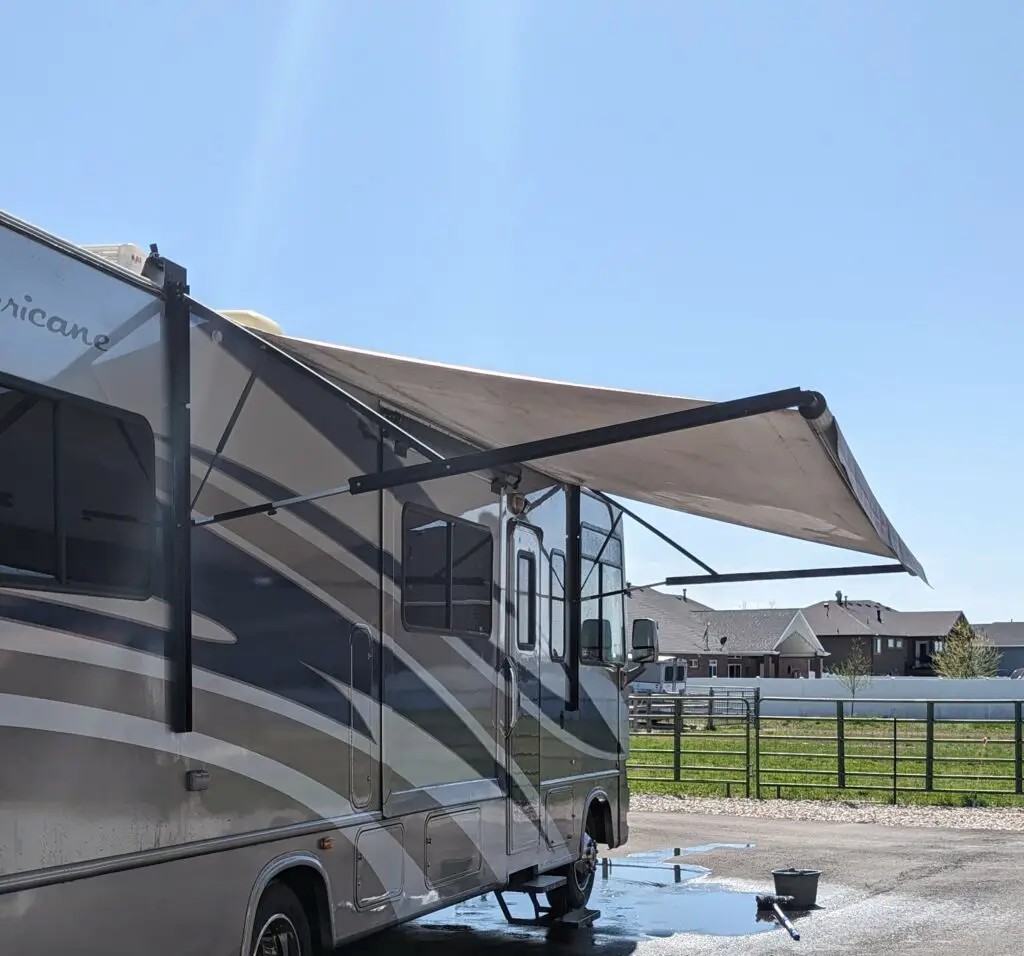 Storing and Using Your RV Awning
Proper storage of your RV awning fabric is just as important as regular cleaning. Here are some tips to ensure your awning is stored correctly and ready for your next adventure:


Always retract your awning when not in use to protect it from harsh weather, prolonged sun exposure, and other potential risks like sudden wind gusts.


Before storing, ensure your awning fabric is completely dry. Rolling up a wet awning can lead to mildew rot, which can severely damage the fabric in a short period.


Periodically inspect your awning for signs of wear, including tears, fraying, or loose hardware. Address these issues early to prevent further damage.


If you need to store your RV for an extended period, consider using an awning cover to protect the fabric from UV rays, dirt, and dust.


Following these maintenance tips can help prolong the life of your RV awning fabric, ensuring it remains in top condition for years to come.


Professional vs. DIY Replacement
When it comes to replacing your RV awning fabric, you have two main options – hiring a professional or doing it yourself (DIY). Both options have their advantages and drawbacks. As you can see, DIY replacement doesn't have to be a scary task. 


DIY Awning RV Fabric Replacement
If you are a hands-on person and enjoy tackling projects, a DIY replacement may be the right choice for you. Some benefits of a DIY replacement include:


Cost savings: Replacing the awning fabric yourself can save you money on labor fees.


Customization: You can choose from a wide selection of fabric colors and materials, ensuring that your new awning perfectly matches your preferences and style.


Sense of accomplishment: Successfully completing a DIY project can give you a sense of pride and satisfaction.


However, there are some potential downsides to a DIY replacement:


Time-consuming: Measuring, ordering, and installing a new awning fabric can be a lengthy process, especially if you are inexperienced. 


Risk of mistakes: DIY installations may result in errors such as incorrect measurements or improper installation, leading to a shorter lifespan for your new awning.


Professional Replacement
If you're not comfortable with DIY work or prefer to trust an expert with your RV, a professional replacement might be a better option. Advantages of hiring a professional include:


Expertise: Professionals have experience and knowledge about awning fabrics, materials, and installation techniques, ensuring a perfect fit and a long life for your new awning.


Convenience: Hiring a professional means you don't have to deal with the hassle of measuring, ordering, and installing the awning fabric yourself.


Warranty: Some professional installations come with a warranty, providing you with peace of mind knowing that any issues will be taken care of.


However, there are potential downsides to hiring a professional:


Costs: Hiring a professional to replace your awning fabric means you'll be paying for labor on top of the cost of the fabric itself.


Limited options: Some professionals may have a limited selection of fabric colors and materials available, potentially restricting your choices.


Make sure when calling an installer that they will use your brand new Tough Top Awning fabric. If they won't it would be wise to look for another installer. 


Ultimately, the decision between DIY and professional replacement depends on your personal preferences, skills, and budget. Weigh the pros and cons of each option to make the right choice for your RV awning fabric replacement.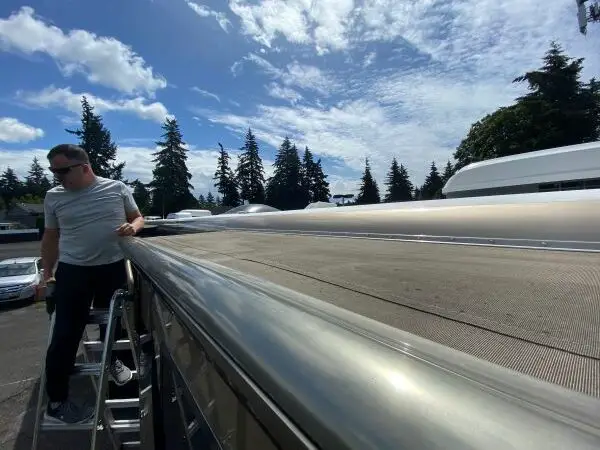 Don't Wait to Replace Your Awning or Slide Toppers
One of the best things about being an RVer is spending time outdoors. Having a pleasant place to sit can make or break a camping trip. Not to mention, having an awning is a good way to keep yourself safe from the sun's harmful rays. If your awning or slide toppers are subpar due to damage or even just a dated appearance, you can now feel confident getting a replacement. 


While you're at it, check out Tough Top Awnings entire product line. Tough Top offers slide-topper replacement fabric, to prevent your slide-outs from damage and risk of leaking. You can also upgrade your window and door awning fabric to block out the summer heat. 


If you have questions about any Tough Top Awning products, you can contact the team and they will get back to you within one business day. Now that's service. 
 Facebook Comments
One moment, please. If the comments fail to load, FB may have been too slow responding so try reloading.