EcoFlow Delta Review
Some of the links listed on this page are affiliate links. This means that, at zero cost to you, we will earn an affiliate commission from the vendor if you click through the link and finalize a purchase. We strive to always keep all our content free to the reader. Thanks.
After giving my
EcoF
l
ow Delta
a good run, and testing it doing a number of challenging tasks, it's time to share my conclusions on the unit. But first, let talk about portable power stations (solar generators) in general.
What is a portable power station / solar generator?
The basics…
If you aren't familiar with portable power stations (sometimes referred to as solar generators), they are essentially a high-quality battery — in this case a lithium battery, a battery management system, and an inverter all in one. They are solid and well designed for moving around, and have all sorts of plugs outlets — several 120V and USB outlets. You can recharge them using a standard outlet or solar panels (hence the solar generator name). 


Lithium batteries are lighter than lead-acid batteries, but I wouldn't necessarily call the larger units "light." Nevertheless, they are still pretty easy to move around, and the smaller units aren't a challenge at all. The benefit of lithium batteries is that they can release power and bulk charge much faster than traditional lead-acid batteries. They also don't require maintenance like flooded batteries, and there isn't a problem if you don't keep them upright at every moment. 


The ease and convenience of a power station give it a distinct advantage over gas generators in certain situations. For example, running a CPAP machine, where the fumes and noise of running a generator all night makes a gas generator impractical. Or quick energy needs, like quickly running a tool or cooking device, where pulling out and firing up a gas generator is inconvenient — whereas a power station is easy to keep handy and is sitting ready to go at a moment's notice. They also don't require the maintenance that a gas generator requires.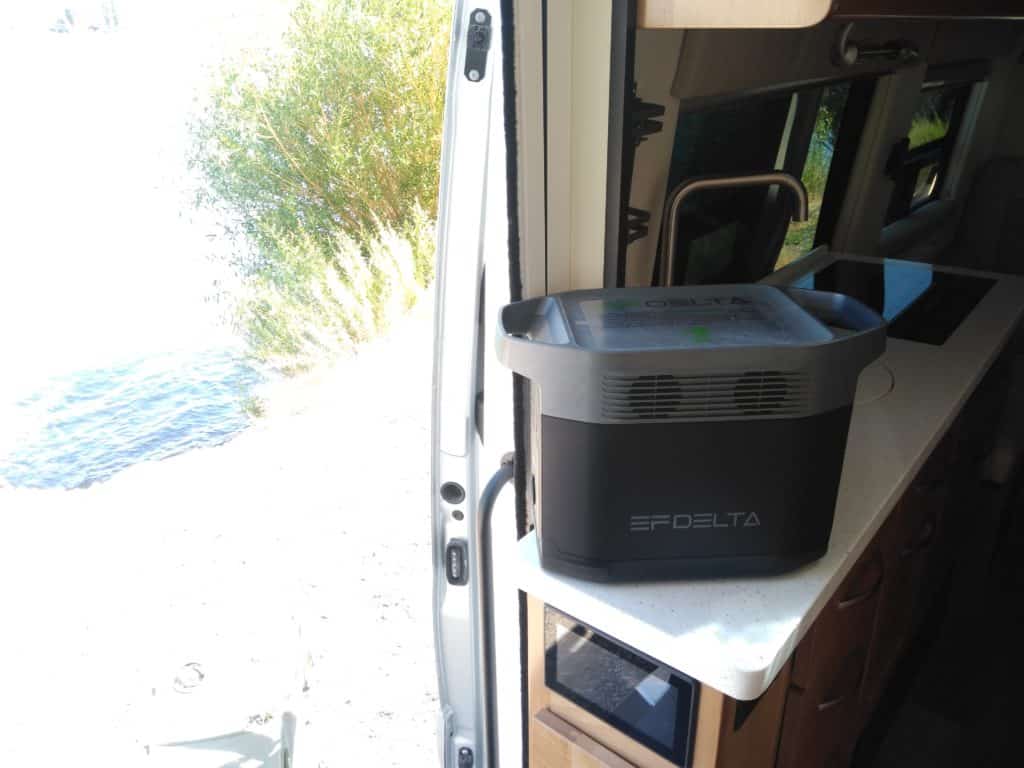 So why does an RVer need a portable power station?
One question I've gotten is, why does an RVer, who already has house batteries, need a portable power station as well? The answer is fairly simple if you consider it. 


I really would like the house batteries to be lithium batteries. As I mentioned before, there are lots of advantages to lithium batteries. Not just charging and releasing power more easily, but weight savings, and the fact that you are able to use so much more of their storage capacity without damaging them. (Lead-acid batteries lose a significant number of life cycles every time you drain them below 50%, lithium batteries use 80 to 90% of capacity with no damage.)


But lithium batteries are not cheap. Getting a full battery bank of lithiums would be a considerable investment. Plus, all that money is then locked up in the RV all the time. There's no way to take advantage of that power in other ways. 


With a portable unit, not only do I have access to the special abilities of the lithium batteries for high-power draw uses and quick recharging without having to buy an entire lithium battery bank for the RV, but I can take that power station with me when I'm not in the RV.


The Delta, for example, can power 1800 watts (with 3300-watt surge, all pure sine wave) and has a 1260Wh capacity. This means things like power tools, hairdryers, microwaves, electric griddles, etc. are all easily handled. And with pure sine wave electrical output, it will be kind to electronic devices. These are all things an RVer would find useful. 


But what about when I'm not out RVing? Well, now I can take the power pack with me, rather than leaving it in the RV like standard batteries. So when I'm doing something like an off-grid repair, or running my Traeger or electric Blackstone at a tailgating party or outdoor barbecue, or even if I just want to work or play music at someone else's campsite, I can take the unit with me. Take along portable solar panels (which you can use your own, or EcoFlow also offers very nice, compact solar panels as well), or connect to your car's 12v outlet, and you can even recharge off the grid.


Add to that, it can be an emergency power supply for the sticks-and-bricks house in winter. Since it can keep a power charge for up to a year when fully charged, it would always be ready for action should there be a power outage. A fridge, for example, pulls around 150 watts while it is actually cooling (but they cycle on and off as they hold the cold), so typically a Delta could run a fridge for several days (or 8hrs if it were constantly trying to cool for some reason). Then it could be recharged in just over an hour with a gas generator (without having to constantly run it), or because it's portable, can be taken to somewhere that still has power for a quick charge (like in an hour — but more on that later). 


Long story short, you could just install a full lithium battery bank in your RV if you want to make that investment. But something like a Delta would be a cheaper way to get many of the same advantages, and it's a lot more versatile in the ways you can use it in all your other facets of life. 


How did the EcoFlow Delta perform?
I ran the Delta through all its paces over the last month. The Delta is a larger power station (there are also smaller units called Rivers), so I tried it on a larger variety of things — electronic devices (laptops, TV, phones) and high-draw items (like power tools, hairdryers, and my microwave). It handled it all without a blip. Items like laptops and cell phones barely put a dent in the power consumption. Thinks like the coffee maker drew more (things that heat require a lot of power), but are used for such a short amount of time, they also didn't drain it much. Other high draw items, like an electric griddle, could run for well over an hour on the Delta. 


Basically, if you want to know before you buy, you need to figure out the power draw of the item in watts and calculate how long the 1260 watt-hours available would last to decide if it will work for your needs. But once you have an EcoFlow unit, the large LED display makes it easy to see how much power you are using, including how much time it will last at the current draw. And the onboard battery management system will not allow you to damage the unit by overdrawing (or other possible mistakes that could harm the battery). It's really rather foolproof.


The unit is fairly easy to carry around (it weighs about 30 pounds total), with a tight compact case (roughly the size of 3 short loaves of bread) and two sturdy handles. Plugs are easy to access and are well built. It has standard solar connections so you can connect to portable solar panels, or you can also get the very well-engineered portable solar panels EcoFlow offers. The door covering the 120V recharging cord is a little flimsy, but is only a minor complaint.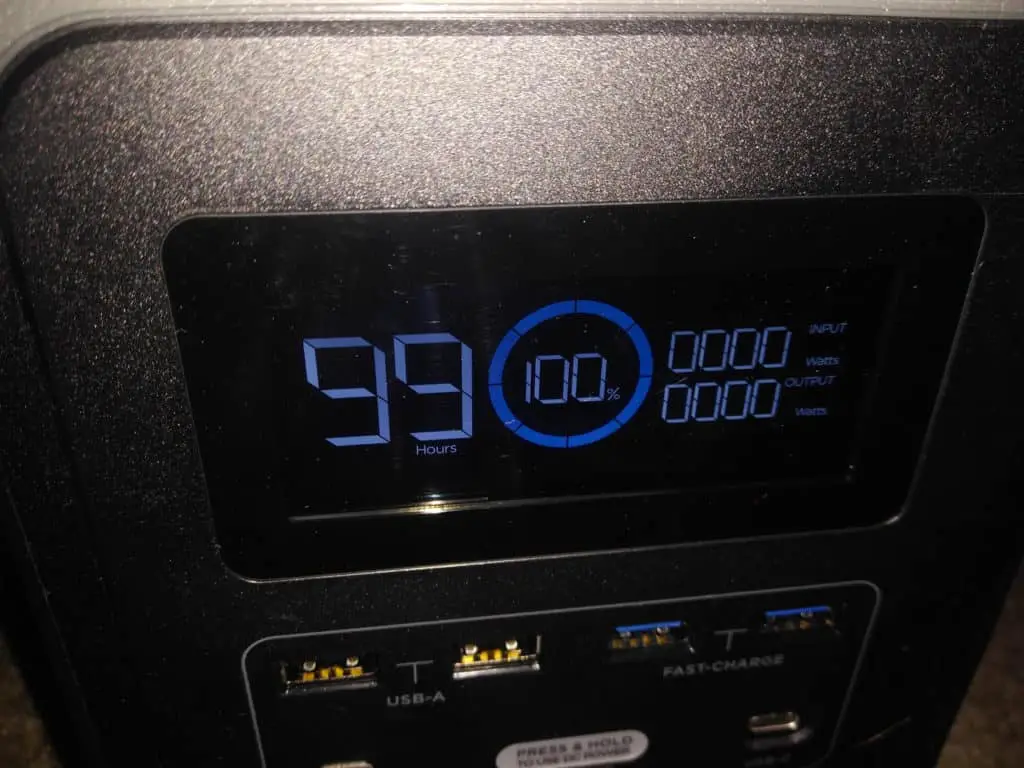 What is special about the EcoFlow unit?
So if you are already convinced that a portable power station might be useful, you might be asking what advantages the EcoFlow unit has over something like the Jackery, Bluetti, or Goal Zero units? They all do similar things, and have most of those advantages I've been talking about, but where EcoFlow is hands down the leader, is with recharging. Their units have a special battery technology that makes them astoundingly quick to charge up. 


While it's a well-developed product now, it started out as a Kickstarter product because this new patented recharging technology it offered was so popular. It can recharge from 0% to 80% in an hour, which is around 3 to 10 times faster than most other power stations.  This also makes solar charging more feasible, since 400 watts of portable panels will recharge it fully in about 4 hours, and even a car's 12v plug can recharge it in about 10 hours. 


I put these claimed recharging stats to the test, using AC power and my portable solar panels, and the claims held up (and probably even over-performed a little). I was able to charge from near 0% to 80% in 52 minutes using a standard AC outlet. 100% charge was reached in almost exactly an hour and a half.  


I had similar results charging it with a gas generator. I can see the advantages of only having to run a gas generator about 90 minutes to charge it, and then continue to have that power available to you all night. My solar panel numbers also were about what they claimed, although I only have 200W of panels rather than the full 400W limit, so it took roughly twice the minimum 4 hr. solar charging time.


I should note, the manual says if you run the unit down to 0%, the unit may need a couple of hours to cool down before recharging. The unit's battery manager will show an error symbol and not charge until the temperature drops to a cooler level. Just know this when planning — that you won't be able to run it down entirely and then immediately recharge the unit as your workflow.


It will heat up when pulling a large draw, and this does trigger the fans in the unit to kick on, which aren't anywhere as noisy as a gas generator but also aren't completely silent. I don't know if they have improved them from previous generations though, or my noise threshold is just higher, but they weren't nearly as noisy as the early reviewers seemed to describe, and didn't really bother me much at all.



The fans don't seem to trigger for smaller draws, like for charging a laptop, running a TV, or CPAP, but only when you are running a high-energy device like an electric cooker, power tool, hairdryer, or microwave. I didn't see this as a massive drawback though, since all those items tend to involve a bit of their own noise and so I couldn't hear the fan noise over them anyway. But it is something to be aware of. (This probably isn't an issue on smaller EcoFlow units with lesser draw rates.)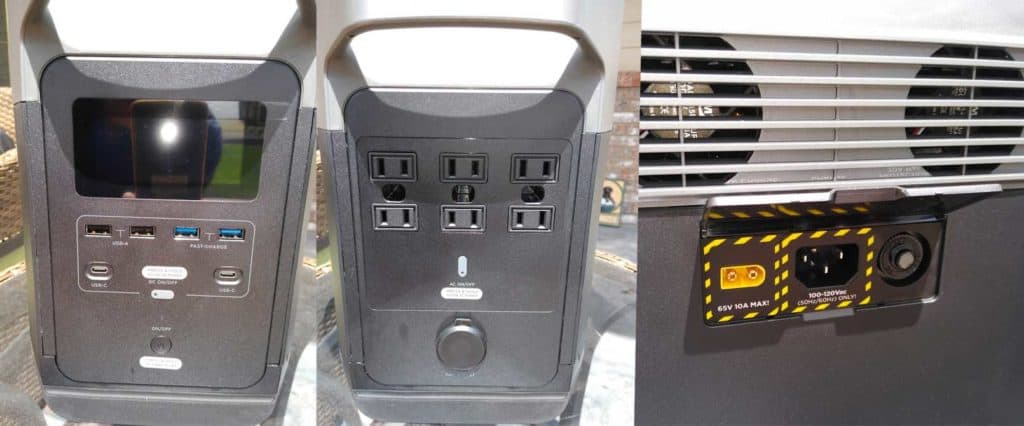 Conclusion
While a portable power station may not be practical for everyone, if you are someone that can relate to any of the situations listed above, I think the EcoFlow Delta is a very good choice. If not, then a portable power station may not make sense for you. It just depends on what you are wanting to do, which only you know.



While the bigger units, like the Delta, aren't cheap (lithium just isn't, but at least they do last a long time), the smaller units like the River are much more affordable. It has all the same tech, just less capacity, and smaller maximum wattage output. But for those that are looking for even more capacity than the Delta, they are also coming out with the Delta Pro (July 15th, 2021).



The EcoFlow Delta was small, compact, and perform as expected, with no obvious meaningful flaws. But where they really shine, and where no other brand's power station can touch them, is that X-Stream recharging technology. With recharging time being a significant factor in how convenient a power station is, this is really the a difference-maker. 


---
Evaluation Details
Unit Evaluated:
EcoFlow Delta
Other Similar Available Units from Smallest to Largest:
EcoFlow River
EcoFlow River Max
EcoFlow River Pro
EcoFlow Delta Pro (launching July 15th, 2021)
EcoFlow Portable 110W Solar Panels (160w panels also available)
Some of the links listed on this page are affiliate links. This means that, at zero cost to you, we will earn an affiliate commission from the vendor if you click through the link and finalize a purchase. We strive to always keep all our content free to the reader. Thanks.
ECOFLOW DELTA SPECS
Net Weight: 30.9lbs (14kg)
Dimension: 15.7 x 8.3 x 10.6 in (40 x 21 x 27 cm)
Charge Temperature: 32 to 113°F (0 to 45°C)
Discharge Temperature: -4 to 113°F (-20 to 45°C)
Color: Gray & black
Warranty: 24 months
Charge Method
AC Wall Outlet, 12V Car Adaptor, Solar Panel
Full Recharge Time: 1.6 Hours (AC); 10-12 Hours (12/24V Car Adaptor); 4-8 Hours (Using 4x 110W Solar Panels in parallel); 3.5-7 Hours (Using 3x 160W Solar Panels)
Capacity: 1260Wh (50.4V)
Cell Chemistry: Lithium-ion
Shelf Life: 1 year (after fully charged)
Life Span: 800 Cycles to 80%+ capacity
Management Systems
BMS, Over Voltage Protection, Overload Protection, Over Temperature Protection, Short Circuit Protection, Low-Temperature Protection, Low Voltage Protection, Overcurrent Protection.
Testing and certification: UL CE FCC RoHS PSE
Cell Type: 18650
AC Charge Input Power: X-Stream charge (1200W max)
AC Charge Input Voltage: 100-120Vac (50Hz/60Hz)
Solar Charge Input: 400W 10-65V DC 10A max
Car Charger: 12V/24V DC 10A max
AC Output (x6): 1800W total (Surge 3300W), 120Vac (60Hz)
USB-A Output (x2): 5V DC, 2.4A, 12W Max, per port
USB-A Fast Charge (x2): 5V/2.4A,9V/2A,12V/1.5A 18W Max
USB-C Output (x2): 5V DC, 9V DC, 15V DC, 20V DC, 3A, 60W Max, per port
Car Power Output (x1): 108.8W, 13.6V DC, 8A max
 Facebook Comments
One moment, please. If the comments fail to load, FB may have been too slow responding so try reloading.