Some of the links listed on this page are affiliate links. This means that, at zero cost to you, we will earn an affiliate commission from the vendor if you click through the link and finalize a purchase. We strive to always keep all our content free to the reader. Thanks.
Too many RVers don't give a second thought to their tires. Got tread? Good to go, they say. Unfortunately, this is absolutely not the case for RVs. There are multiple factors that go into
extending the life span and health of your tires
. One of the best ways to protect your tires (and everything they support) is to use an RV tire pressure monitoring system (TPMS). 
Inspecting and maintaining your tires may seem like just one more step in the seemingly never-ending list of RV maintenance. However, this task is one of the most important for staying safe on the road. The trouble is, once you get on the road, things can change in an instant. 


Hopefully, you checked your tire pressure and gave them a visual inspection before leaving. Even so, do you know what is really happening to your tires while you're driving? Unless you have an RV TPMS, the answer to that question is almost certainly, "no". That is where the trouble comes in. 


If you don't want to end up like dozens of RVers with blown-out tires, you'll want to keep reading. I'm going to cover the basics of tire pressure monitoring systems. Plus, I'll review the Truck System Technologies TPMS. Joel and I just purchased it after putting it off for far too long. 


What is a Tire Pressure Monitoring System?
First, the basics. What is an RV tire pressure monitoring system, anyway? A TPMS provides real-time data about your tires, including pressure, temperature, and if your tires have slow or fast leaks. This allows you to respond quickly and pull over before disaster strikes. 


A blown-out tire doesn't just mean you'll have to replace your tire. It can cause serious damage to your rig and anyone or anything around. Terrible accidents have happened because of blowouts, and using an RV tire pressure monitoring system is one way to make sure you aren't the next.  


Most RV tire pressure monitoring systems are direct systems. This means you'll add a sensor to the valve stem of your tires and receive alerts to a monitor inside the rig.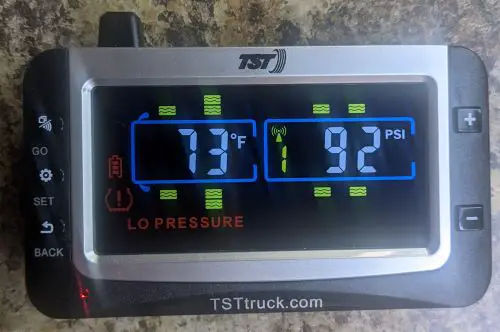 Do You Really Need a Tire Pressure Monitoring System?
You don't technically need a tire pressure monitoring system in your RV. You can drive fine without it. I am hesitant to say we didn't purchase our TPMS until 2 years into our full-time journey. 


Looking back and knowing what I know now, I am horrified to think we went without it for so long. As I have become more involved in the RV community, I have seen more and more evidence of tire failure. I am just thankful we weren't one of those. 


Our main reason for not getting a TPMS was the cost. These things don't come cheap. However, if you think about how much damage could be done without them, it is a small price to pay for safety. So while you could go without, I recommend everyone purchase a TPMS. It will keep your RV safer. 


Review of the Truck System Technologies TPMS
There are plenty of RV tire pressure monitoring systems out there. Like most things, you get what you pay for. There are some cheap systems. However, many RVers have expressed frustration with these products. 


Joel and I bought the Truck System Technologies 507 RV tire pressure monitoring system. We travel with our Class A motorhome and tow an enclosed trailer behind. This meant we had to purchase some additional sensors for the trailer. After installing and using our TPMS on our first trip, here's what we think. 


Overall, the installation process was fairly simple. The instructions were clear and easy to follow. The only setup difficulty we ran into was with the front tires. It was a bit tough to get the locking washer nut on due to the limited clearance. Joel said he is glad we got the cap sensors and not the flow-through valves because the latter would stick out really far and make this an even bigger problem.


The repeater which we needed for the trailer sensors wasn't difficult to hook up. We have it attached to our chassis battery using alligator clips per the manufacturer's recommendations. We unplug it when we arrive somewhere and clip it back on when we are driving. 


It was easy to set the PSI levels for each individual sensor. We had no problem setting the trailer tires to a lower pressure since they are smaller tires than those on the RV. When looking at the monitor, it cycles through each of the tires and provides data in a visually easy-to-read way.


The window suction cup mount for the monitor seems to be of good quality. It stayed mounted to the window nicely, even on some bumpy roads. The mount also makes it easy to keep an eye on things during the drive. If a problem arises, an alarm will sound and the monitor will display the issue. 


One kind of annoying thing is that it takes a few minutes for all the sensors to link after turning on the monitor. It can take anywhere from 5 to 10 minutes to pick up all the sensors. It isn't a major problem as long as you turn the monitor on a few minutes before leaving. You might want to make this part of your RV departure checklist for good measure. 


So far, having our TPMS installed has saved us from experiencing a full blowout or other serious issue on several seperate trips. Each time the TST system alerted us immediately to a slow leak which allowed us to pull off the highway and address the issue right away. If left unchecked, a slow leak could easily have led to a blowout.


Even if your TPMS alerts you to a tire issue just one time, there is the potential to save thousands of dollars in damages (or even your life).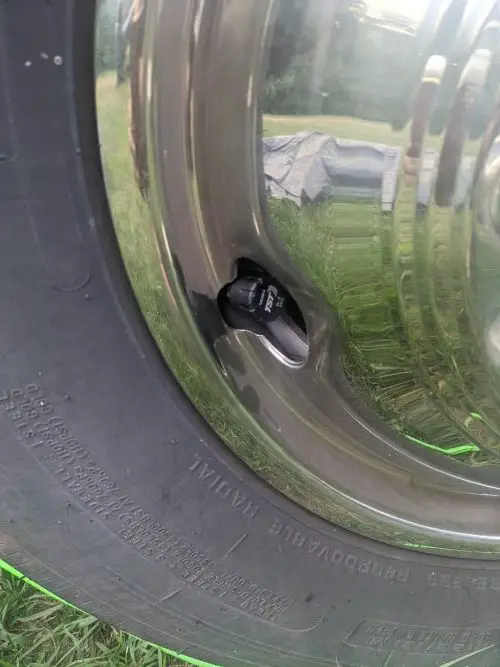 Other TPMS Options 
We have been happy with the Truck System Technologies RV tire pressure monitoring system. However, there are several other highly rated brands. Some popular choices include EEZTire, TireMinder, and Tymate. If you have used one of these or another TPMS, please share your experience in the comments.
 Facebook Comments
One moment, please. If the comments fail to load, FB may have been too slow responding so try reloading.