Some of the links listed on this page are affiliate links. This means that, at zero cost to you, we will earn an affiliate commission from the vendor if you click through the link and finalize a purchase. We strive to always keep all our content free to the reader. Thanks.
America's national parks are some of the most beautiful places on the planet. They offer diverse landscapes and serve as homes for many kinds of wildlife. It's no wonder then that every year millions of people visit these protected spaces. 


Chances are, you've been thinking about doing the same thing. Back in the day, national parks weren't nearly as crowded as they are today. Their popularity makes sense, but it can also be a hassle for RVers. Fortunately, there are some strategies you can use for planning a national park RV trip.


Here's what you can do to make the experience memorable for all the right reasons. 


Plan Ahead for Your RV Trip to the National Parks
Winging an RV trip to the national parks is bound to lead to disaster. With how popular RVing is, many campsites fill up months in advance. National parks often have specific opening dates for when you can begin making reservations. In most cases, you can book six months in advance. 


It is important to decide well in advance which park or parks you want to go to. Then, research when reservations open and plan to reserve the first day it is possible. Many times, if you wait even a few days, you might miss your chance at securing a site. That means it isn't too early to start planning your next summer escape. 


If you can't get a reservation at your favorite national park, all is not lost. Another option is to look for RV parks or campgrounds nearby. Even these campgrounds likely require reservations well in advance, though. In some places, there is even fabulous boondocking in the area. Be prepared to arrive early to secure a spot at one of these first-come, first-serve locations. 


If possible, planning your trip in the off-season will give you more openings. It will also make the experience itself much more enjoyable! A few years back when visiting Zion on Memorial Day weekend, there was a 3-7+ hour wait to hike Angel's Landing depending on when you arrived. (We were on one of the earliest buses and still had to wait 3-4 hours. I highly recommend avoiding holidays because it was a complete zoo and we could hardly enjoy the time there). 


Another benefit for some national parks is that the off season isn't as sweltering as summer. For example, the southwest is full of epic road trips, like this Zion, Bryce, Grand Canyon Road Trip, just waiting to be had. However when you are staying in an RV, it can feel like you're melting in the heat of summer. In the fall or spring not only will you beat the crowds but the weather will be absolutey perfect.

Consider Your Rig Size 
If you haven't purchased an RV yet and plan to frequent national or state parks, smaller is definitely better. Many sites will be a tight squeeze. While some national parks have larger spaces, you will definitely struggle if you have a big rig. 


Before booking anything for your national park RV trip, be sure to research the site size. Make sure your rig can fit in the space (and that you can park it). 


Monitor Local Weather and News for Closures
National parks can close for all sorts of reasons. Whether it be weather, road closures, wildfires, or other major happenings. It is your responsibility to monitor any closures before you embark on your trip. 


As we saw in 2021 with Zion, things can change in an instant, so it is also wise to have a backup plan when possible. Monitoring the weather leading up to your trip can also help. If adverse weather is likely in the area, you can keep an eye on it and decide if it is still worth going. Keep in mind, if you bail on your trip (not because of closure), you'll likely be out a good chunk of change. 

Plan Your RV Route In and Out of the National Park
Many national parks have various ways to get into, out of, and through the park. National parks are also enormous, so just because you are camping in Yellowstone doesn't mean you'll be able to see the specific sites you want to for example. 


Take a look at a map and use a route planning tool specifically for RVs to ensure you have a safe and stress-free plan of attack. Planning your route will also help you get to see all the cool sites that are on your bucket list. 


Practice Driving and Parking Before You Go to a National Park
Another way to make your national park RV trip more enjoyable is to practice driving and parking before you go. Many national park roads are narrow and winding. Once you get into the campground, maneuvering into and out of campsites is a newbie's nightmare. 


If you're new to RVing or not confident in your abilities, practice, practice, practice. The more you practice, the more comfortable you'll feel. In some places, you can even take classes on driving an RV. 


You should also discuss your entrance and exit plan with your co-pilot if you have one. Talking through the plan beforehand rather than screaming it out the window mid-parking is a surefire way to set yourself up for success. 


Prepare for Fewer Amenities in National Parks
For campers used to staying at RV parks or resorts, the lack of amenities at national parks may come as a shock. National park RV trips are all about nature. The stunning views and fantastic hikes are where the appeal is. 


Because of this, the campsites typically offer fewer amenities. There may not be full hookup sites. Bathhouses are often but not always available. Other than that, there usually isn't much more going on at the campground. If you're lucky (or unlucky) you may get to see some local wildlife strolling through camp, though!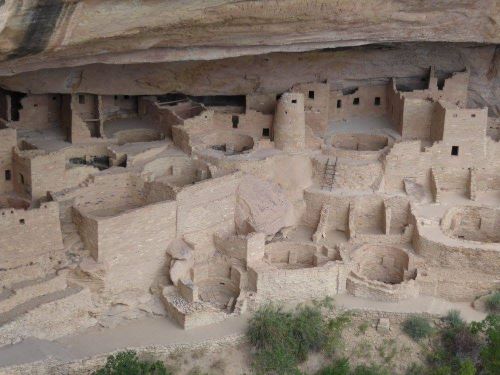 Come With a Fully Stocked RV
Since national parks are often in remote areas, coming with your RV fully stocked is ideal for a successful national park RV trip. There are sometimes small towns nearby, but they may not have everything you'll want or need. If you think you'll need it on your trip, pack it before leaving home. 


Leave Wildlife Alone
Every year we hear about some yahoo who decides to pester the wildlife in one of the national parks. Please don't be that person. Leave the wildlife alone and give them their space. If you don't, you risk harming the animals and yourself.


It would certainly seem cool to get an up-close photo with a grizzly in the background. Remember, this is not a zoo and the animals are not contained. They are wild and can come right up to you, so be smart. I don't know about you, but being grizzly bear dinner sounds less than appealing. 


Leave No Trace
Leaving the animals alone is one important way to preserve our national parks. Another way to ensure everyone can continue to enjoy their beauty is to follow all the principles of leave no trace. By the way, did you know being a considerate camper is part of the Leave No Trace principles? Many campers could use a refresher on campground etiquette. Could you be guilty?


Make a Plan for Your Pets During Your National Park RV Trip 
One of the things I most dislike about national parks (besides the crowds) is that I can't bring my dog anywhere. I understand the reasoning. After all, there are plenty of terrible pet owners, but it adds another layer to the planning. 


Depending on where you stay, pets may not even be allowed in the campground. Be sure to check the specific rules before bringing your pet on a national park RV trip. If you must leave them in the RV all day, try to go to an area with good cell coverage so you can monitor the temperature and check in on them. 


Unless you're a full-timer, the best plan is to get a pet sitter and leave your pet at home. They will probably be much happier and so will you. You may miss them, but you'll be able to explore without worrying about them all day long.

 
Successful National Park RV Trips Are Possible
Don't let the logistics deter you from taking a national park RV road trip. There are so many fantastic sights to see. Seeing them in the luxury of an RV while getting close to nature is about as good as it gets. With proper planning, your trip is sure to be a memorable vacation.
 Facebook Comments
One moment, please. If the comments fail to load, FB may have been too slow responding so try reloading.