Some of the links listed on this page are affiliate links. This means that, at zero cost to you, we will earn an affiliate commission from the vendor if you click through the link and finalize a purchase. We strive to always keep all our content free to the reader. Thanks.
If you want to enjoy cruising around town on your bike on an RV vacation, you're going to want the best RV bike rack you can find. Besides being fun, bringing your bikes along is also an ideal way to get around town, especially if you don't have a tow vehicle. A bike or especially an E-bike is a super nice thing to have when RVing.


Obviously bringing bikes RVing is a fantastic idea, but the logistics can sometimes get in the way. Fortunately, there are many RV bike racks that make the process much smoother.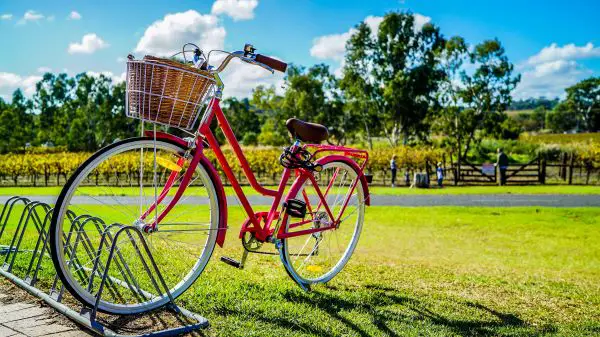 Do I Need a Special Bike Rack for an RV?
Yes! You need to purchase a bike rack that is RV Approved. The reason is that a bike rack moves and bounces around a lot more on the back of an RV than it does on the back of a car. Some RVers have even had non-RV approved bike rakes bend significantly and almost lose their bikes during travel. 


Not only would it be a real drag to lose your bike, but you could cause a major accident as well. Do yourself a favor and don't be tempted by the lure of a cheap car bike rack. The risk simply isn't worth it. 


Make Sure Your Rack is Rated for the Weight of Your Bikes
Not all bikes are created equal and not all RV bike racks are either. If you have a heavy-duty bike like a fat tire bike or especially an e-bike, you will definitely need to pay attention to weight rating. 


Where Do I Mount my Bike Rack on my RV?
There are several options for where to mount your RV bike rack. Your setup will determine what makes the most sense for your situation.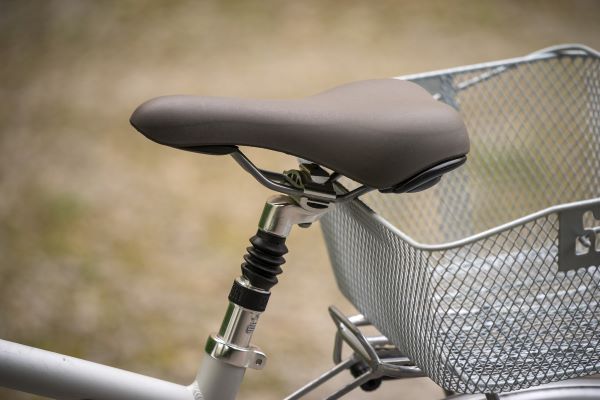 Ladder Mount Bike Rack
One option is a ladder mount. One major benefit of a ladder mount is that it doesn't add any additional weight to your hitch. The ladder mount bike racks are also fairly easy to install for those of us who aren't as handy. The major drawback to ladder mount bike racks is that they usually only hold one or two bikes. The max weight for most of these is 60 pounds, which eliminates them as a possibility for most e-bikes. 


Bumper-Mount Bike Rack 
RVers also have the option of adding a bike rack to the bumper of the rig. Most bumper-mounted bike racks have more space to bring along up to four bikes. They also generally have a higher weight capacity. Some of them have up to 120-pound weight capacities, making this type of rack a better choice for heavier e-bikes. 


Hitch-Mounted Bike Rack 
The final option for where to put your RV bike rack is on the hitch of your RV. If you tow an RV or have a tow vehicle behind your motorhome, you may think you are out of luck. However, you can easily install a dual hitch receiver. 


This will allow you to tow as normal and add a bike rack to the mix. Typically hitch-mounted bike racks can hold greater weight and up to four bikes. Make sure you also purchase the correct bike rake based on your hitch receiver size. 


Other Considerations For Picking a Bike Rack for an RV
Make sure you can lift your bike to the height needed in order to load your bike rack. It would be a drag to go through all the hassle of mounting a bike rack, only to discover your massive e-bike is too heavy for you to lift. 


Another consideration to keep in mind when purchasing a bike rack is that you get what you pay for. If you buy a cheap bike rack, it probably won't hold up as long. Pick something made of a sturdy material that is tough enough to accommodate your bikes. In the long run, you'll probably save money because your bike rack will last longer. 


Always be sure to check the weight of your bike and the weight rating of the bike rack you purchase to ensure the combination will work safely. 


Best E-Bike Rack for RVs
E-bikes are outstanding for RVers and we see more and more of them around. E-bike racks cost a pretty penny because they ‌hold bikes that are much heavier than traditional road or mountain bikes. However, when you purchase the right bike rack for your electric bike, you can travel with confidence, knowing you won't be losing your bike in the middle of the highway. 


The best RV approved e-bike rack is the HYPERAX Volt Hitch Mounted Carrier. The bike rack can carry two bikes, each weighing up to 70 pounds. It can support even the heaviest of e-bikes and has a 4.6 out of 5 star rating according to Amazon users. 

Another heavy duty bike rack (that comes with a bit more heavy duty price tag) is the 1Up Super Duty Double. It can carry two e-bikes weighing up to 75 pounds each. It is one of the toughest options out there. The 1Up bike rack also has some added features like an anti-wobble hitch bar and is 100% made in America.
Best Ladder Mount Bike Rack 
The ladder mounted bike racks tend not to have as high of ratings as other types of RV bike racks. They aren't quite as sturdy, however they are affordable and easy to set up. So if you decide to purchase this kind of bike rack, there are two top contenders. 


The first is the Camco Ladder Mount Bike Rack. Camco makes many quality RV products. This bike rack gets 4.1 out of 5 stars according to Amazon user ratings. It can hold two bikes with a total weight capacity of 60 pounds. Another nice perk is that it folds up for easy storage when not in use. 
A second choice ladder mount bike rack is the Stromberg Carlson Ladder Bike Rack. It has a 4.1 out of 5 start rating, just like the Camco. It can also hold two bikes but the max weight is only 50 pounds which is less than Camco offers. 
Best Bumper Mount Rack 
If you want a bumper mount bike rack for your RV, the best product out there is the Swagman RV-Approved 4-Bike Bumper Rack. It can, as the name implies, carry up to four bikes, each weighing up to 30 pounds, making it a solid choice for families with kids. It is easy to install and has a 4.4 out of 5 star rating. 
Coming in a close second with 4.3 out of 5 stars and a much lower price tag is the Quick Products QPRBM2R RV Bumper-Mounted 2-Bike Rack (don't ask why they decided to make such a hard to remember name…) 


This bike rack is for use with a 4 to 4.5-inch square bumper. It carries up to two bikes weighing up to 30 pounds each but will NOT work for fat tire bikes. If you only have two bikes, this rack may make more sense than the Swagman bumper mount option. 
Best Hitch Mount Bike Rack
The best hitch mounted bike rack for RVers is the Swagman TRAVELLER XC2 Bike Rack. This bike rack can hold two bikes, each weighing 35 pounds. It is easy to install and has consistently high ratings with 4.5 out of 5 stars. You can also install it as a bumper mount if desired. You can also upgrade the tire tray to accommodate a fat tire bike. 
Another solid hitch-mounted bike rack is the Thule Range Hitch Bike Rack. It also has 4.5 out of 5 stars and Thule is known for its high-quality products. If you need to carry over two bikes, this is the hitch mount bike rack for you, as it can carry four bikes. Each bike can weigh up to 37.5 pounds. 
Which Bike Rack Should You Choose for Your RV?
The decision as to which RV bike rack is best will depend on your needs and your budget. Regardless of what you decide to purchase, be sure to double check the specs of the rack and your rig prior to purchase. After that, have fun cruising around town on your next camping trip! 
 Facebook Comments
One moment, please. If the comments fail to load, FB may have been too slow responding so try reloading.