Some of the links listed on this page are affiliate links. This means that, at zero cost to you, we will earn an affiliate commission from the vendor if you click through the link and finalize a purchase. We strive to always keep all our content free to the reader. Thanks.
Post Updated January 22, 2023.


If you want to enjoy cruising around town on your bike on an RV vacation, you're going to want the best RV bike rack you can find. Besides being fun, bringing your bikes along is also an ideal way to get around town. It is especially important to brin a bike if you don't have a tow vehicle. A bike or especially an E-bike is a super nice thing to have when RVing. E-bikes especially make a great gift for RVers.


Obviously bringing bikes RVing is a fantastic idea, but the logistics can sometimes get in the way. Fortunately, there are many RV bike racks that make the process much smoother.  Keep reading to learn what you need to know to choose the best product for your situation.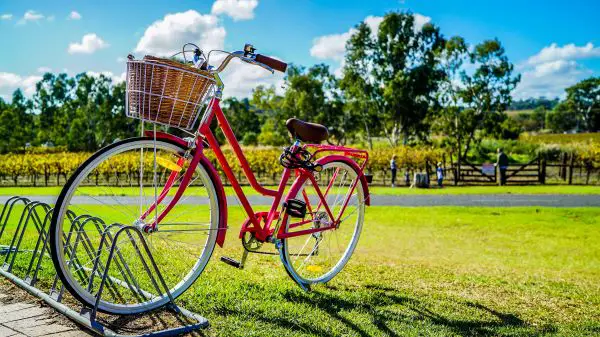 Can I Put a Bike Rack on an RV?
Thinking about getting a bike rack for your RV? Sounds like fun! Just be sure to get an RV rated bike rack. Regular bike racks aren't designed for the weight and movement of an RV. If you use one it could potentially cause failure or damage to your bikes, as well as other motorists. So make sure you invest in one that is designed with RV use in mind. There are many best RV bike racks out there, so you'll be able to find one that fits your needs and budget.


Make Sure Your Rack is Rated for the Weight of Your Bikes
Not all bikes are created equal and not all RV bike racks are either. If you have a heavy-duty bike like a fat tire bike or especially an e-bike, you will definitely need to pay attention to weight rating. Many RV bike racks out there only support around 30 to 40 pounds. An e-bike on the other hand can easily weigh 65 pounds or more. Thankfully there are some excellent e-bike racks out there.


Make Sure It Can Hold the Correct Number of Bikes 
When selecting an RV bike rack, it is important to consider how many bikes you plan on transporting. Most racks are typically designed for either 2 or 4 bikes, so be sure to choose accordingly. You also need to think about the size of your bikes and whether they will fit in the space provided.
Where Do I Mount my Bike Rack on my RV?
There are several options for where to mount your RV bike rack. Your setup will determine what makes the most sense for your situation.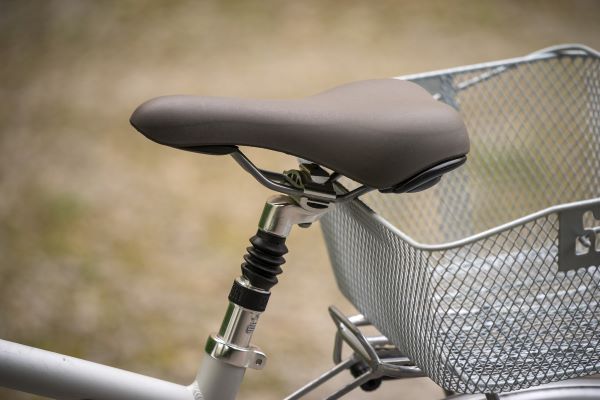 Ladder Mount Bike Rack
One option is a ladder mount. One major benefit of a ladder mount is that it doesn't add any additional weight to your hitch. The ladder mount bike racks are also fairly easy to install for those of us who aren't as handy.


The major drawback to ladder mount bike racks is that they usually only hold one or two bikes. The max weight for most of these is 60 pounds, which eliminates them as a possibility for most e-bikes.  From what I have found they are also often made of subpar materials. This quality means they many not stand up to the test of time.

JUMP TO THE BEST LADDER MOUNT BIKE RACKS


Bumper-Mount Bike Rack 
RVers also have the option of adding a bike rack to the bumper of the rig. Most bumper-mounted bike racks have more space to bring along up to four bikes. They also generally have a higher weight capacity. Some of them have up to 120-pound or even 150- pound weight capacities. This type of rack is often a better choice for heavier e-bikes.


Make sure you have a  metal bumper and double check your owner's manual to ensure you can safely add a bumper-mounted bike rack. Typically if you have a metal bumper that is at least 4 by 4 inches it can support a bike rack and bikes.

JUMP TO THE BEST BUMPER-MOUNTED BIKE RACKS


Hitch-Mounted Bike Rack 
Another option for where to put your RV bike rack is on the hitch of your RV. If you tow an RV or have a tow vehicle behind your motorhome, you may think you are out of luck. However, you can easily install a dual hitch receiver. 


This will allow you to tow as normal and add a bike rack to the mix. Typically hitch-mounted bike racks can hold greater weight and up to four bikes. Make sure you also purchase the correct bike rake based on your hitch receiver size. There are also some hitch mounted RV compatible bike racks that you can use on the back of your tow vehicle.


JUMP TO THE BEST HITCH-MOUNTED BIKE RV BIKE RACKS

JUMP TO THE BEST E-BIKE RACKS


Travel Trailer Tongue Mount RV Bike Rack 
If you are looking for an RV bike rack that is especially tailored to travel trailers, then a frame tongue mount bike rack may be the perfect solution for you. With this type of bike rack, you can typically carry up to two or four bikes on your trailer.


Before you invest in this style of bike rack, however, it is important to check your trailer and tow vehicle's tongue weight capacity. Once you attach bikes to the frame tongue mount bike rack, that increases the tongue weight. The result? It could be too heavy for your setup.


The frame tongue mount bike rack usually attaches to the trailer tongue frame either through welding or bolting. It can often be more difficult to load and unload the bikes due to its height. So it may help to have an extra hand when you are lifting them up.


Overall, a frame tongue mount bike rack is perfect for anyone looking for an RV bike rack that is specifically designed for travel trailers.


JUMP TO THE BEST TRAVEL TRAILER TONGUE MOUNT BIKE RACKS


Other Considerations For Picking a Bike Rack for an RV
Make sure you can lift your bike to the height needed in order to load your bike rack. It would be a drag to go through all the hassle of mounting a bike rack, only to discover your massive e-bike is too heavy for you to lift. 


Another consideration to keep in mind when purchasing a bike rack is that you get what you pay for. If you buy a cheap bike rack, it probably won't hold up as long. Pick something made of a sturdy material that is tough enough to accommodate your bikes. In the long run, you'll probably save money because your bike rack will last longer. 


Always be sure to check the weight of your bike and the weight rating of the bike rack you purchase to ensure the combination will work safely. 


Best RV Bike Rack for Electric Bikes
E-bikes are outstanding for RVers and we see more and more of them around. E-bike racks cost a pretty penny because they ‌hold bikes that are much heavier than traditional road or mountain bikes. However, when you purchase the right bike rack for your electric bike, you can travel with confidence. No need to worry about losing your bike in the middle of the highway.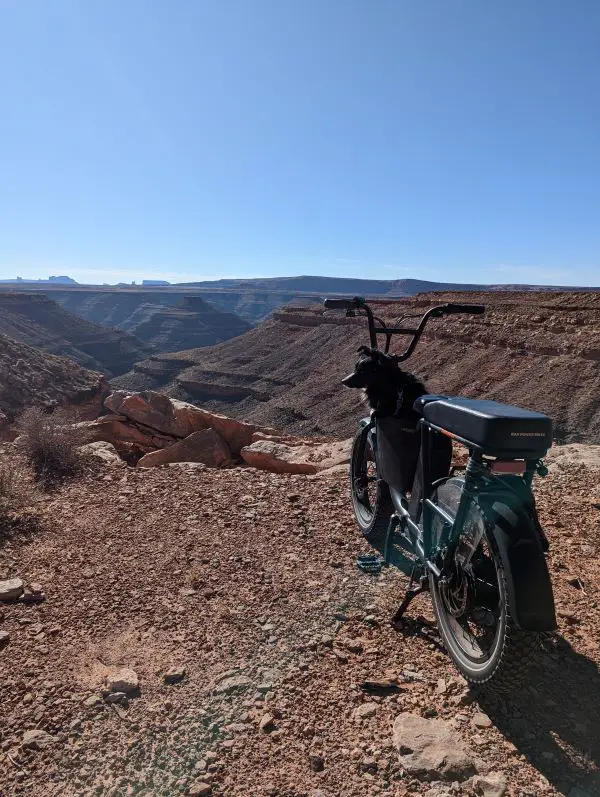 HYPERAX Volt Hitch Mounted RV Bike Rack
The best RV approved e-bike rack is the HYPERAX Volt Hitch Mounted Carrier. 


This bike rack is designed with durability and convenience in mind. It can take on up to 70 pounds per bike, meaning even the heaviest of e-bikes can fit securely. With its 4.6 out of 5 star rating on Amazon, you know it is up to the job!


You can also attach this bike rack to a tow vehicle if you have one. That means you can bring your bikes along for any trip. Once you arrive at a campsite you can bring your bikes to and from the trails using your town vehicle. The HYPERAX Volt Hitch Mounted Carrier is the perfect companion for any RV enthusiast who wants a reliable and convenient way to transport their bike!




1Up Super Duty Double RV Bike Rack
Another heavy duty bike rack (that comes with a bit more heavy duty price tag) is the 1Up Super Duty Double. It can carry two e-bikes weighing up to 75 pounds each. It is one of the toughest options out there. The 1Up bike rack also has some added features like an anti-wobble hitch bar that helps keep your bikes safely in place even on bumpy roads. 1Up also makes the rack 100% in America.




Best Ladder Mount Bike Rack 
The ladder mounted bike racks tend not to have as high of ratings as other types of RV bike racks. They aren't quite as sturdy, however they are affordable and easy to set up. You can't use these kinds of bike racks with heavier bikes like fat tire or e-bikes.


But if you just want to bring along road bikes for the kids it may be a decent choice for your budget. If you decide to purchase this kind of bike rack, there are two top contenders. 


Camco Ladder Mount
The first is the Camco Ladder Mount Bike Rack. Camco makes many quality RV products. This bike rack gets 4.1 out of 5 stars according to Amazon user ratings. It can hold two bikes with a total weight capacity of 60 pounds. Another nice perk is that it folds up for easy storage when not in use.


The major concern is quality of materials which is a problem for most ladder mount bike racks. However, if you are looking for a budget-friendly way to get your kids' bikes to the RV park it is a fine option. 


Best RV Bike Rack for Ladder Mounts- Stromberg Carlson Ladder Bike Rack
A second choice ladder mount bike rack is the Stromberg Carlson Ladder Bike Rack. It has a 4.1 out of 5 star rating, just like the Camco. It can also hold two bikes but the max weight is only 50 pounds which is less than Camco offers. Again, the problem here is strength and durability. It can't hold very heavy bikes so even some nice adult mountain bikes would be off the table for this bike rack. 
Best Bumper Mount Rack 
A bumper mount rack is an ideal choice for many campers. It offers easy access and secure storage of up to four bikes. With so many different options on the market, it can be difficult to choose which one is the best RV bike rack.


We've taken the time to review and compare some of the top bumper mount bike racks. Now you can make an informed decision when it comes time to purchase one. Whether you're looking for an affordable option, or something more feature packed, we have the perfect rack for you. Read on to learn more about the best bumper mount bike racks for RVs. 


Swagman RV-Approved 4-Bike Bumper Rack
If you want a bumper mount bike rack for your RV, the Swagman RV-Approved 4-Bike Bumper Rack is the best RV bike rack you can find. It can, as the name implies, carry up to four bikes, each weighing up to 30 pounds. This is one of the best RV bike racks for families with kids. That;s because everyone can bring their bike along. It is easy to install and has a 4.4 out of 5 star rating. 

For heavier bikes, like e-bikes and some fat tire or mountain bikes, this rack won't be able tos upport the weight. So make sure to weigh your bikes before purchasing.


Quick Products QPRBM2R RV Bumper Mounted RV Bike Rack 
Coming in a close second with 4.3 out of 5 stars and a much lower price tag is the Quick Products QPRBM2R RV Bumper-Mounted 2-Bike Rack. (don't ask why they decided to make such a hard to remember name…) 


This bike rack is for use with a 4 to 4.5-inch square bumper. It carries up to two bikes weighing up to 30 pounds each but will NOT work for fat tire bikes. If you only have two bikes, this rack may make more sense than the Swagman bumper mount option. 
Top Hitch Mount Bike Racks
Are you an RV enthusiast looking for the best hitch mounted bike rack? You've come to the right place! Here, we'll discuss some of the top-rated options available on the market today.


Before you make a purchase, however, it's important to remember that not all bike racks are created equal. You can attach some to cars while others are specifically for RVs. So make sure you get the one that's appropriate for your situation! Everything I recommend here is clear for RV use so keep reading to learn more about hitch mounted RV bike racks.


Swagman TRAVELLER XC2
Looking for a reliable and easy-to-install bike rack? Look no further than the Swagman TRAVELLER XC2 Bike Rack. This versatile rack is designed to hold two bikes up to 35 pounds each. Installation is a breeze and only takes a few minutes when you follow the instructions. 


An added bonus is that you can install it as a bumper mount if desired. Furthermore, you can upgrade the tire tray to accommodate fat tire bikes up to 35 pounds. That way you don't have to worry about leaving anyone behind on your next biking adventure. With consistently high ratings of 4.5 out of 5 stars, you know the Swagman TRAVELLER XC2 Bike Rack is a reliable choice you can count on.

The Swagman TRAVELLER XC2 is more expensive than bike racks for other mounting options. However for hitch-mounted options, it gives you the most bang for your buck.


Hollywood Racks RV Rider Hitch Bike Rack
If you're an RV enthusiast looking for a reliable way to transport your e-bikes, look no further. Hollywood Racks has the solution for you. The RV Rider Hitch Bike Rack is perfect for motorhomes, 5th wheels and flat-towed vehicles. With its frame grabbers, this bike rack easily accommodates bikes with a diameter range of 1 to 2 inches, eliminating the need for bike adapters.


It has a capacity of up to 80 lbs each. That means this bike rack can handle heavier loads than many other RV bike racks. Plus, you'll have added security with its locking cable and keyed-alike hitch pin feature. This bike rack is not compatible with bumper pull, travel trailers or bumper mounted hitch receivers.

The major downside of this bike rack is the price. It is much more expensive than a lot of of other options on the market.


Thule Range
For families of biking enthusiasts looking for an RV bike rack that is tough enough to carry everyone's bike, there is a great choice for you. Look no further than the Thule Range RV Bike Rack. This amazing bike rack can carry up to four bikes with plenty of space between them. There are 7 inches between each bike so they won't rub against each other causing damage. 


With a total load capacity of 150 pounds, you can be sure that your bikes will remain securely in place. The maximum individual bike weight is 37.5 pounds, so the Thule Range RV Bike Rack is best for regular bikes. It won't support the weight of e-bikes or even some fat tire bikes. 


The Thule Range RV bike rack is more secure than ever with its integrated cable lock. This allows you to lock your bikes down when they're stored on the rack. That way, you can rest assured that no one will be able to take them away. And when you're not using it? No problem! The arms easily fold down for convenience and storage.


Best A Frame Tongue Mount RV Bike Racks 
If you own a travel trailer, chances are you want to take your bike out on the open road with you. However, finding the best RV bike rack for a travel trailer is difficult as there are surprisingly few RV tongue mount bike racks on the market. Fortunately, there is one that stands above the rest. Keep reading to learn more.


Futura GP for Travel Trailer Tongue 
The Futura GP RV Bike Rack for Travel Trailer Tongue will make sure your bicycle is secure! Compatible with 95% of bikes, you can trust this rack to keep your bike safe while traveling. Plus, when you buy directly from the company, they offer a 60-day satisfaction guarantee. 


With this bike rack there is no need to worry about drilling into the RV frame. There's a special attachment available to avoid this issue! You can also rest assured knowing that this rack is made in North America with top quality materials. With the Futura GP RV Bike Rack for Travel Trailer Tongue, you can enjoy your RV adventure without having to worry about your bike's safety. 


Amazon users give it 4.3 out of 5 stars. While this is lower than some other options, you'll still be getting a quality product if you want or need a tongue mount. 


Tips for Safe Use of a Bike Rack on Your RV
When using even the best RV bike rack to transport your bikes, it's important to take some basic steps to ensure the safety of all involved.


1. Before installing your RV bike rack, make sure you account for any obstructions such as a ladder.  This will ensure that you have enough space for the bike rack and that installation is safe.


2. Make sure to check all manufacturer specifications before purchasing a bike rack. This includes weight limits, number of bikes it can accommodate, and the size of your RV's bumper, hitch, tongue, or ladder.


3. Before loading any bicycles onto a rack, always double check that you securely tightened and adjusted all hardware and it didn't come loose.


4. When not in use, make sure to store your RV bike rack securely in an area away from excess moisture and direct sunlight. 


5. If your RV bike rack is equipped with a locking system, make sure to use it when the bikes are unattended for added security. If it does not have a locking system, use a bike lock to ensure your bikes don't ride off. 


6. Be sure to properly use the tie down system to attach your bikes to the frame of the bike rack for extra security while driving.


7. Before hitting the road, it's always a good idea to give your RV bike rack and bicycles a quick visual inspection for signs of wear or damage.  This will help ensure that they are safe to use and will help prevent potential hazards while driving.


8. If you're not comfortable installing your RV bike rack yourself, consider having a professional do it for added peace of mind.


9. Once you have safely attached the RV bike rack to your bumper, make sure to drive cautiously and at slower speeds than usual. This will help reduce any potential vibrations or impacts to your bikes and bike rack while driving.


10. To minimize vibration of the best RV bike rack, make sure to properly inflate all tires before loading. 


11. Lastly, keep an eye on your RV bike rack while driving to ensure that it and your bikes remains securely attached during travel. 


Following these tips will ensure that you are using your RV bike rack safely and securely. Always make sure to double check all parts of your RV bike rack before each use, including the mounting hardware and any locking mechanisms.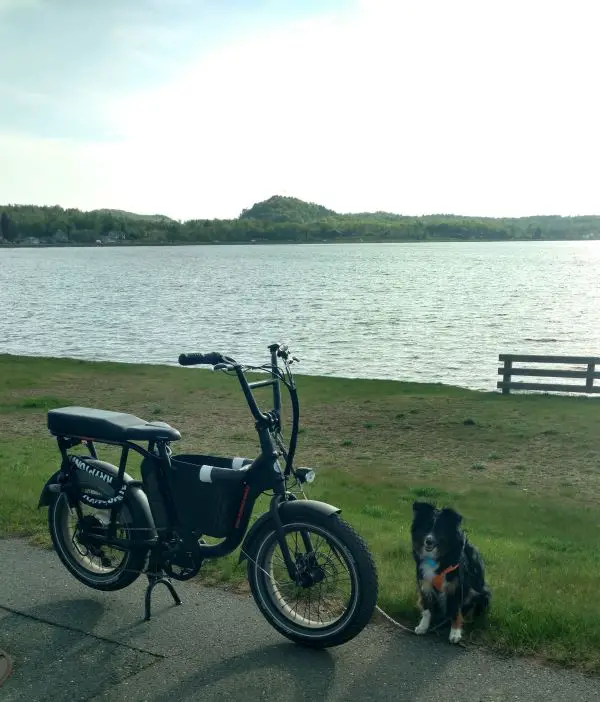 Frequently Asked Questions About RV Bike Racks 
Whether you're a beginner or a seasoned pro, choosing the right RV bike rack can be tricky. There are quite a few questions you should ask before you invest in one. In this article, we will answer some of the most commonly asked questions about RV bike racks to help make sure you're making the right decision for your vehicle and lifestyle.


How Do I Secure my Bike on my RV?
Once you've chosen the best RV bike rack for your vehicle and needs, it's time to get installing. The best RV bike racks make installation easy and straightforward, but there are still a few steps you need to follow carefully. For best results follow these steps in order:


1. Determine where you want the bike rack to place the bike rack on your RV. Be sure to read the instructions for your specific RV bike rack, as some racks may require different placement than others. As discussed earlier, different types of RV bike racks are best for different types of bikes and RVs.


2. Before installation, make sure that the surface you are attaching the rack to is clean and free from any dust or dirt.


3. Securely attach the bike rack to your vehicle or trailer using the appropriate hardware, such as bolts and screws.


4. Place the bikes onto the rack one by one, making sure that they are secure and tightly fit into the rack's cradles.


5. Make sure you properly fasten all of the straps for securing the bikes so that they won't come loose during your journey.


And that's it! With the best RV bike rack installed, you're ready to hit the open road with your favorite two-wheelers in tow.


Why Does a Bike Rack Need to Be RV Rated?
You need to purchase a bike rack that is RV Approved to keep you and other drivers safe on the road. The reason a bike rack needs to be RV rated is that bike rack moves and bounces around a lot more on the back of an RV than it does on the back of a car. Some RVers have even had non-RV approved bike racks bend significantly and almost lose their bikes during travel. 


Not only would it be a real drag to lose your bike, but you could cause a major accident as well. Do yourself a favor and don't be tempted by the lure of a cheap car bike rack. The risk simply isn't worth it. 


How Much does a Good Bike Rack for RVs Cost?
When it comes to investing in a good bike rack for your RV, you get what you pay for. Most decent bike racks will cost at least $70 and up but the top notch models can go up to $700-$800. 


Nonetheless, this is an investment that's definitely worth making if you plan on taking your bikes with you as you explore the great outdoors. If you purchase a poor quality bike rack, the worst thing that could happen would be that you lose your bikes during travel. Not only would it really suck to lose your bikes but it could cause a serious accident for anyone behind you on the road. You'll have to make sure that you get one that can handle the weight of your bikes, plus last long enough to provide reliable service for years to come. 


Can I Put Other Things on My RV Bike Rack?
No, you should not put other things on your RV bike rack. Doing so is not advisable because the bike rack is not designed to carry anything besides a bike, and you could risk damaging or overloading it.


That said, Joel and I have seen some people use their RV bike rack as a towel drying rack when they're parked, which is actually kind of clever! However, we still wouldn't recommend using the bike rack for anything other than its intended purpose during travel. It's always better to be safe than sorry!


So What is the Best RV Bike Rack?
At the end of the day, choosing the best RV bike rack for your specific needs is a personal decision. Before you purchase any bike rack, consider the mounting options, price, type of bikes you'll be carrying, number of bikes and maximum weight capacity. Don't forget to also consider if your RV bike rack is easy to mount/dismount when traveling. With all these factors taken into consideration, you'll be able to select the best RV bike rack for your needs and enjoy an active, biking lifestyle.
 Facebook Comments
One moment, please. If the comments fail to load, FB may have been too slow responding so try reloading.