Some of the links listed on this page are affiliate links. This means that, at zero cost to you, we will earn an affiliate commission from the vendor if you click through the link and finalize a purchase. We strive to always keep all our content free to the reader. Thanks.
When our 1977 VW Bus broke down, we had to borrow my in-law's car to return to the RV after a family gathering. Unfortunately, we forgot the RV keys in the VW. So when we arrived at the RV 25 minutes later we found ourselves locked out. 
Since it was already nearly midnight, we didn't want to spend nearly an hour driving back and forth to get the keys. So we did what anyone might do in this situation and broke into our own RV. The ease with which we did this is another RV security problem entirely. But it got me thinking about what to do to avoid getting locked out of your RV.


Keep reading for what to do if you are already locked out and how to avoid running into this problem in the future. 


How You Can Get Locked Out of Your RV
There are several ways you can end up locked out of your RV. One is the scenario Joel and I faced earlier this summer. We left our RV "house" keys at another site. (Turns out, the following morning I found our set of spare keys in the bag I had with me so breaking in shouldn't have even been necessary, but it made for an exciting adventure, I suppose). 


When you're new to RVing, the locks can also be a little confusing. There is the deadbolt which in most cases you can't lock without your keys from the outside. However, there is also a door latch lock on your RV. When you twist this lock to the "locked" position it opens from the inside, but as soon as you close the door behind you, it will lock you out. 


Another problem that can lead to getting locked out of your RV is an old latch or poor RV maintenance. Sometimes you need to lubricate or replace an old door latch. You might also need to check the interior mechanism to see if any screws need tightening. If you don't do this, your lock can eventually break and leave you trapped outside when it does. If your door latch seems to be getting harder and harder to open, it may be time for some maintenance.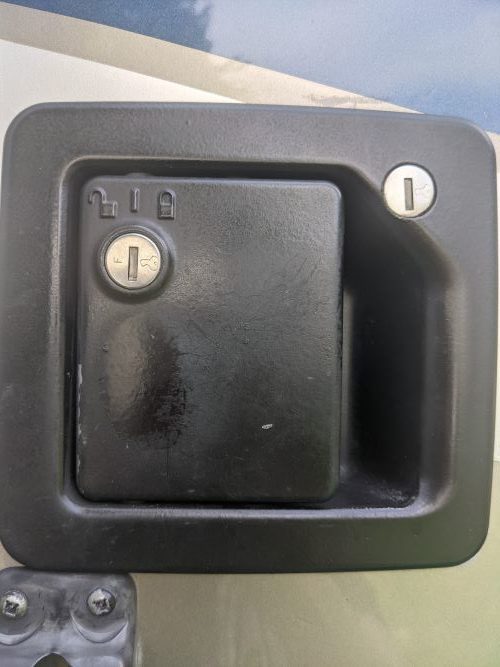 What to Do If You Get Locked Out of Your RV
If you find yourself in this unlucky situation, there are a few things you can try. Several of these solutions raise concerns about RV security but could work in a pinch. 


Check for Unlatched Windows if You're Locked out of Your RV
When we were locked out of our RV, Joel climbed onto the picnic table and through an unlatched window to get in. Clearly, doing the same thing would be easy for thieves. (Remember to latch your windows before you leave the RV, even though forgetting did come in handy for us this time). Most RV parks are relatively safe, but we have heard of people stealing items before. 


Climb in Through a Storage Compartment
On some RV models, it is also possible to gain entry to the RV through one of the outdoor storage compartments. You may be able to move aside some plywood and crawl into the interior. Again, this raises safety concerns as thieves could also gain access this way if you leave your storage compartments unlocked. 


Check to See if Anyone Else's RV Keys Work on Your Lock
Another option for when you're locked out of your RV is to see if any fellow campers have the same or similar RV model as you. Most factory-installed RV latch doors use the same key several keys to make it easy on RV dealers. They only need to carry around a handful of keys and they can open all the RVs on their lots. If someone has the same model RV as you and neither of you have upgraded your lock, you may be able to use a neighbor's key to open your door latch lock. 


The fact that someone else's keys could easily open your RV is, again, a safety concern. The same goes for your storage compartment locks. It is a good reason to always lock your deadbolt when you leave for the day and at night. You also may want to consider replacing your lock on the door and/or storage compartments for this very reason. While it might come in handy if you are locked out, the risks probably outweigh the benefits.  


Call a Locksmith if You are Locked Out of Your RV
If none of the previous strategies work, you may need to call a locksmith. They will be able to unlock your RV for you. While you'll have to pay for it, at least you won't be stuck outside. It is possible your insurance company will cover the costs of the locksmith like they do when you lock your car keys in the car. It doesn't hurt to call and ask about your roadside assistance coverage.


Simple Steps to Make Sure You Never Get Locked Out of Your RV
One of the easiest ways to make sure you don't get locked out of your RV is a spare key. Carry the key with you or leave in your tow vehicle. I have also heard of some RVers locking a spare key inside a box they leave near their RV with a code to open it. 


However, the absolute best way to make sure you never get locked out of your RV is to install a keyless entry system. RV Lock and Latch It are popular choices. A keyless entry system will improve your RV security since no one else's key will work to open your door, as discussed above. Additionally, this way you never have to worry about getting locked out or forgetting your keys anywhere. Just punch in the code and your cozy abode awaits you. 


Have you ever been locked out of your RV? What did you do to get in?
 Facebook Comments
One moment, please. If the comments fail to load, FB may have been too slow responding so try reloading.