It's easy to let adversity stop you from RVing, especially full-timing. After all, if it was easy, more people would probably do it. This brings us to today's story. It's a story like some of the others we've covered on Cool RVers. A story of resilience and a reminder of just how quickly life can pass us by. If you've been looking for your reason to start RVing, don't wait. Make it happen now, because "someday" could be too late. 


Time Has a Way of Passing Us By
Jeannie Dees and her husband, Erick Young, (the co-founder of this website and the founder of the Cool RV Stuff Facebook group) almost found out the hard way just how short life can be. The couple had always loved RVing. Since Jeannie was a teacher, they could RV during her summer vacation. However, it wasn't until Jeannie was diagnosed with Stage 3 Renal Cell Carcinoma that she decided to truly re-evaluate and prioritize her travel plans.


Prior to Jeannie's diagnosis, she and Erick thought often about going full time. After 7 years of teaching, Jeannie even decided to take a couple of years off. Looking back now she said, "I wasn't sure what else I wanted to do but had I had more confidence in my abilities to pivot to another job, I would have figured out something to do while traveling."


Instead, Jeannie went back to teaching, which as we all know, is a noble and selfless, but challenging profession. Before she knew it, another 12 years had passed. With a house and a mortgage, full-time RV life seemed even more difficult to obtain. Despite finally knowing that full-timing was what she and Erick really wanted, it just didn't seem to be in the cards at that time.


The News That Changed Everything
For Jeannie and Erick, like most people, the news that Jeannie had cancer came as a complete shock. At just 44 years old, no one expects to be told they have cancer. Two days prior to her diagnosis, Jeannie had been to see her doctor for what she thought was a bladder infection. As the pain worsened and became unbearable, she ended up in urgent care and later the ER.


That's where she heard the doctor's awful words, "I'm so sorry". It was February 2014 when Jeannie and Erick received the news no one wants to hear. After that, Jeannie spent a very painful week waiting for surgery. Fortunately, despite taking longer than usual, the surgery was a success.


The surgeon completely removed Jeannie's right kidney, which she described as looking like "an alien creature". Since her kidney had completely encapsulated the cancerous mass, it had not spread to other parts of her body. This meant she didn't need to undergo chemotherapy or radiation, a welcome relief.


Although the pain had been awful, in hindsight, it turned out to be a blessing. Typically, this type of cancer is "silent" which makes it much more difficult to detect, said Jeannie. It made her and Erick realize just how lucky they were.


Making a New Plan
Jeannie and Erick, like other RVers who have experienced cancer diagnoses, used the experience to re-evaluate their plans. Six weeks after her surgery, Jeannie returned to teaching. She knew she couldn't abandon her students in the middle of the year.


However, she and Erick started planning their transition to full-time RV life. In the end, Jeannie decided to work one more year in teaching to get the most out of her pension plan. Then, she retired early from teaching at age 46 and she and Erick moved into their 5th wheel.


They spent about 6 months stationary while they prepared their house for sale. In February 2016, just 2 years after her life-changing diagnosis, Jeannie and Erick started traveling. They've been at it ever since.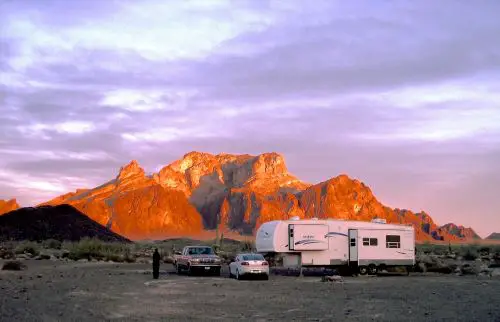 Looking Back and Looking Forward
Looking back on life now, Jeannie says she wishes she would have started full-time RVing sooner. It is a sentiment shared with many people I have spoken with. Sometimes it takes a life-changing event to get you to where you want to be, but it doesn't have to. You can make your dreams come true today, and Jeannie's story serves as an excellent reminder of how important that is.


Now, Jeannie and Erick love traveling full-time. The biggest challenge is returning to their "home state" of Washington every year for Jeannie's oncology appointments. Although they often wish they didn't have to make the journey back and could just keep traveling, they make the most of it. It gives them a chance to visit family as well.


After retiring from teaching, Jeannie also pivoted her career. Despite being concerned about her ability to do so earlier, this time around, she knew what she really wanted from life. So, she made it happen.


Jeannie now works as the Social Media Manager for the Escapees RV Club. So clearly, she is doing pretty well for herself since Escapees is practically a household name in the RV world! It just goes to show that no dreams are too big to turn into realities.


If you find yourself wishing and waiting, don't be afraid to take the leap. You never know what you're capable of until you give yourself a chance to try.
 Facebook Comments
One moment, please. If the comments fail to load, FB may have been too slow responding so try reloading.