Some of the links listed on this page are affiliate links. This means that, at zero cost to you, we will earn an affiliate commission from the vendor if you click through the link and finalize a purchase. We strive to always keep all our content free to the reader. Thanks.
You might wonder why camping games are even necessary. After all, why not just book a stay when the forecast says there will be pleasant weather and spend all your time outdoors? The popularity of RVing has exploded in the past year. Nowadays, you typically have to book your stay weeks or even months in advance if you hope to have somewhere to camp.


Making reservations in advance means you never know what you're going to get for the weather during your RV vacation. You might end up with rain or even scorching heat that could lead to a burning ban. So what is an RVer to do when the weather doesn't cooperate and you can't sit around the campfire in the evening? Watching movies with camping or playing board games is the way to go in this situation!


I've rounded up some of the best camping games from fellow RVers to keep you and your family occupied for hours. Keep reading to find your newest family favorite. 


Mexican Train
Mexican Train is a creative twist on traditional dominoes. This camping game involves a mix of skill and luck that will help you pass the time. The goal is to build a domino train to get rid of all the dominoes in your hand before all the other players. 


Cribbage
Cribbage is another fantastic camping game, especially because you can play so many slightly different versions of it. All you need to play is a cribbage board and a deck of cards. It is a nice one to bring along in the RV since it takes up so little fun yet allows hours of fun. 


Catan
A strategy camping game is Catan (previously known as Settlers of Catan). Take a trip back to the "olden days" as you trade, build, and settle in an unknown land. Whoever grows their settlement to reach 10 points the fastest is the winner, so be careful who you trade with. Catan is for 3-4 players but you can also purchase an expansion pack to allow for up to 6 players. There are a handful of different expansion packs to allow you to be pirates, knights, barbarians, and more if you want to shake things up.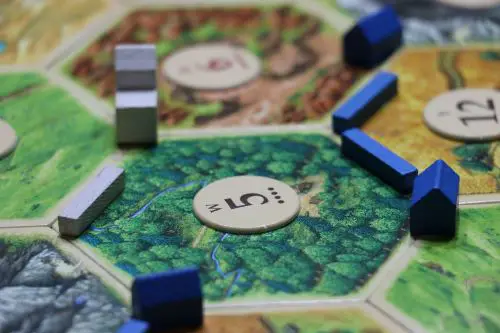 Farkle
Farkle is a simple dice game that can you can play with as few as two people. There is some variety in how you play so if you get bored you can switch it up. You can also use your dice and play Yahtzee instead. 


Kismet
If you enjoy dice games, you'll love playing Kismet as a camping game. It is similar to Yahtzee but has dice with tri-colored dots. The colors add an extra dimension to the game to keep everyone on their toes. 


Exploding Kittens
It's not as violent as it sounds, although Exploding Kittens is similar to Russian Roulette except with cards instead of guns. There are kittens, laser beams, and the occasional goat, so I'm not sure what more convincing you really need. There are also several twists on the original game made by the same company. If you've got a competitive steak, you can't go wrong with Exploding Kittens.


Monopoly or Monopoly Deal
Monopoly keeps coming out with alternative versions. The Monopoly National Parks is a fantastic choice for RVers for obvious reasons. Another nice option for a camping game is Monopoly Deal. With this game, you can get all the fun of Monopoly in a small, easy-to-bring-along card deck.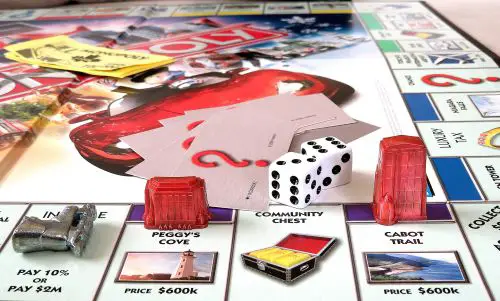 Codenames
Codenames is a fun group camping game. You'll need 4-8 players to form two teams. You must compete to identify all of your agents before the opposing team. The problem is, no one is really who they say they are and only the spymaster from each team knows the truth. 


Rummikub
I have splendid memories of playing Rummikub on traditional tent camping trips. You can play with 2-4 players and the goal is to play all your tiles before the other players can. Rummikub is quick and easy to play and is perfect for a rainy day. It involves a mix of strategy and luck to keep you on your toes. 


Phase 10
This is a perfect game for card game enthusiasts. Similar to Rummy with a twist you'll have to race against the other players to complete all the card phases needed for victory. There are also special action cards to spice things up. Phase 10 comes from the makers of UNO so it you or your kids love UNO, you should definitely give Phase 10 a try. 


Ticket to Ride
If strategy games are your style, you'll love Ticket to Ride. It is also a perfect RV or camping game as it involves traveling along on a cross-country train trip. You'll have to claim rewards to build your rail routes between cities. There are also many versions for different countries, so take your pick and get playing! 


Scrabble
If you're a wordsmith, Scrabble makes for a fun camping game that gets your brain working. Earn the most points by building creative words. This game is best for adults or older kids and is perfect for multiple players. For a fun twist that kids might enjoy even more, give Bananagrams a try. They will have so much fun they won't even realize they're working out their brains. Even better, Bananagrams is smaller and easier to pack away because you'll get a cool banana pouch to store your tiles rather than a large box. 


Jenga
Jenga is a fantastic camping game for kids (and adults). You'll have to think creatively to remove wooden blocks without collapsing the entire tower. No matter how many times you play, kids will have fun (especially if you're the one to knock down the tower)! It's also great for working on fine motor control with the little ones.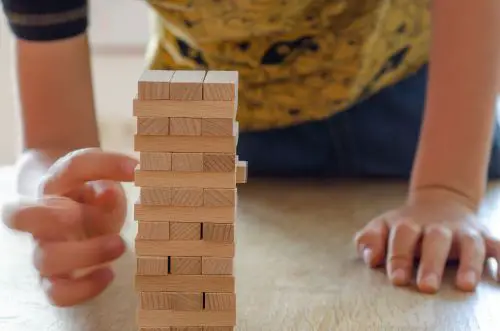 Backgammon
Backgammon is a classic board game that is easy to bring along on camping trips. In fact, it is one of the oldest known board games. This two-player game involves strategy and patience. The object of the game is to be the first player to move all of their pieces off the board game. 


Sushi Go
Possibly the cutest card game on the market, Sushi Go is fun and easy to play. It is for 2-5 players ages 8 and up making it a great family camping game. It takes just 20 minutes to play so it won't keep you occupied all day, but if you need a quick break from the heat, this is the perfect way to spend it. 


Sequence
If you enjoy board games and card games, then Sequence is the perfect fit for you. It combines both types of games and requires an abstract strategy to be the champion. Be the first player to get 2 sequences of 5 chips in a row. You can play it with 2-12 players so it is perfect for a couple's camping trips or large group gatherings. 


Cards Against Humanity
A word of caution, Cards Against Humanity is very much an ADULT game. But get together with a group of friends, add a little alcohol, and you'll be entertained for hours. Cards Against Humanity advertises on their website that they are a party game for horrible people. So if raunchy, crude humor are your style, you can't go wrong with this one.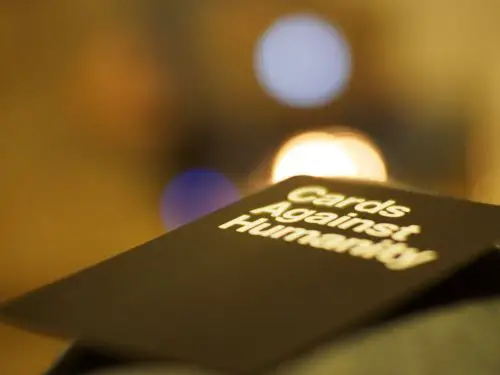 Five Crowns
If you're bored with traditional card games, give Five Crowns a try. This rummy-style game is played with a unique deck with colored and wild cards. The game is simple to play and you can even play it by yourself. Five Crowns works for 1-7 players but you can make the party even bigger by adding an additional deck. 


Spot It
Spot It is a fun, fast-paced picture-matching game that is fun for kids and adults of all ages. There are versions for many interests, including Camping Spot It (which I received from my best friend for my wedding and still use to this day). Each player flips a card and has to find a matching image between their card and the other player's card. Whoever spots the matching picture first gets to keep the cards. The player who collects all the cards first wins.

 
Pass the Pigs
Pass the Pigs is a family favorite in my family. Each player rolls two small pigs (like dice). Depending on how the pigs land, you receive a certain number of points. Keep rolling until you are out for that turn and lose all your points or quit while you're ahead. Whoever gets 100 points first is the winner. This game is straightforward to play, but it is tons of fun with lots of laughs.

What is your go-to camping game?
 Facebook Comments
One moment, please. If the comments fail to load, FB may have been too slow responding so try reloading.