Some of the links listed on this page are affiliate links. This means that, at zero cost to you, we will earn an affiliate commission from the vendor if you click through the link and finalize a purchase. We strive to always keep all our content free to the reader. Thanks.
Movies with camping make for a fantastic way to enjoy camping no matter the time. Chances are when you're not camping, you're thinking about camping. Kick back and relax with these fun movies about camping. They make for a great midweek watch or are perfect for a rainy day when you're stuck inside at the campground. I've rounded up the top movies to keep you occupied for hours.  


Movies with Camping You'll Want to Check Out
There are plenty of movies with camping, but there are the best ones. Some are family friendly while others should be adults only. I've also linked the trailer for each so you can get an idea if these camping movies are right for you.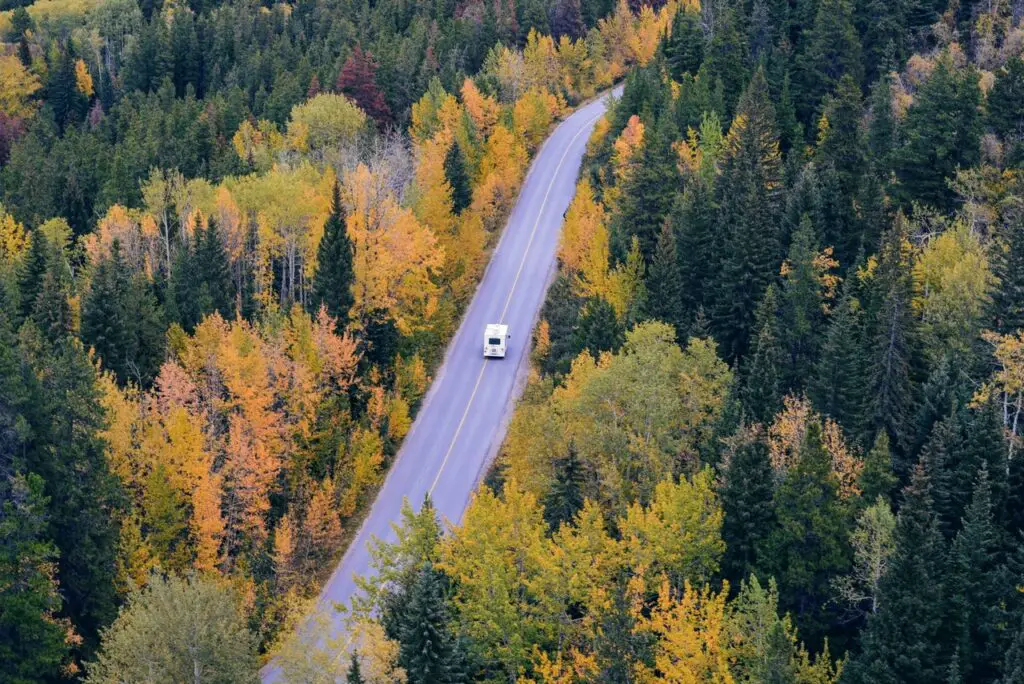 1. Lost in America (1985)
One of the great movies with camping is Lost in America. Snubbed advertising agent, David Howard decides to leave his job after not receiving the promotion he feels entitled to. David convinces his wife, Linda, to quit her job as well. The couple then sells all their possessions and begins a cross-country road trip in their Winnebago. Although they could have used a little more RV road trip planning, it sure makes for some great comedic entertainment. Two yuppies in an RV. What could possibly go wrong? 


Where to Stream/Rent: 
Google Play
iTunes Store
Microsoft Store
VUDU
YouTube

2. National Lampoon's Christmas Vacation (1989)
If you've been RVing for any length of time, you've no doubt heard of some classic movies with camping. National Lampoon's Christmas Vacation is one of those classics that is perfect for RVers. Clark Griswold envisions a perfect family Christmas. However, when his cousin Eddie shows up with his family in a run-down camper, things quickly go south. It's a classic example of why you should be a respectful boondocker! 


Where to Stream/Rent:
Apple TV
DirectTV
Google Play
Microsoft Store 
YouTube

3. Vacation (2015) – Another classic movie with camping
The Griswold family isn't satisfied with just one movie with camping. In Vacation, you can follow the misadventures of Rusty Griswold. He packs up his family in an attempt to recreate fond childhood road trip memories. Although the family takes a road trip in their car, you can imagine many of the same struggles for an RV road trip. 


Where to Stream/Rent:
Google Play
HBO Max
iTunes Store
Microsoft Store
VUDU


4. The Long, Long Trailer (1953)
In The Long, Long Trailer, newlyweds Nicholas Collini and his wife Tacy have to travel for Nicholas's job as an engineer. The young couple decides to purchase an RV to travel the country. But they soon discover they may be getting more than they bargained for. You can't really go wrong with a Lucille Ball comedy, so this classic should definitely be on your list of movies with camping to watch. 


Where to Stream/Rent:
Google Play 
iTunes Store
VUDU


5. RV (2006)– Movie with camping every new RVer can relate to
This RV comedy, cleverly titled, RV, perfectly captures many of the mishaps of new RVers. There is a huge learning curve for all of us. When Bob Munro and his dysfunctional family pile into a janky, rented RV for a family road trip what's the worst that could happen? Along the way, they experience many problems and some encounters with weird campers (definitely none of us, we're Cool RVers). It is a lighthearted movie with camping the entire family will love to laugh at. 


Where to Stream/Rent:
6. We're the Millers (2013)– A movie with camping and comedy
Small-time pot dealer David finds himself in a tight spot and needs to pick up a shipment directly from Mexico. To design the perfect cover, he brings along a fake family and We're the Millers ensues. Packed together in an RV, they have more to worry about than just the cartel chasing after them. This movie about camping is a comedy that's an excellent choice if you're looking for a good laugh. 


Where to Stream/Rent:
7. The Incredibles (2004)– One of the movies with camping for the whole family
Need a movie for the kids? Look no further. Although the focus of The Incredibles isn't RVing, there is an RV cameo and a whole lot of travel. The Incredibles must stop super villains and save the city. In the RV scene, they fly into the city in an RV (complete with an "are we there yet?" from the youngest superhero in the family). Luckily they arrive just in the nick of time. 


Where to Stream/Rent:
8. Into the Wild (2007) – A movie with camping that screams "don't try this at home"
A more somber movie about camping is Into the Wild. This movie captures the true story of Christopher McCandless. Christopher seems to have a bright future ahead of him when he decides to sell all his possessions and venture into the Alaskan wilderness. Along the way, he journals his final days camping and living out of an abandoned city bus he finds before nature takes its toll. 


Where to Stream/Rent
Apple TV
Google Play
Microsoft Store
Netflix
VUDU
YouTube


9. Little Miss Sunshine (2006) 
The dysfunctional Hoover family has one goal in mind. Help their daughter win the Little Miss Sunshine beauty pageant. To make their dreams come true they cram the family into a VW Bus for an unforgettable road trip. Along the way, the quirky family experiences loads of problems. Is the trip worth it? You'll have to watch this moving with camping to find out! 


Where to Stream/Rent
Apple TV
Google Play
VUDU
YouTube


10. Johnson Family Vacation (2004)
The Johnsons just want to enjoy a nice family road trip. What they get is anything but. Disaster seems to strike the family at every turn in this comedy. Although they travel by car instead of by RV, you can almost imagine some of the mishaps happening to RVers. Johnson Family Vacation one of the greats when it comes to movies about camping and is a must watch.


Where to Stream/Rent:
Apple TV
Google Play
YouTube


11. Are We There Yet?
When playboy, Nick, tries to win the favor of divorced mom, Suzanne, things take an interesting turn. Nick offers to accompany Suzanne's children on a flight, but after being banned from the plane, the group has to drive instead. This kid-filled road trip soon appears to be more than Nick can handle. If you want a movie about camping that will make you laugh, Are We There Yet? is a solid choice.


Where to Stream/Rent:
12. The Leisure Seeker (2017)– Movies with camping can be heartfelt too
It's never too late to make your dream come true. In this heartfelt RV movie about camping, John and Ella Spencer run away from it all in their vintage Winnebago. Their goal? To see the world before cancer and dementia take them. The Leisure Seeker is filled with drama and some light comedy. 


Where to Stream/Rent:
13. Nomadland (2020)
Not everyone chooses to live a nomadic lifestyle. Some people have it thrust upon them. That is the tale of Nomadland. Sixty-something-year-old Fern loses it all in the Great Recession and is forced into a journey in her van to find work. Along the way she encounters some real-life nomads portraying fictionalized versions of themselves and begins to embrace the nomad community. It's a movie with camping, drama, and real life.


Where to Stream/Rent:
Hulu
Google Play
VUDU
YouTube
Which movie do you think ranks number one for movies with camping or RV movies?
 Facebook Comments
One moment, please. If the comments fail to load, FB may have been too slow responding so try reloading.