Some of the links listed on this page are affiliate links. This means that, at zero cost to you, we will earn an affiliate commission from the vendor if you click through the link and finalize a purchase. We strive to always keep all our content free to the reader. Thanks.
New RVers often have serious and legitimate concerns before taking their first RV road trip, or two, or ten. After all, driving a house down the road comes with a steep learning curve. 


Joel and I have driven across the entire country and back again multiple times in our full-time RV life. We've gotten ourselves into a hairy situation once or twice but have learned and improved our strategies. Now I'm going to share all our tips with you, so you don't have to make the same mistakes! 


RV Road Trip Planning Basics
One of the most important things to keep in mind when planning an RV road trip is that you aren't driving a car. That means you need to do more planning, drive more slowly, and give yourself plenty of time and space. I'll cover each of the steps you need to take to ensure you have a fantastic and enjoyable road trip. So you can feel like Joel and not me driving the RV.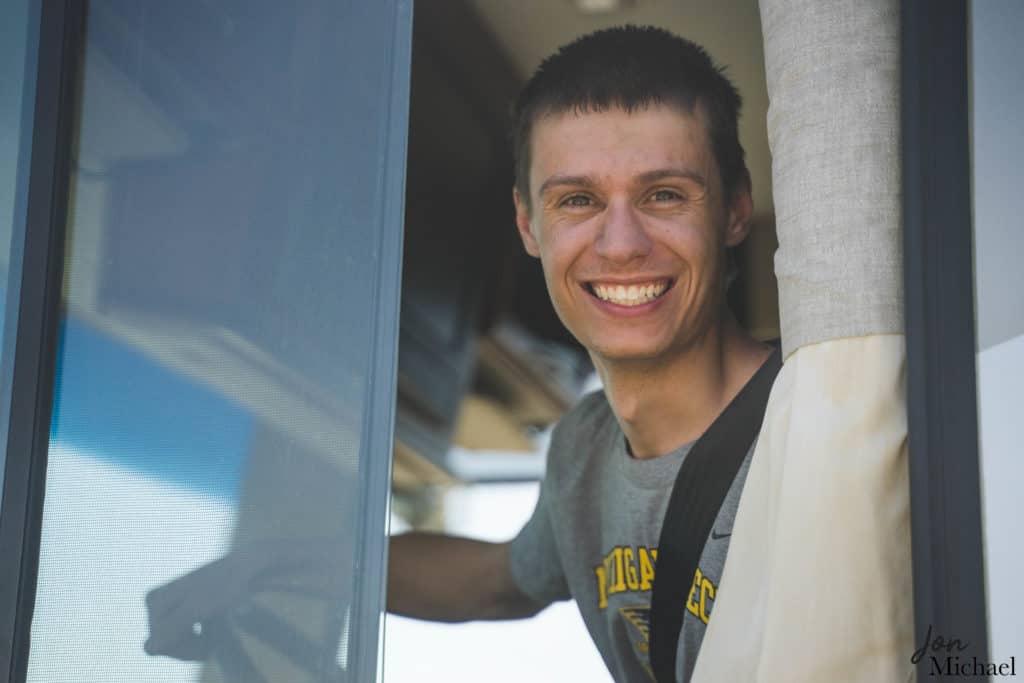 RV Road Trip Length- It'll Take Much Longer Than Google Tells You 
On our first road trip, Joel and I made a big mistake. While it wasn't life threatening, it was annoying. Our mistake? Using Google Maps to calculate how long it would take us to reach our destination. 


Google Maps calculates drive time based on going the speed limit the whole way. Well, we were certainly driving well under that limit most of, if not, the entire trip. When the speed limit is 80 and you're going 60 at best, the time difference is extremely large, especially the further you go. It took us several hours longer to complete our first road trip than we had planned.  


One good way to calculate how long your RV road trip will really take you is to look at the actual number of miles you will be traveling. Divide that number by your average RV speed and you'll have a much more accurate estimate. Want an even better option? You can't go wrong with an RV road trip planning app.


The Best RV Road Trip Planning Apps
One of the best ways to simplify your RV road trip planning is to use a tool designed specifically for RVers. Google Maps is fabulous, but for RVing it has some serious limitations. Things like height and weight restrictions and even vehicle length aren't accounted for. This means you can end up on some pretty windy, narrow roads. 


You might also come across steep inclines. These inclines are tough to get up in a large rig. Even worse is going back down. They don't have runaway truck ramps for nothing. I, for one, hope I never have to think about using one in the RV. 


RV trip planning apps take the guesswork and fear out of planning an RV road trip. You'll have peace of mind knowing you won't stumble upon anything you can't handle. Best of all, they also show things like campgrounds and attractions to make your trips spectacular. 


Keep reading for a brief review of some of the best options out there. I'm sure there are more, but these are the ones I am familiar with. If you use another one, feel free to chime in by posting in the comments to help everyone out!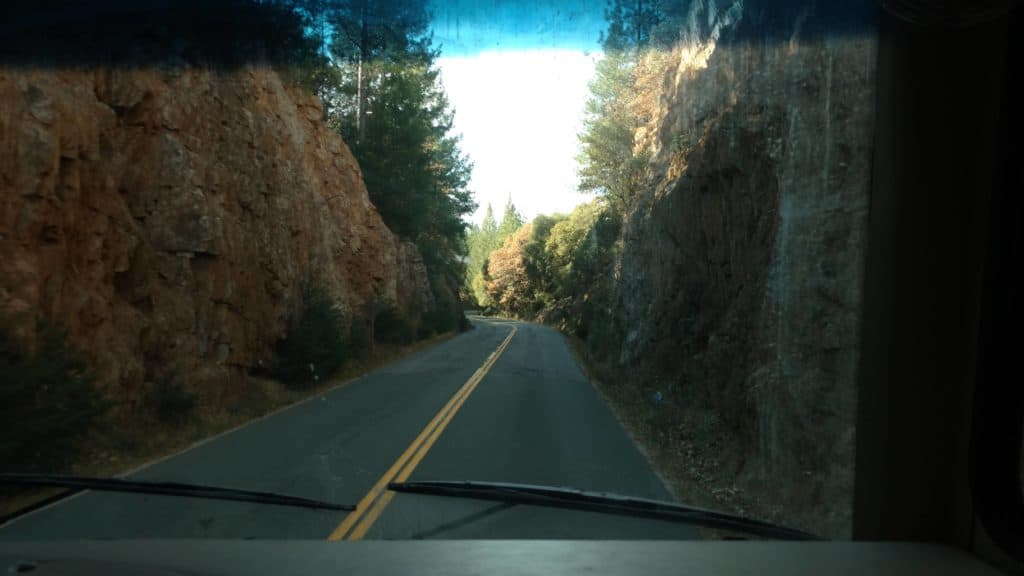 RV Trip Wizard
The cool thing about RV Trip Wizard is that you get much more than an RV GPS for one affordable price.  


RV Trip Wizard includes information and reviews for campgrounds from multiple campground membership programs. You can even rank them based on which membership you would most like to use. Some RV trip planning tools only work for their campgrounds (such as Good Sam). But you can save a lot more money by considering all your options. 


RV Trip Wizard also finds you a safe route based on your RVs exact specifications. All you need to do is enter the information when you sign up and you'll never have to worry again. 


Once you plan your trip online, you can export your route to Google maps your another GPS device for real-time voice navigation. 


Another thing I really like about the RV Trip Wizard is that your purchase is part of the RV Life Pro Suite. This means you don't just get RV Trip Wizard. You also get access to Maintain my RV. This app helps you stay on top of scheduled maintenance so you never end up stranded on your RV road trip. 
Click to get RV Trip Wizard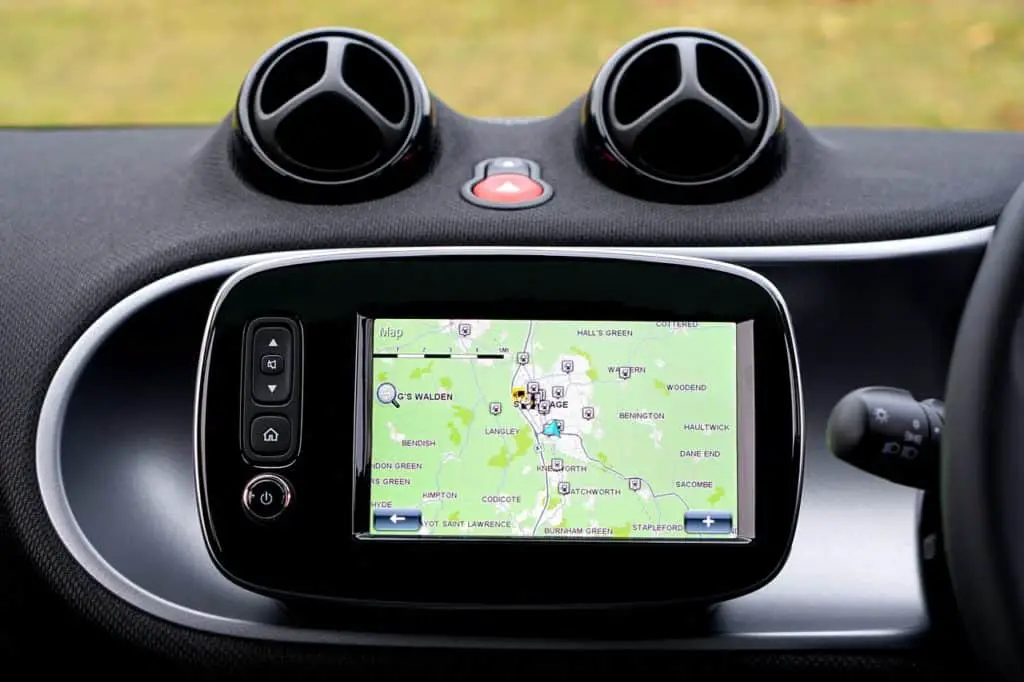 The Dyrt Pro RV Road Trip Planner
Another solid choice for an RV trip planning tool is The Dyrt Pro. It offers many of the same features as RV Trip Wizard.


You can customize your route based on your RV's size, find campgrounds, and estimate your total gas expenses for the trip. Within the app, you'll also find campground reviews and photos. 


One additional feature The Dyrt Pro offers is the ability to include big-rig-friendly gas stations along your route. I still recommend double-checking on Google Satelite to make sure you can get in and out. I'll cover this more later so keep reading. Once you have your RV road trip planned you can export the route to Google Maps. 
Click to get The Dyrt Pro


Togo RV Plus
Another RV trip planning app that is a bit newer to the scene is Togo's RV GPS. Togo partnered with Roadtrippers to design a road trip planning tool specifically for RVers. There are many free features, but the full membership is cheap as well.



Full membership offers customized trip planning to find the perfect campgrounds and attractions. It also lets you enter your RV's specifications to find a safe route every time. 

Togo RV Plus also gives you information for over 15,000 boondocking sites which is a nice perk. 
Click to get Togo RV Plus


Using Safe Driving Habits on your RV Road Trip 
Although you'll be excited to embark on your RV road trip, safety is key. There is no need to rush when you're on the road. It is important to use safe driving habits to ensure you arrive at your destination to enjoy it. No one wants their road trip to end at the ER. Here are some tips to keep in mind.  


Go slow! 
Most of the time, you should not be driving your RV the speed limit. For freeway driving the sweet spot for safety, comfort, fuel-efficiency, and handling ability tends to be 55-65 miles per hour. 


Appropriate speed varies based on your rig's size, the quality of your tires, whether or not you are towing, the weather and road conditions, and your comfort level. That being said, no one should be hauling down the freeway at 80 miles per hour in an RV.


Not only does slowing down improve safety, but gas mileage as well. Research shows that for every 5 miles you go over 50mph, it is basically like adding an additional $0.21 to the price you pay for a gallon of gas. These calculations are based on cars, so one could speculate the impact would be even worse for RV road trips. 


Considering most RVs get between 6 and 20 (if we are being very generous) miles per gallon, this cost can add up very quickly. It is especially painful on a cross-country road trip in an RV thanks to rising gas prices. 

If you want to save even more money on gas, check out some of the gas-saving memberships for RVers.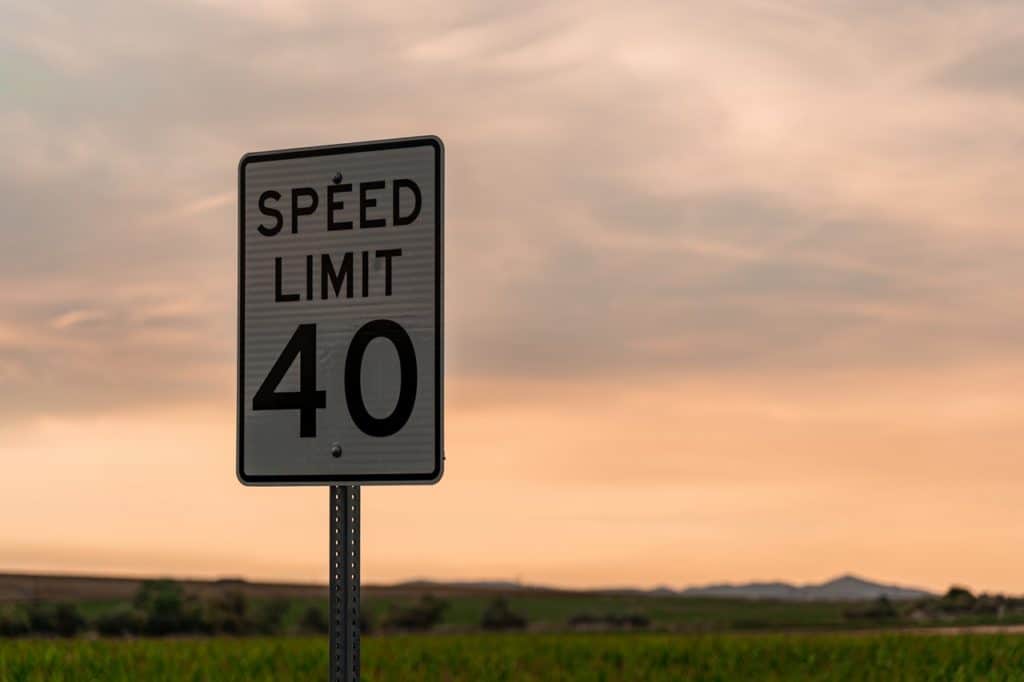 Give Yourself Plenty of Space
Another safety tip for an RV road trip is to leave plenty of space between you and the person in front of you. A larger vehicle means a longer stopping distance. The last thing you want is to rear-end someone if traffic stops suddenly.

 
Avoid Distracted Driving
You should avoid distracted driving all the time. But you should REALLY avoid it when you're driving an RV. Getting in an accident in such a large vehicle could be catastrophic, so be smart.


Leave With Enough Time to Arrive During the Day
As I mentioned before, RV road trips take much longer than road trips by car. You simply can't (and shouldn't) travel as quickly. That means you should start your day early. Give yourself plenty of time to arrive. Driving an RV is a challenge. Driving an RV in the dark is even harder. Don't put yourself in this situation, especially as a new RVer.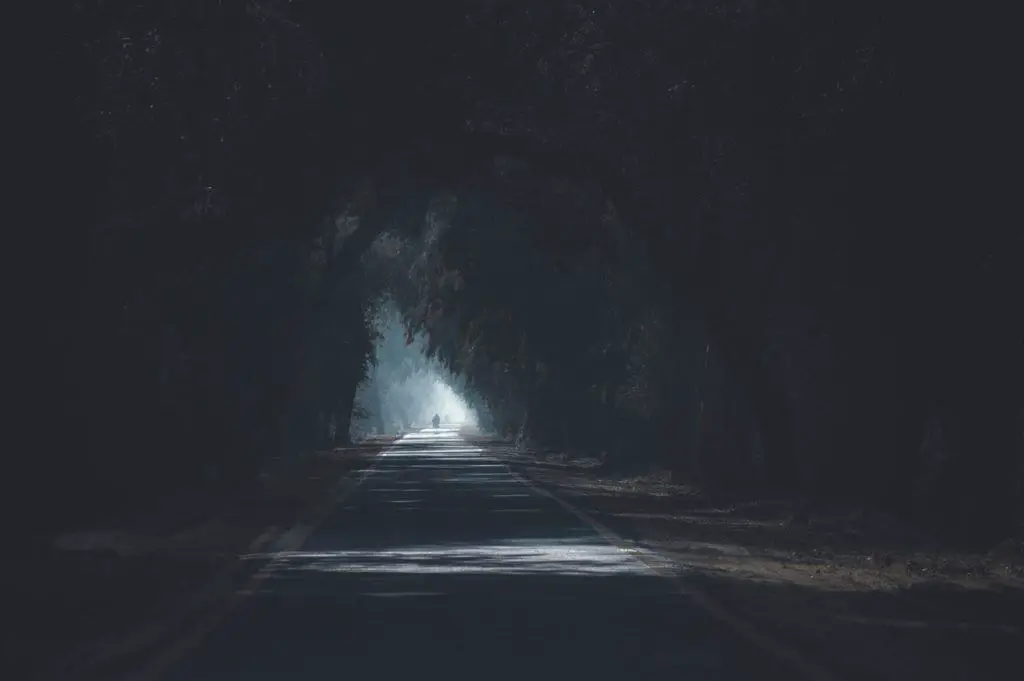 Getting in and Out of Gas Stations on Your RV Road Trip 
When taking an RV road trip, you can't just pull over at any old gas station. Many of them aren't designed to accommodate larger rigs. Even if you could squeeze in, navigating and maneuvering without hitting anyone or anything is another challenge as a new (or experienced) RV driver. 



One of the best things you can do is plan your gas station stops out well in advance. This might mean scoping out stopping points even before you leave if you don't have a co-pilot who can help you navigate. If you do have a co-pilot, Google satellite and street view will be your best friends. 



I am the navigator on our RV trips. Well before we need gas, I start looking at Google satellite and/or street view to get a visual on the parking lot. This lets me know if we can get the RV in and out easily. I also love stopping at truck stops as they are typically much easier to get in and out of. 


My all-time favorite is when we can find a Pilot Flying J with an RV island. This gas station is an excellent option for gas RVs who don't want to deal with tiny parking lots. The RV island is a regular gas pump (as opposed to diesel) on the trucker side of the lot so you can pull straight in and straight out. 


How to Pick the Best Campsite Every Time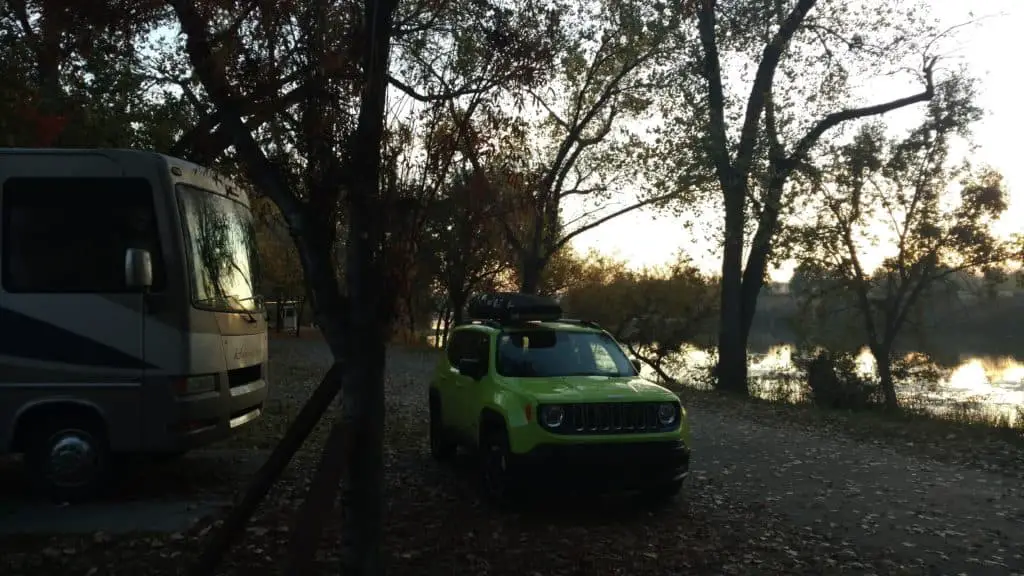 Google Satelite and street view don't just come in handy for gas station navigation. They are also a super sneaky way to get the best site in the park every time! Staying at an RV park can be expensive so you might as well get the best spot!


Whenever we go to book a campground, Joel looks at the campground map first. He looks at sites he thinks would be promising based on their location. After that, he does a couple of things. 


First, he checks out Google satellite and street view to look at the sites. This is the best way to see what each spot looks like and what is around it. (It will also show you if a park is really dumpy or rundown! We have avoided a few bad ones this way). Using Google satellite has helped us snag some great sites at RV Parks on the Oregon Coast, in California, Utah, the Midwest and many more places.


If that doesn't work, or if he wants a better look around, he will search youtube to see if any RV vloggers have done a review of the campsite. Sometimes you can see specific sites and details in the videos that will help you book the best spot.

If you're just getting started, check out these tips for backing in an RV.


Use an RV Road Trip Departure Checklist
Even though Joel and I are full-timers and are constantly on the move we still go through a departure checklist every time we leave. For efficiency we typically divide and conquer. Joel takes care of everything outside and I take care of everything inside. That way everything gets taken care of and we aren't bumping into each other.


There are many steps to take to break down camp before an RV road trip. Forgetting any one of them could cause big problems. If you have no idea where to start, feel free to steal my RV departure checklist and use it as your own!


And one last tip. When you're pulling out of the RV park, open your front window so your fellow RVers can shout at you if you missed something!

 Facebook Comments
One moment, please. If the comments fail to load, FB may have been too slow responding so try reloading.