Some of the links listed on this page are affiliate links. This means that, at zero cost to you, we will earn an affiliate commission from the vendor if you click through the link and finalize a purchase. We strive to always keep all our content free to the reader. Thanks.
The beginning of the season is the perfect time to give your RV a thorough clean. But how to clean an RV is a question many RVers aren't sure how to answer. If don't know what products to use to clean your RV, what to clean, and how to clean it, keep reading.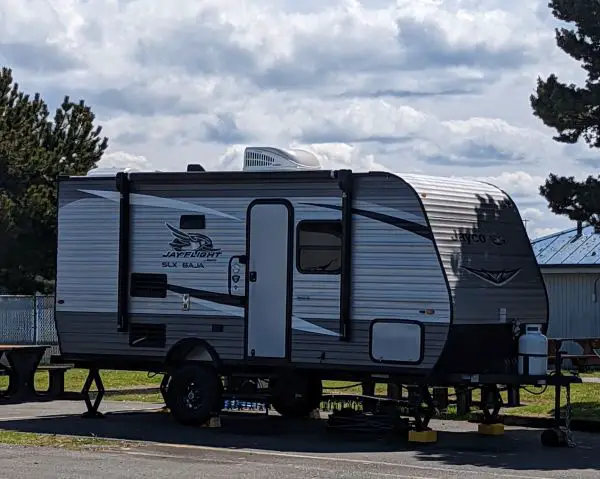 How to Clean an RV's Interior 
After your RV has been in storage for the winter, the first thing you should do before your shakedown trip is clean your RV's interior. Over the winter, there has no doubt been dust, dirt, and maybe even mouse droppings (gross!) left behind in your RV. 


You will be so much happier leaving on your first trip with a clean and sparkly RV. 


First, give your fridge a good wipe down with your favorite cleaner or a product like Clorox wipes to kill bacteria and germs. On a side note, storing your RV with the fridge open is a good way to avoid yucky gunk from growing inside. 


You should also clean your sink, shower, and toilet before use. If you used antifreeze to winterize your RV, you might want to save the cleaning for after you clear this all out and sanitize your water system. Most experts recommend using non-bleach cleaners in anything that leads to the holding tanks. Bleach can dry out and ruin the seals in your RV holding tanks and plumbing. If you decide to use a bleach-based cleaner, you should absolutely dump your tanks right after use. But again, this is not recommended. 


While you clean the inside of your RV, you should also vacuum out the vents and window screens. Alternatively, you could remove all the screens and blow them off with an air compressor or hose them off before hitting the road (but why be a water waster when something else will work). 


Finally, wipe down all other hard surfaces like the countertops, table, and so on with Clorox wipes. Don't forget to give everything a good dust. We recently started using a Honeywell HEPA Air Purifier in our RV during travel. It has really helped with our allergies and keeping the dust down. 


After you've cleaned off all the surfaces, vacuum and clean all the floors. Double check your owner's manual to see if there are any special suggestions for cleaning your specific RV. 
What to Use to Clean an RV's Exterior 
Knowing how to clean an RV exterior is by far the harder job. There is so much mixed information online. Some say use Dawn dish soap, some say this will destroy your paint. Some say use a pressure washer, some say if you do, you'll ruin your RV. 


The best advice I can give is to consult your owner's manual for the recommendations on cleaning. That way you make sure you don't use any products that might damage your RV. Part of the reason you hear such differing advice is that they make RVs of different materials. Metal, painted metal, and fiberglass RVs may each need a different cleaner. To decide on the right cleaner, read your manual. 


For example, my RVs manual says to use a "mild detergent". You probably won't go wrong using a mild car wash soap. Most experts say ditch the Dawn dish soap though! 


RV wash and wax products are also popular because they clean and wax your RV at the same time. This is also extremely helpful for cleaning your rig on the road, since many campgrounds don't allow washing RVs since it requires so much water. 


Other supplies you will need to clean an RV the right way include microfiber towels, a soft-bristle or microfiber brush with an extendable handle, an extendable squeegee, a broom, and possibly a ladder.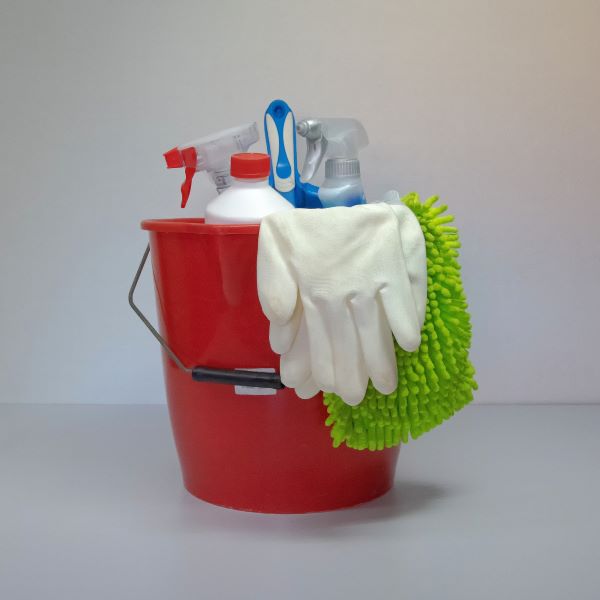 How to Clean an RV Roof
The first thing to know about how to clean an RV is to start with the roof. Use extreme caution when walking around on the roof so you don't fall or slip. Always look where you are walking and be careful when backing up. (Make sure you turn and look where you are going). 


Cleaning front to back will allow you to climb off the ladder without having to walk on any slippery surfaces. Watch out for the air-conditioning vent so you don't trip over it. You should also avoid spraying water directly into the air conditioning unit. 


To clean your roof, first, sweep it to clear off any dust or debris. If you have a rubber roof, it is best to use a rubber roof-approved cleaner. For RVs with metal (like an Airstream) or fiberglass roofs, you can use the same car wash soap as you will for the rest of the RV. Not only will cleaning your roof make it cleaner, but it can help it last longer as well. Considering how expensive it is to replace an RV roof, maintenance is your best friend. 


Sweeping your roof off regularly is a good idea and many RVers recommend a thorough cleaning of the roof at least four times a year. If you frequently get sap or bird droppings on your roof, you may need to clean it even more often. You should clean both off as soon as possible. 


When you are cleaning the roof, go part by part so the soap doesn't dry before you can rinse it off. First, rinse the portion you plan to scrub. Then, use your roof cleaner or soap to scrub the area. Before the soap dries, give it a good rinse with the hose before moving on to the next section.
How to Clean the Sides of the RV
When you clean your RV, work your way from top to bottom. Just as with the roof, you will want to clean part by part. If you soap the entire RV, you will have streaks and soap scum that are hard to get off. You can also reduce the likelihood of having streaks by avoiding washing your RV in direct sunlight, as the sun can make the water dry faster. 


Use your soft bristle brush or microfiber towels to scrub away. To avoid streaks or spots, especially if you have hard water, rinse off the soap and then squeegee off the water before it can dry. You will definitely want to squeegee the windows. 


If your RV is 25 feet or fewer, you'll need to change the water at least once about halfway through. If your water looks especially dirty, change it sooner. Otherwise, you will just be moving the dirt around instead of getting rid of it. Longer rigs might require 2-3 changes of the soapy water bucket. 


If you have black streaks on your RV even after cleaning, some products you could try include BIO-KLEEN BLACK STREAK REMOVER or Camco Black Streak Remover. You can also use a Mr. Clean Magic Eraser. There is also a Mr. Clean Magic Eraser mop for hard-to-reach places. This can even double as one of the best RV awning cleaning tools.
Ditch the Pressure Washer
If you're a professional pressure washer, you might be able to get away with using a pressure washer on your RV. For most RVers, though, using a pressure washer is risky business. Pressure washers can easily damage RVs. Better to just give it some good old-fashioned elbow grease. 


If you decide to use a pressure washer anyway, which you probably shouldn't, make sure you don't get too close to the RV. Also avoid directly spraying and seams or seals. 


Other Tips For Cleaning Your RV 
Here are a few last tips for cleaning your RV. Scrub off any bugs as soon as you arrive at your destination. Remove salt ASAP if you travel during the winter months. Don't forget to clean your tires and rims with soapy water or tire cleaner. Finally, don't spray water directly into any openings like vents for the fridge, air conditioners, exhaust pipes, and so on. 


Once again, I'll leave you with this: Check your owner's manual for any specifics on how to clean your RV, so you don't inadvertently damage your RV. 
 Facebook Comments
One moment, please. If the comments fail to load, FB may have been too slow responding so try reloading.