Some of the links listed on this page are affiliate links. This means that, at zero cost to you, we will earn an affiliate commission from the vendor if you click through the link and finalize a purchase. We strive to always keep all our content free to the reader. Thanks.
Driving a big rig RV is no small task, even a "small" RV can seem like a big rig if you're new to the towing game. If you haven't towed before or will drive a larger rig than you're used to, this guide is for you. 


The first time Joel ever sat in the front seat of a Class A he turned to me and said, "Well, we're not doing this." The thought of driving such a beast is definitely overwhelming at first. We now drive a combined total of 55 feet between our RV and enclosed car hauler. (Don't worry, our weight is fine and we have an upgraded hitch for towing. You should always check that yours is too.) 


We have come a long way since our initial RV show days, and we are here to share our tips with you. Not only will these tips make driving a big rig RV less stressful, but they will keep you and everyone around you safer too. Confident — and smart — RV driving sets the stage for a more enjoyable camping vacation.


But first, a disclaimer. Always follow applicable laws and manufacturers' recommendations and operate your vehicle in a safe and responsible way. This article is not meant as a substitute for things like an RV driving class or hands-on training. This information is for educational purposes only and is based on my personal experience that may not apply directly to your specific situation. Any action you take is at your own risk. 


Now for the good stuff! 


Practice Driving a Big Rig RV in a Parking Lot
Before you take your first RV trip, practice driving your big rig RV in an open parking lot. You can even set up cones or pick certain fixed points (like parking space lines) to practice turning around. 


Practicing in the parking lot will help increase your confidence while minimizing the risk to yourself and others on the road. Even when you're just practicing, make sure you have solid RV insurance in place.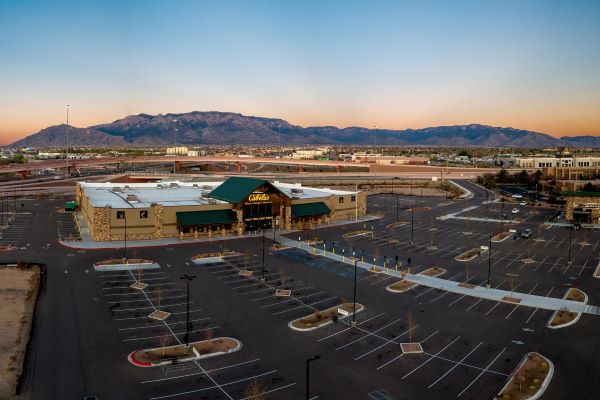 Learn to Back Up Before Getting to a Campground
When you have a big rig RV, driving is only half the battle. The other challenge is backing the RV into your site. Some people choose to only book pull-through sites. This is certainly a valid option in some cases, but you may not always be so lucky.


Many state and national park campgrounds are smaller without pull-through sites. If you don't want to miss out, being able to back in your RV is a skill worth developing. Just like driving, it is wise to practice beforehand in a large, empty parking lot. 


At some RV parks, you will also have to pay even higher campground prices for pull-through sites. Over time, the money you can save from back-in sites can really add up. And with prices for everything soaring, it makes to save anywhere you can whether that be on camping or by using a gas-saving membership for RVers.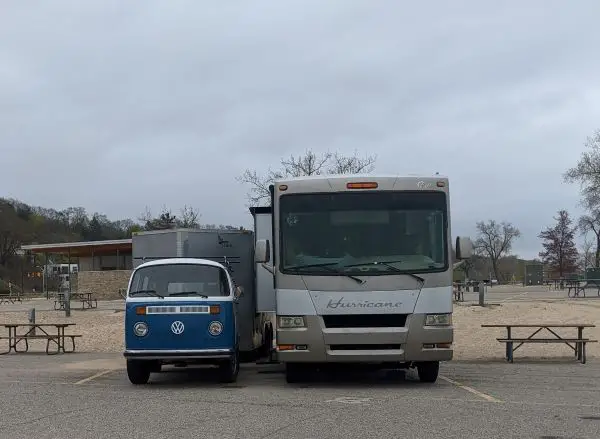 Start Slow and Close to Home
Once you have your parking lot driving and backing in skills nailed down, you will hopefully feel ready to conquer the road. It is a good idea to become more confident driving on slower roads before you jump onto the freeway. 


Don't be ashamed to practice driving a big rig RV around the neighborhood before setting off on your first trip. There is also no shame in getting warmed back up after the off season either. It is better to be safe than sorry. 


Once you feel confident driving on the road, you can start thinking about taking a shakedown trip. It is smart to take your first few trips closer to home as you become more confident in your big rig RV driving skills. 


It is mentally and sometimes physically exhausting to drive or tow a large RV. Starting slow and staying close to home before setting off on a cross-country adventure is definitely the way to go for the safest and most enjoyable experience.   


Leave Extra Space When Following
When you are driving a big rig RV, the sweet spot for highway speed tends to be between 55-and 65 miles per hour. It is important to know your rig — and yourself — but far too often we see people driving way faster than is wise. 


If you are driving slower than the rest of traffic, especially when going up hills, flip on your hazards. Then people can move to pass you and not be surprised by your slow-moving vehicle. 


Besides obviously following all laws when driving, another consideration is your following distance. Big rigs take much longer to slow down and stop than cars do. That means you need to leave much more following distance between you and the vehicle in front of you.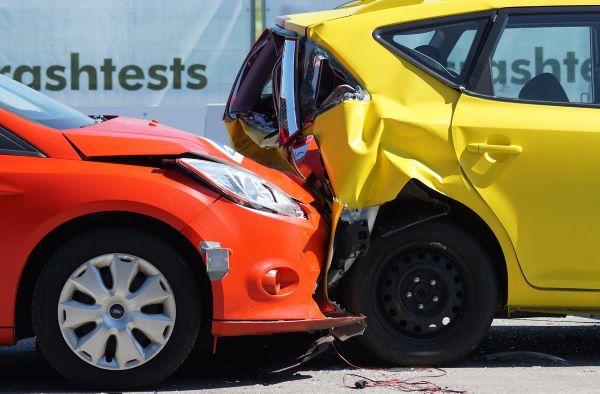 Make Sure You Have a Trailer Brake Controller
Depending on what you are driving/towing, you may or may not already have a trailer brake controller. A trailer brake controller works in tandem with your vehicle's brakes. When you brake in your vehicle, the brake controller applies the trailer brakes. 


There are two main types of trailer brake controllers. Most people consider proportional brake controllers to be superior to time delay brake controllers. Proportional brake controllers apply pressure to the trailer brakes that is proportional to what you apply in your vehicle. That means if you brake hard, the brakes in the trailer will also brake hard. If you brake softer, the trailer will do the same. This eliminates jerkiness and makes for a smoother ride. 


Some highly rated brake controller brands include Tekonsha, Reese, and Draw-Tite. The wiring harness you need can differ depending on your vehicle, so make sure you purchase the right one. If you don't know what you are doing, please have a professional install this for you, since your RV is literally depending on this to stop safely. 


Upgrades to Make to Your RV or Truck for Driving a Big Rig RV
Besides ensuring you have a brake controller for driving a big rig RV, there are some other upgrades worth considering. A steering stabilizer, as the name implies, helps stabilize your steering to reduce unwanted side-to-side movement. This is especially helpful in big rigs. We noticed a major improvement in handling after installing ours. 


Having a high-quality sway bar is another upgrade you may wish to make. Sway bars help reduce body roll in your vehicle. You may also need to add a weight-distribution hitch depending on the specifics of your setup. 


Finally, airbags or helper springs for your truck can be a helpful addition. These are especially necessary if the back end of your truck is experiencing a lot of sag from the weight of your trailer. 


Expect Semis to Shake Your Rig as They Pass
Making the above upgrades to your RV or tow vehicle can make for a smoother ride. Even so, it is important to be prepared when semis pass you. They create a lot of draft and can blow and shake your big rig as they go by. Monitor your mirrors and if you see a semi approaching, brace for the wind.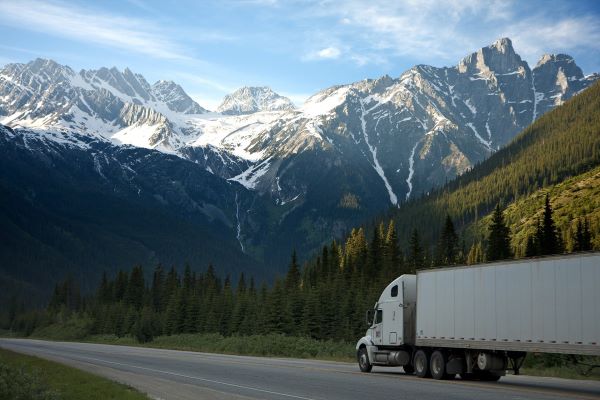 Know When the Wind Is Too Much when Driving a Big Rig RV
Besides wind from passing semis, wind in general, especially cross breezes, are important to be aware of. Since RVs are such high-profile vehicles, they can, and do, get blown over by strong winds. If the winds are too strong, know when to make the call to pull over and wait it out. Having to put your trip on hold is a drag (been there, done that), but it is much better to arrive late than never. 


According to Good Sam, winds as low as 10 miles per hour can affect RVs. When the wind increases to 15-20 miles per hour, the difficulties become even more noticeable. Above 30 miles per hour and Good Sam says traveling in most RVs may not be safe, especially if there are higher gusts or cross breezes. 


Speaking from experience, before we knew what we were doing, you don't want to take the risk. If you don't feel safe, STOP. I just saw a post from yet another RVer who had gusty winds total their RV. They are probably lucky to be alive. 


Use a Trip Planner to Avoid RV Hazards
Driving a large RV means you could run into obstacles that wouldn't phase you in a car. Things like hairpin turns, narrow roads, and low bridges can stop you in your tracks when you're driving a big rig RV. To improve your odds of road trip success, consider using an RV GPS (Garmin's are popular) or a road trip planning tool like RV Trip Wizard. 

These programs will allow you to customize your RV specs and get a route that works for you.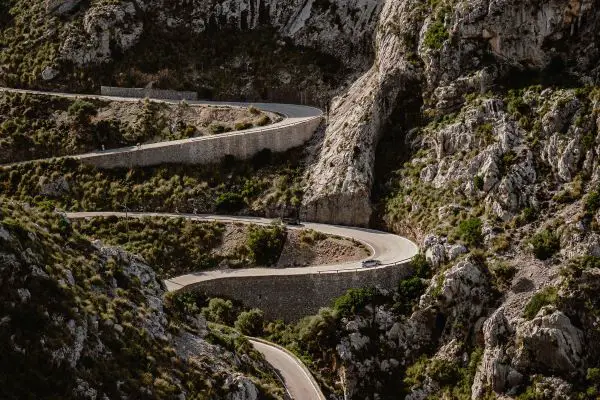 Assess the Situation at Gas Stations Before Entering
Up next, gas stations. The bane of our existence whn driving a big rig RV. If you have a diesel RV, your job is usually easier since you can use the trucker lanes if needed. However, for people with gas RVs, sometimes you have to navigate into the main area of the gas station. 


In all our travels, we have only come upon a couple of gas stations we were planning to stop at that turned out to be a no-go. The best thing to do is have the co-pilot scout things out on Google Map satellite view. This will give you a good idea of the size of the gas station and the entry and exit points. 


The bigger the parking lot, the better. Another feature I always look for is gas stations where the pumps and convenience store are in the center of the parking lot so you can drive in front of or behind the building to make your getaway. If you are traveling alone, plan your stops in advance by following the same tricks. 


Even if you look at Google Maps before reaching a gas station, things can always change. Before you pull in, do a quick scan of the parking lot and other vehicles there at the time to ensure you don't get stuck in a tricky situation. 


Consider How Much Gas to Have 
Gas station woes are one reason to make sure you don't get too low on gas along your drive. If you are on empty and the only gas station available is tiny, you're going to have a rough time.  


However, sometimes having a more or less full tank could also serve you well. For us, if we know we are going to be traveling up steep inclines, we might try to have a slightly less full tank to save weight (while obviously making sure we will not run out. We never let our tank go below a quarter). 


On the other hand, if it is windy out, keeping the gas tank full and re-fueling frequently can help. When you are heavier, you don't get blown around as much. Remember to always keep the tips from above in mind when deciding how much wind is too much wind for you and your RV. 


Pay Attention to The Overhang Behind Your Axle
Another thing to be aware of when driving a big rig RV is the overhang behind your axle. When you turn, your back end will swing out in the opposite direction. If you don't account for this in your turns, you might clip something.


A perfect example of this is a gas station. Don't get too close to the gas pumps or you may have a difficult time turning out. Whenever you are making turns, just be aware of how far out your back end will swing. Doing the parking lot driving practice is one easy way to get used to this. Try to give yourself more space than you think you'll need. Better safe than sorry.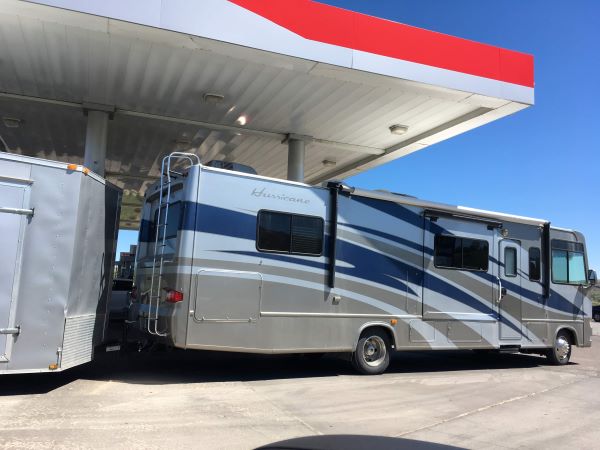 Make Sure Your Vehicle Can Tow Your Setup 
We frequently see people asking in RV groups, can my XYZ truck tow XYZ trailer? While asking other RVers about their towing setup can give you some baseline information, it should NOT be the way you decide what your vehicle can handle. And forget about what RV dealers say. They will say your vehicle can tow an elephant if it gets them the sale. 


It is your responsibility to know what you can tow with your vehicle. Don't forget to consider the added weight of having a loaded RV. There are also considerations like tongue weight. Research the specifications of your vehicle and read your owner's manual to know if you can safely tow the RV you have your eye on. 


Check out this towing guide for additional information.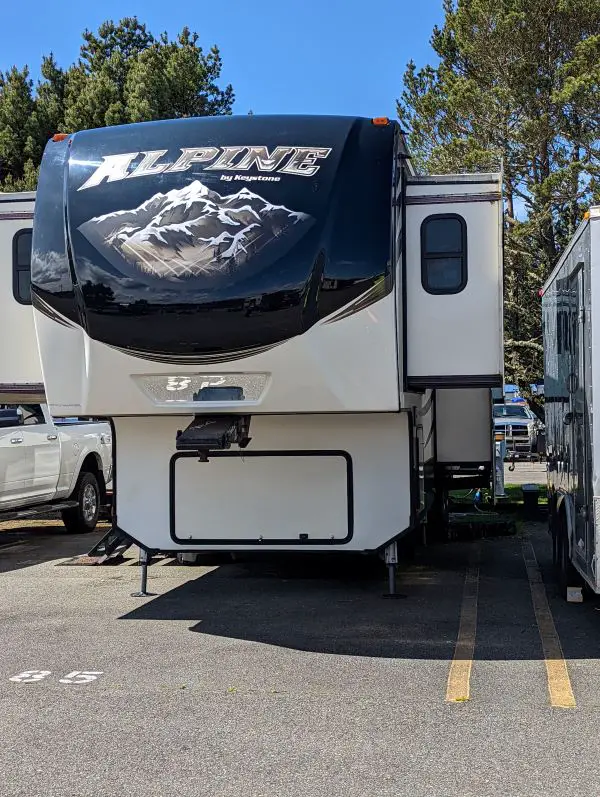 Stop and Rest if You Get Tired and Don't Go Too Far in One Day
Driving a large RV is exhausting. There is a reason truckers are legally only allowed to drive so long each day. RVers rarely have to follow these standards, but most would do well to adhere to them. Or even better, be underneath them. 


If you start to feel tired, don't be afraid to stop and take a break. After all, you've even got a bed on board to nap in! Even better, plan your trip to ensure you don't have to travel too far in a single day. RV Trip Wizard allows you to route plan and finds stops within a certain mileage which is a cool feature if you ask me. 


Another benefit of shorter travel days is having time to actually enjoy the places you stop. You also will have an easier time getting set up at your campsite. Nothing is worse than trying to back in an RV when you're exhausted and cranky from the get-go. 


If in Doubt, Take an RV Driving Course
If you feel overwhelmed, stressed out, or downright terrified after this, I have good news. There are some great RV courses out there that can help you get up and ready to go. Escapees RV Club offers RVers Online University. This course is self-paced with lifetime access and covers everything you need to know about RVing. 


If you want more driving tips from industry experts, this course is for you. It also covers do-it-yourself maintenance that can save you thousands of dollars compared to having to pay a repair technician each time something in your RV breaks.  


If you want a more hands-on experience, RV School offers driving training at dozens of locations across the United States. Truly, you can't go wrong with taking both courses. Especially if you don't feel confident right now.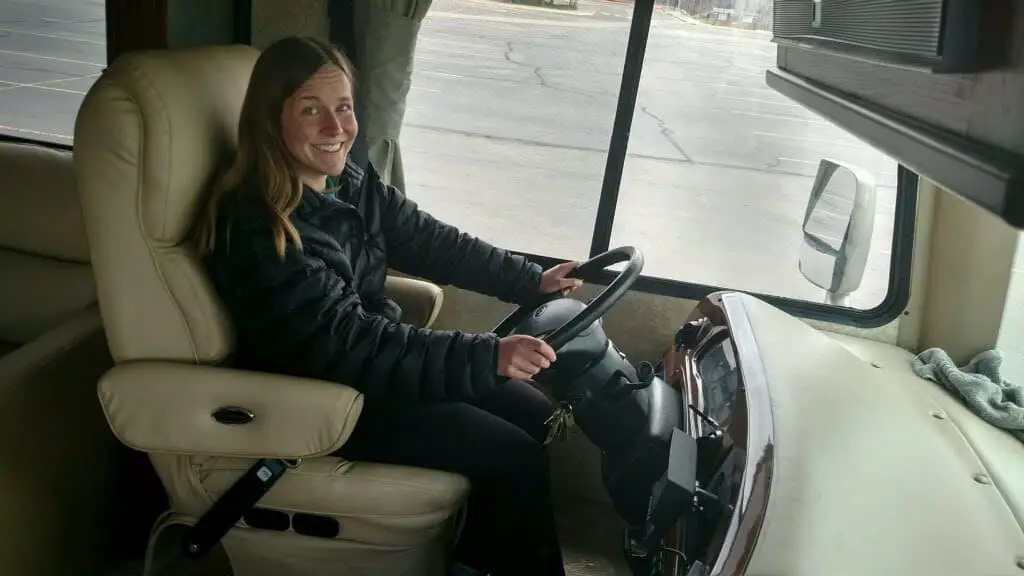 Be Patient When Driving a Big Rig RV
Finally, when you are driving a large vehicle. Remember to be patient. With yourself, with your partner, and with those around you. Most of us choose this lifestyle to get out and enjoy the world. And some of you lucky dogs are retired and have all the time in the world to get where you're going. So take it easy, slow down, and enjoy the open road. 
 Facebook Comments
One moment, please. If the comments fail to load, FB may have been too slow responding so try reloading.