Some of the links listed on this page are affiliate links. This means that, at zero cost to you, we will earn an affiliate commission from the vendor if you click through the link and finalize a purchase. We strive to always keep all our content free to the reader. Thanks.
If you just purchased an RV, there is no doubt about the excitement you are feeling. At long last, all of your wildest camping dreams have come true. There's nothing between you and the open road. 


Not so fast. Before you take your first long RV trip, you need to take a Shakedown Trip. What is a shakedown trip you ask? Keep reading to find out what it is and why you need one.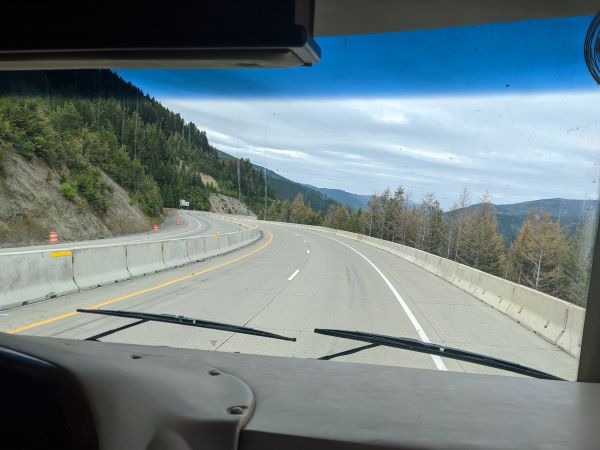 What is a Shakedown Trip?
I'm going to cut to the chase here. A shakedown trip is basically your chance to stay close to home, learn everything you need to learn about your rig before a long trip, and find out what in your RV is broken. Not if something is broken, but what is broken. And yes, even if you bought a brand new RV, it is almost a certainty that things will break. 


Why Do I Need to Take a Shakedown Trip in My RV?
RVs are essentially small houses bouncing and rolling down the road. If that doesn't sound like a recipe for things falling apart, I don't know what is. 


Even brand new RVs are bound to have issues like handles shaking loose, blinds not staying in place, windows needing a little extra elbow grease to open, or cabinets flying open during travel. You get the idea. Unfortunately, sometimes more major problems can pop up as well.


In the last few years, the demand for new RVs (and used RVs) has exploded. That means RV manufacturers— always trying to make a profit—  are pumping out new rigs as fast as they can. While you can get your new RV sooner because of this, it often results in poor workmanship. 


You could have major issues like leaks, toilet issues, disconnected water lines, or furniture and cabinets that are falling apart. I think they literally stapled together a few things in our RV. 


A Shakedown Trip Prevents Bigger Issues 
Finding out things in your new RV are broken is frustrating. Finding out halfway across the country after you've spent the last 2 days driving? Yeah, that's even worse, especially if you don't have the proper tools along to make repairs. 


You can say the same for discovering out you forgot to purchase important supplies like an EMS, a 90-degree brass elbow, or a dog-bone adaptor. (You might think, what the heck are those?! Hence the need for a shakedown trip and reading the articles I linked below to get you up to speed on all this and more). 


A shakedown trip should be a short, close-to-home trip. On our shakedown trip, we took a 2-day trip about 2-3 hours away and boy, did we learn a lot. Not just about what broke, but about everything else we needed to buy, make, or do to make RVing more successful. Your needs may differ from ours, but we learned a ton about the new RVer supplies we were missing, what we needed for RV organization, and navigating information. I also recommend always using an RV departure checklist before you leave on a trip. 


Going a short distance on your first trip is also incredibly important if you are new to RVing or towing. It can be downright terrifying to sit down to drive an RV and it requires a lot more mental energy and focus than cruising in a car. Before you even take a trip, it would be worthwhile to spend some time driving around a big empty parking lot and then going for a spin on some slower (but nice and wide) roads. 


Starting out with small trips can help you build confidence. It also means you only drove a short way and are, therefore, less exhausted before you have to try to park your RV in its spot for the first time.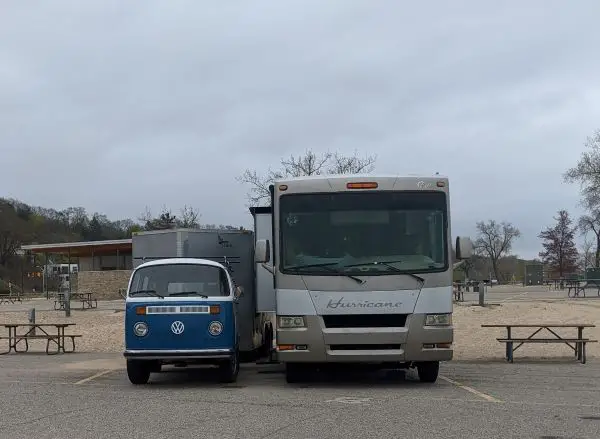 What to Bring On Your First RV Trip
Aside from the supplies listed in the new RVer supplies article linked above, there are a few more things to bring on your first RV trip. 


A basic toolkit. At the very least, your toolkit should have a number 2 Philips Head screwdriver, flathead screwdriver, needle-nose pliers, regular pliers, and two crescent wrenches. In case you need to change a tire along the way, don't forget to have at least a lug wrench and a jack suitable for your RV. Having a full socket set and a tool for every fastener on your rig is ideal. You should also have a tire pressure gauge or, even better, a tire pressure monitoring system. 


Safety supplies. I already wrote an entire article on all the supplies you should have in your RV to stay safe on the road. Check it out here: RV Safety Equipment. 


A positive attitude and patience. Things are probably going to go wrong on your first RV trip. You'll have a much more enjoyable time if you go into it expecting there to be issues. When they inevitably pop up, make a note of anything you need to fix, add, or change when you get home. Since your shakedown trip is going to be short, you can rest easier knowing your first "real" RV trip will go much more smoothly. 


If you're new to RVing, I also recommend reading about the following to make RVing a much more enjoyable experience in the long run. 
How Fast Should You Drive an RV?
Internet for RVers (Because the campground is lying to you when they say they have "super fast" internet…) 
 Facebook Comments
One moment, please. If the comments fail to load, FB may have been too slow responding so try reloading.