Planning your RV vacation in the dead of winter may seem a little ridiculous. After all, prime RV season is still months away. While this may be true, it is never too early to make RV reservations for summer camping. (Unless, of course, the park says you have to wait until a specified date- read on for more on that).


In fact, if you wait too long, you might be waiting around until the following summer to enjoy your RV. Gone are the days of rolling up to a park on a cross-country road trip and finding a place to stay. Even in the off-season, waitlists can stretch into the hundreds for popular destinations. A sad fact Joel and I found out when we tried to book a winter stay in the Salt Lake City area. 


We just booked (in early February) our sites for summer and many of the spots at our desired location were already booked. And if you think you're going to get a reservation over the Fourth of July, you may need to rethink your plans. Or look to less popular camping destinations. 


In case I haven't convinced you yet, here are 5 reasons you need to make RV reservations sooner than you might think. 


1. There are More RVers Now Than Ever Before
During the early stages of the pandemic, RV sales exploded. Things haven't really slowed down since then. More RVers on the road and in the campground mean only those who prepare are going to get a spot. Don't be the one who is bumming out at home. Start looking into where you want to stay now.


2. Many RV Parks Allow Reservations Months in Advance
The rules for booking accommodations at privately owned RV parks vary dramatically. Some start booking only a few months in advance while others may have years-long waitlists. If you want to ensure you get a spot, the best bet is to choose several potential destinations. 


After that, I recommend calling the park or looking on their website to see when they start accepting reservations. If they open reservations up on a particular day, mark it in your calendar and prepare to call early in the morning for summer spots.

3. Even National Park Campgrounds May be Booked Months or Years in Advance
In April 2022, Yellowstone National Park will open up reservations for April 2023 camping. If you want a spot for summer, you need to be ready to jump on it a year in advance to stay at this extremely popular destination. Many other national parks allow reservations up to 6 months in advance. This means if you want a summer vacation, you should look at booking in mid-winter at the latest.


Similarly to privately owned parks, it is best to research specific park rules, as there is some variability. Once you have a destination in mind, you can lock in your reservation.


4. If You Make RV Reservations Early, You Have More Site Options
Even if your desired location isn't ultra-popular, there is still a good reason to make RV reservations early. You can pick the best spot. Nothing beats having the best views, the largest (or flattest) site, or the quietest location in the park, away from the hustle and bustle of any noisy amenities.


5. You'll Have More Flexibility in Planning Cross-Country Trips
If you start planning early, you give yourself more leeway for cross-country trips. On these types of trips, it is super important to plan out every stay and not "wing it". Calling every place along the way to determine if they have openings for your desired dates can take some time.



If your ideal route has booked up campgrounds, you'll still have time to change things before everywhere else is full too. But only if you start well in advance.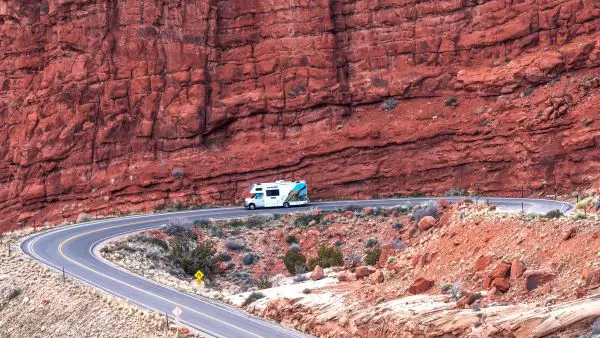 Tips to Increase Your Odds of Getting an RV Camping Reservation
All of this might sound like a headache. Or worse, maybe your favorite camping spot is already booked up for summer. Luckily, you have options even if you didn't get on the reservation game early enough. Here are a few tips, besides booking early, that can help you get an RV camping reservation. 


1. Consider taking an RV trip in the off-season
Although some places are warm year-round, late fall and early spring or even winter are less popular times for RVers in general. Booking a trip during this time typically gives you more options. 


2. Widen Your Search Range or Consider Going Off the Beaten Path
Places close to national parks or attractions like Disney World or major tourist cities are always going to book up well in advance. However, the United States has many hidden gems that are worth camping at. You just have to look for them.


3. Travel Mid-Week
Joel and I are full-time RVers and we have seen the same trend across many parks we have stayed at. The RV park we are at is virtually empty Monday through Thursday. Friday rolls around and in come the masses until Sunday afternoon when it goes back to being empty.

If you want to get a reservation, consider taking a few days off work to travel midweek. Not to mention you'll sometimes have the place almost all to yourself.

4. Book Longer Stays if Possible
If you are retired or work remotely, consider slow traveling. Not only can you save money on gas, but you might have better luck booking sites as well. Many privately owned RV parks give booking priority to people based on how long they stay.


If you reserve a site for a month or even several weeks at a time, you'll often have a chance to make your camping reservation before the weekend warriors. A monthly or even weekly stay can also save you a ton of money compared to nightly rates. Campground fees are no joke in some places, so it is a win-win to stay longer.  


When to Make Reservations for RV Camping?
The moral of the story is, the early bird gets the worm, or in this case, the campsite. It is basically never too early to start planning your summer RV adventure. The worst-case scenario is you have to wait a couple of months until reservations open up.


Either way, you'll know right when you can book to lock in your site for an amazing RV getaway. 


Experience RVers, have you seen a change in when to make RV reservations over the last few years? How have you had to adjust your travels? 
 Facebook Comments
One moment, please. If the comments fail to load, FB may have been too slow responding so try reloading.