Some of the links listed on this page are affiliate links. This means that, at zero cost to you, we will earn an affiliate commission from the vendor if you click through the link and finalize a purchase. We strive to always keep all our content free to the reader. Thanks.
Who knew there was a strategy to ensure you have a proper shower? Turns out, that is exactly the case if you spend any amount of time RVing. If you're sick of listening to your wife complain about her freezing shower (or being said wife), you're going to want to keep reading. Here are some RV shower tricks that make for a more successful — and warmer — experience. 


How to Heat Your Water
We sometimes see questions in the Cool RV Stuff Facebook group about whether to heat your RV shower with propane or electricity. If your water heater has both options, you can typically use either. When staying at a park with full hookups and included electricity, using the electric heat can save you some money. 


If you don't have full hookups or electricity costs are extra, propane is an option as well. Sometimes, people even choose to use both to heat the water up faster. This can be especially helpful if you have multiple people needing to shower and don't want to wait between showers for the water to slowly heat back up. 


Be sure to follow any manufacturer recommendations on your specific RV water heater.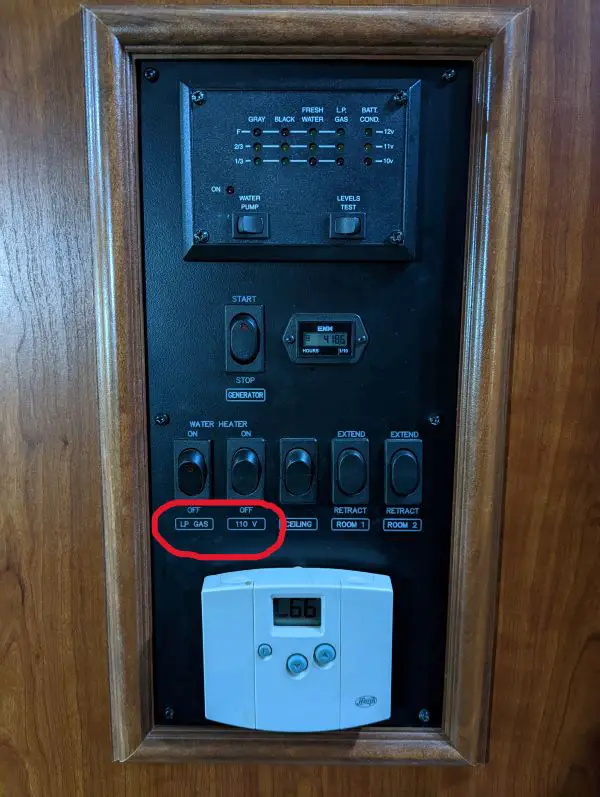 If you Are Somewhere Cold, Keep the Bathroom Door Cracked
Most RV bathrooms don't have heat vents bringing warm air into the space. For that reason, the bathroom can be one of the coldest places in the entire RV. If you are camping in cool weather, you can avoid a freezing RV shower with one simple trick. 


Crack the bathroom door a bit if possible. This will let some of the warm air from the rest of the RV get into the bathroom. That way, you won't be shivering when your shower is over. 


Turn the Hot Water On to a Trickle and Use the Cold to Increase the Pressure
If you have a water heater with a tank, chances are it is quite small. Our water heater is 6 gallons, which is pretty standard in RVs. (I'll get to tankless water heaters in a moment, so stay tuned). 


A small water heater means the hot water runs out really fast during an RV shower. One simple way to conserve your hot water and get a longer shower is to turn the hot faucet on to just a trickle. Then, add cold water to increase the pressure. Your shower water will still be plenty hot, but it will last much longer. 


Open the Vent and Turn on the Fan 
Humidity can be a problem for RVs, especially in cooler weather. As nice as it feels to step out of a shower into a steamy room, this is not so nice to your RV. It is a good idea to always shower with the ceiling vent open and the fan turned on. That way, all the humid air gets sucked out of your rig.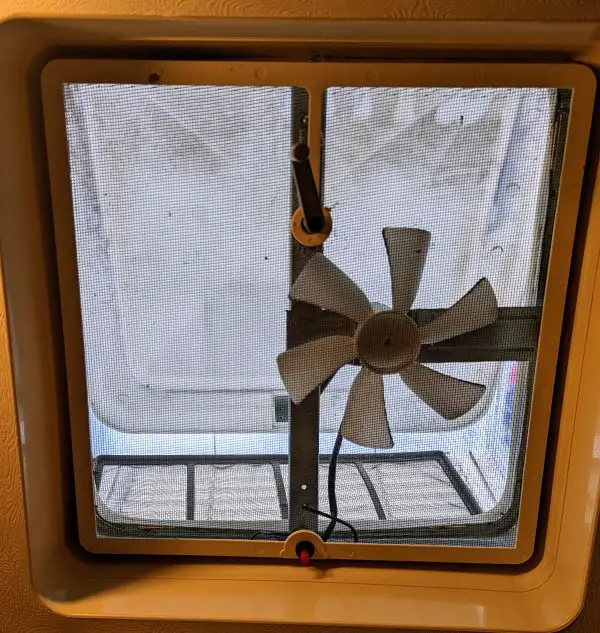 Should I Open or Shut the Grey Tank Valve?
The answer to this question is, "it depends". If you need to dump your black tank soon, it is best to leave the grey tank valve shut. This allows your grey tank to fill up with water. Then, when you dump your black tank, you will have a sufficient amount of grey water to give your hose a good rinse afterward. 


If you plan to have multiple people showering in a row and you just dumped your black tank, leaving the grey valve open while you shower can simplify things. Otherwise, when your grey tank is full, the water backs up into the shower. This can easily happen when you have multiple people showering in a row. 


If you notice your shower isn't draining, don't panic. This can be alarming for a new RVer, since it isn't something one has to deal with in a house. Usually, the cause is simply that you need to dump your grey tank. 


Upgrade Your RV Shower Head
RV showerheads are notorious for having poor water pressure. One of the very first things we did when we purchased our RV (after replacing the horrid RV mattress) was upgrade our showerhead. 


Depending on the setup you currently have, this task is pretty simple. For us, all we had to do was unscrew the old head and screw in the new, simple as that. Replacing your RV showerhead will make it much easier to get all the soapsuds out of your hair. 


The Oxygenics Brand showerheads are a hit with many RVers and most models come with 4.5 or more stars on Amazon. Many residential showerheads will also work in RVs, but be sure to check out what your connections are like beforehand to ensure it will work for you.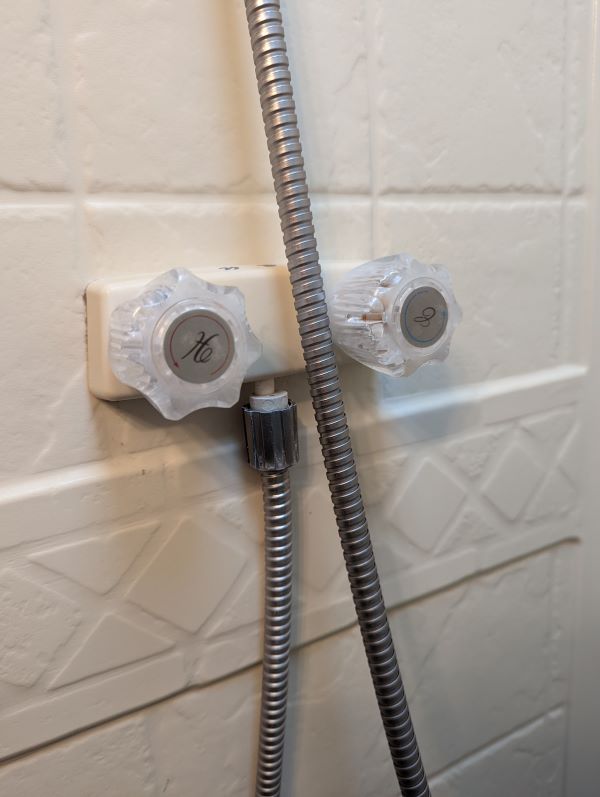 Squeegee Your RV Shower 
Just like at home, you can keep your shower looking clean by squeegeeing the walls after you shower. Goodbye soap scum. 


Tankless Water Heaters For RVS
Many RVers have opted to upgrade to tankless water heaters. These bad boys mean you can get a nice hot shower and not have to worry about running out of warm water by the end. If you travel in a family with kids, a tankless water heater will be such a benefit. It is also nice to not have to worry about forgetting to "preheat" your water before hopping in the shower like you do with a water heater that has a tank. 


If you want to enjoy endless hot water, a tankless water heater is the only way to go. (Even so, do your best to practice water conservation habits. The earth will thank you and so will your fellow human in many drought-stricken areas.) Some popular tankless water heater brands include Furrion, GIRARD, and Fogatti. 


It is important to note that tankless water heaters use propane so you can't take advantage of that free electricity at some parks. They are also expensive and if you aren't handy, you'll likely need to pay a professional to replace your existing water heater. 


If you camp often in frigid temperatures, a tankless water heater may not be the right choice. These units can struggle to keep up in cold weather when the water is chilly to begin with.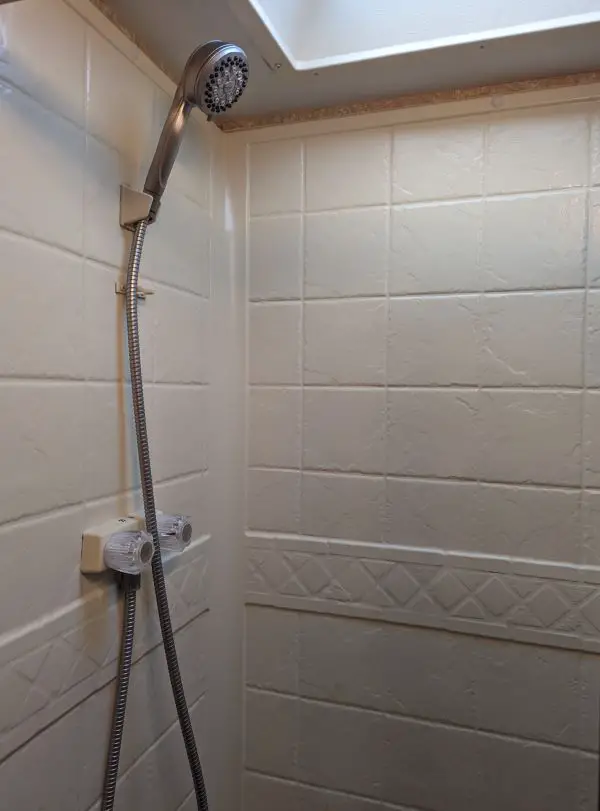 Tips For Showering Without Full Hookups 
If you don't have full hookups or are boondocking, conserving water so you don't fill your grey tank(s) too quickly is incredibly important. In this regard, having a tankless water heater can be a drawback since you might have to run the water for a bit before it is actually hot. However, one could argue getting the water set to the right temperature with any water heater can take a moment. 


When full hookups aren't available, the best way to shower is sometimes called a navy shower. First, get all wet and then turn the water off. Soap up and scrub with the water off. Then, only turn it back on to rinse off. It is cold, but it lets you do fun things like boondock for longer. 


If you plan to navy shower, you can avoid a shock of freezing cold water by using a shower shutoff valve. Simply twist the valve to stop the flow of water while keeping the temperature knobs turned to the right place. Then, you can open the valve and you don't have to mess with getting the temperature back to where you want it. 


Say Goodbye to Terrible RV Showers
It's pretty simple to make RV showers a more pleasant experience. Once you get it down, you'll be thankful to say goodbye to community RV park showers for good. 
 Facebook Comments
One moment, please. If the comments fail to load, FB may have been too slow responding so try reloading.