Some of the links listed on this page are affiliate links. This means that, at zero cost to you, we will earn an affiliate commission from the vendor if you click through the link and finalize a purchase. We strive to always keep all our content free to the reader. Thanks.
RV organization is tricky, but it is so important for making your RV trip more enjoyable. Luckily, RVers are a clever bunch and have come up with dozens of storage hacks. I've rounded up some of the best ideas out there, but please share photos of your own organization tips in the comments. You can never be too organized in an RV. 

Note: To make things easy to find, most items have links to examples if there is a place to get an item online.


Storage Bins for RV Organization 
Use caution when opening the overhead bins as contents may have shifted during flight. This statement is honestly more appropriate for an RV. Those overhead storage areas are worthless without a proper organization system. And your things will fall out when you open the cupboards at your final destination. 


The best thing we found was the foldable storage boxes that are about half the height of the popular storage cubes. These boxes fit perfectly into all our overhead cupboards and we use them for clothes and Tupperware. 


Double-check the height of your storage compartments and bins before ordering. That way you know they will fit in your rig.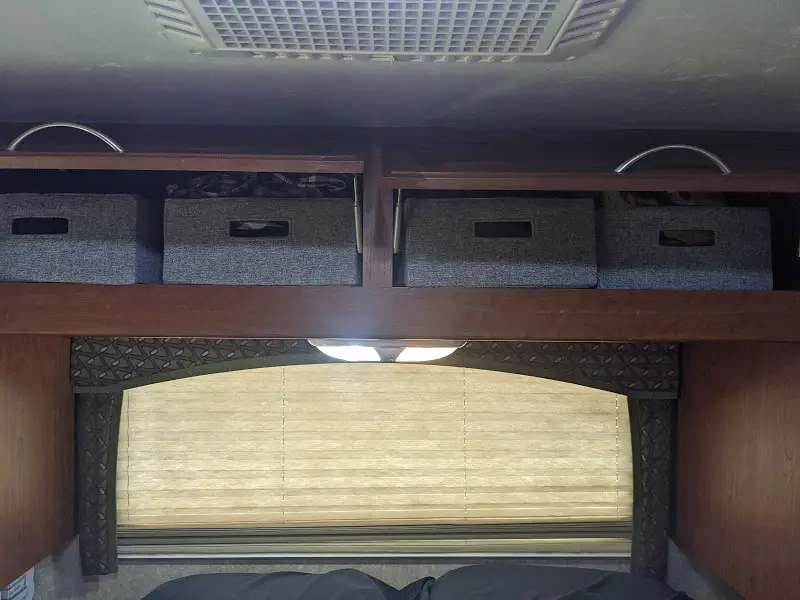 Magazine Holders
Magazine holders work for all kinds of RV organization. I have seen people use them to store cans, Ziploc bags, aluminum foil, and more. They keep things contained but allow for easy access to high-use items. 


Hanging Closet Organizers  
RVs are notorious for having limited space for clothes. That means having a closet organizer is so important. Joel and I have a small hanging closet organizer. It was one of the best purchases we made for our RV, to be honest.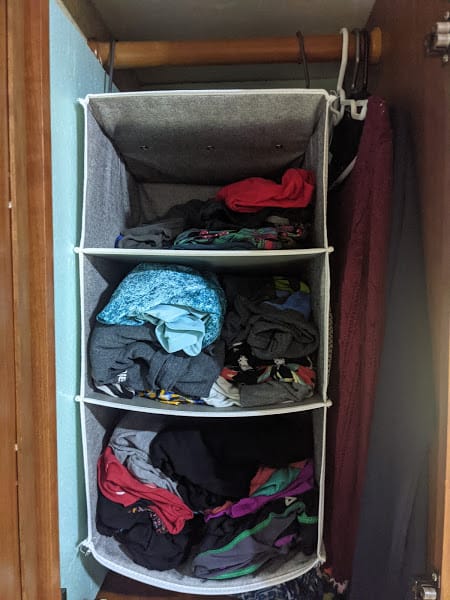 Plastic Storage Drawers
Fellow Cool RVer, Richard Atlas shared an amazing closet organization hack. He added plastic drawers to his RV closet and put them on a slider to extend all the way out of the closet. Here are his detailed instructions on how he did it. Thanks for sharing, Richard!


"The closet is 30″ deep, and the opening is 16″ wide x 38″ high. I got a set of 28″ fully extendable drawer guides, and the wood is a 14″ wide shelf from an old desk that was in my garage. After assembling it, I stacked 2 3″ wide wood boards to the slides and secured to the support under the bottom at the outside edge. The bins were 3 drawer stack. I got 3 stacks. I disassembled the third stack to add one more layer to the two to not waste the top space.


The stacks have 4 holes on the bottom for wheels. To secure the stacks, I put screws (2 per stack) halfway in the wood to match the holes, then set the stacks on the protruding screws. That way the stacks can't slide around but can be removed easily by simply lifting them up. The extra bin worked out nicely on the nightstand. Each drawer is 11″w x 13″d x 7″h."


You could easily use plastic storage drawers in other places, but this is one of the most ingenious uses of space I have seen.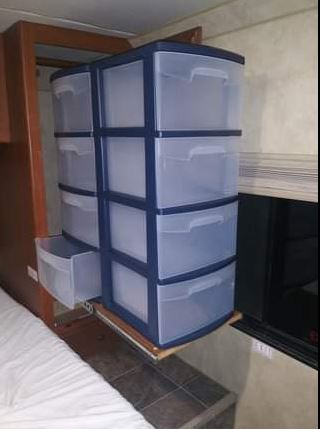 Over the Door Towel Holder
Throwback to college anyone? Those over-the-door towel racks work perfectly for your RV bathroom. We have one with 4 hooks that give us plenty of space for towels to dry. No musty-smelling RV here. 


RV Kitchen Organization 
If you don't have a pantry, or even if you do, a spice rack will definitely improve your RV organization. No more having spices strewn about by the time you arrive at your campsite. 


One of the most creative (and fun) kitchen organization tricks comes from Cool RVer, Debbie Chrysler. She has a hanging bar with hooks on her kitchen wall. On the hooks are multiple adorable baskets that keep their contents secure while driving and when parked.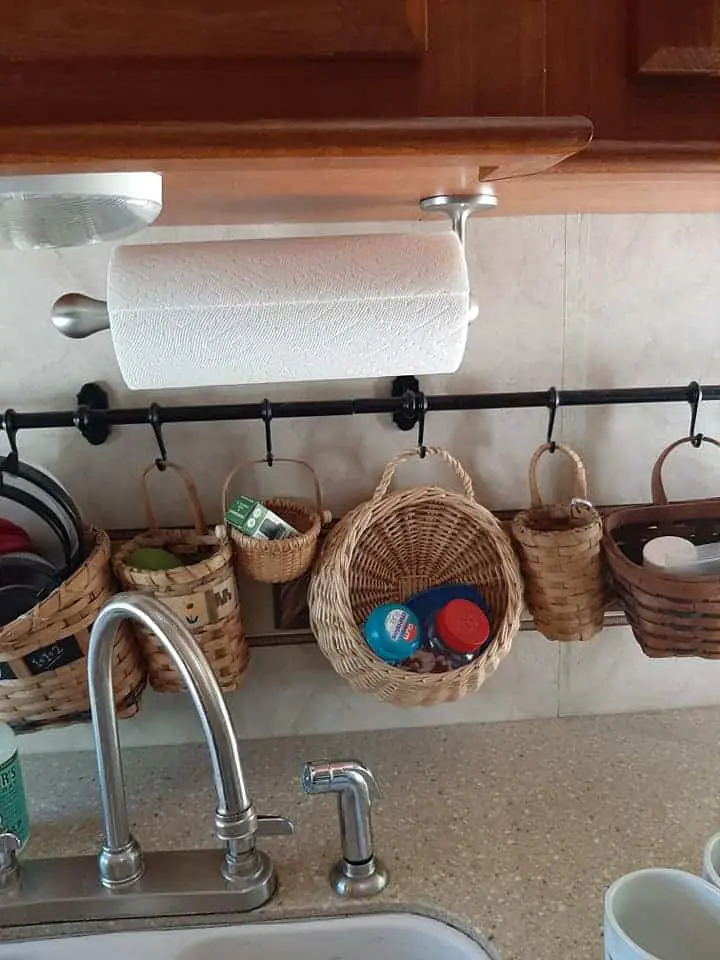 Maximize Under the Bed Organization by Adding Drawers
Another favorite comes from Cool RVer Karlyn Palmer. Instead of letting the under-the-bed space go to waste, she converted it to have 4 large drawers. 


Now she can access the space without having to lift the bed up and without things turning into one huge pile of stuff you can't sort through. I have to say I am a bit jealous, but unfortunately, my water tank lives under the bed. Thanks for sharing, Karlyn.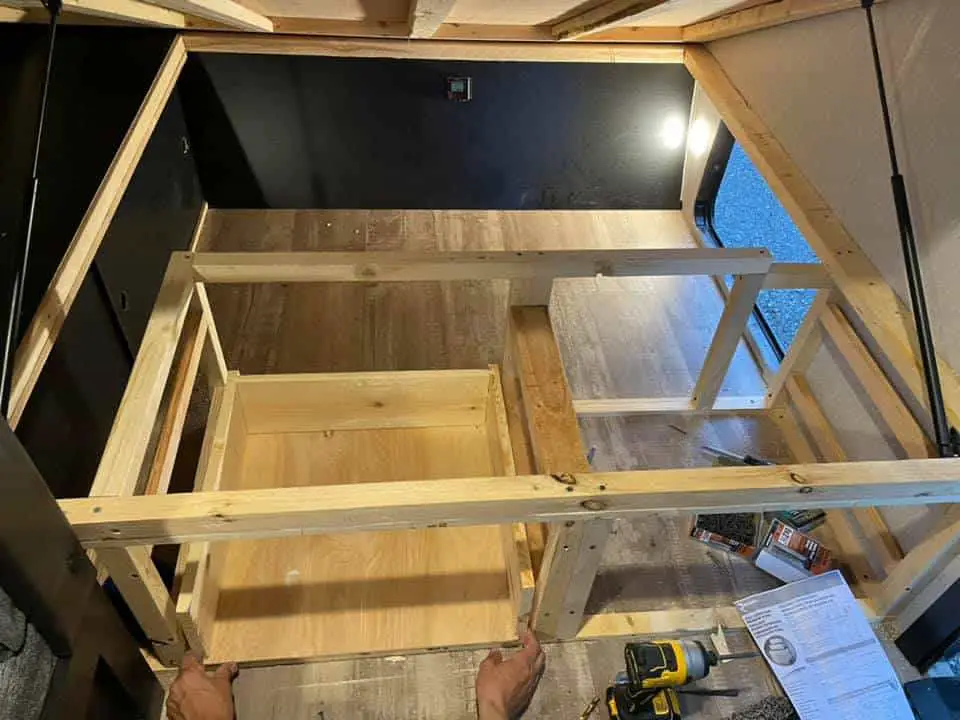 Medicine Cabinet RV Organization Tips
I learned the hard way that having organizers in your medicine cabinet is something you don't want to forget. Adding a plastic medicine cabinet organizer means all your toiletries won't be tipped over (and possibly leaking) while you drive. 


Hose and Cord Caddies
If you're sick of tangled hoses and cords, a hose and cord caddy is the way to go. There are a few caddy options specifically designed for RVers. Some members of the Cool RV Stuff group have even done something as simple as using a 5-gallon bucket for hose storage. 


Totes for RV Organization  
If you're lucky your RV organization needs also apply to plentiful outdoor storage space. Joel and I have a very large garage on our Class A motorhome. Our first order of business was to purchase some heavy-duty storage totes to organize the space. We measured and got a few different size bins (but the same brand) to maximize it. It has definitely made our lives easier.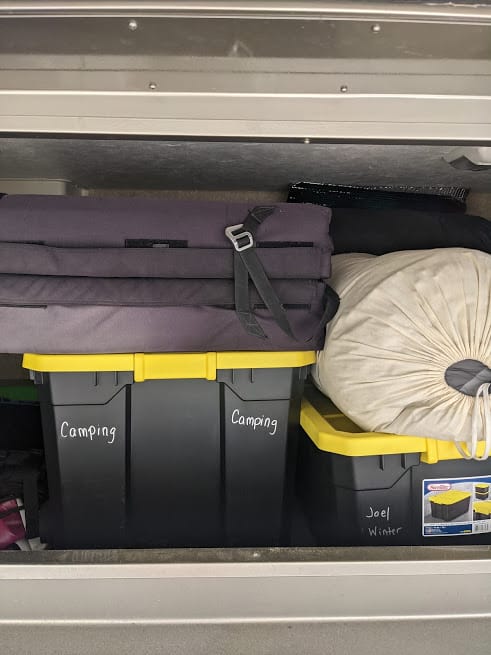 Hanging Shoe Bags 
Hanging shoe bags can work great for organizing your RV. But why stop at organizing your shoes? I have seen these bad boys used for towels, toiletries, and more. They are definitely a multi-purpose product for RVers. 


Shoe Cabinet 
Joel and I recently replaced our obnoxious and uncomfortable RV couch. We now have much more space and a more comfortable couch. We used some of the extra space to add a small shoe cabinet. It discreetly fits 9 pairs of shoes and looks pretty classy if you ask me.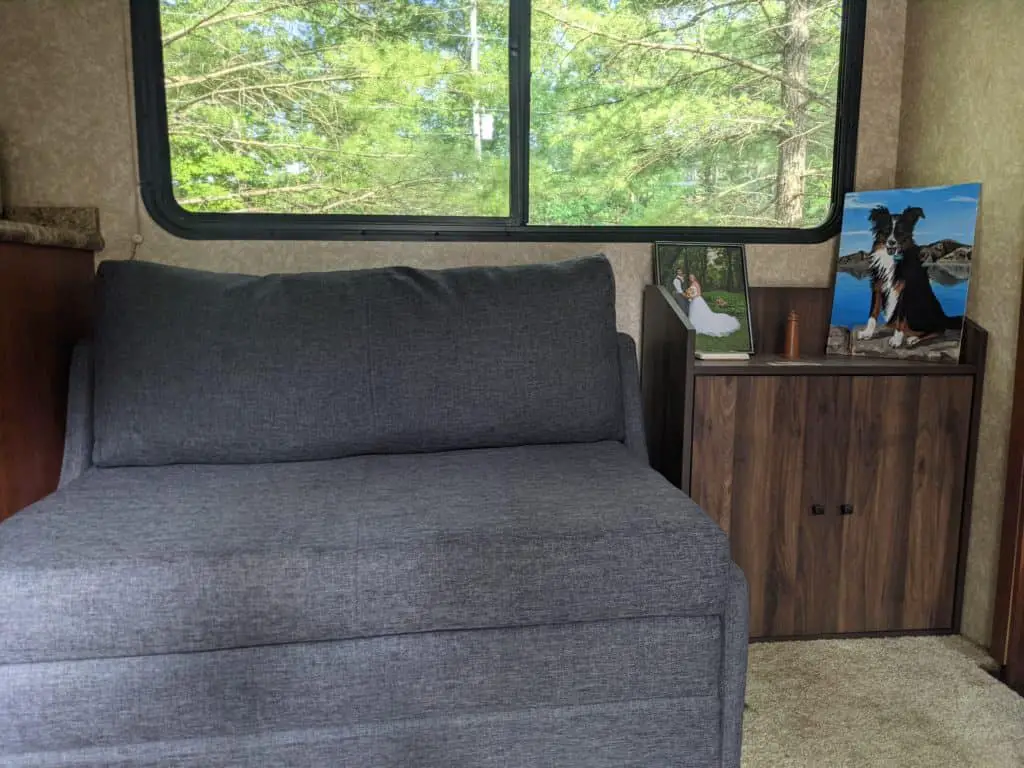 Tension Rods 
Tension rods come in all shapes and sizes. They are a must for RV organization. Tension rods really come in handy during travel to keep things from falling all over the place. For example, when we drive, we pop a tension rod in the shower to hold all our shampoo and soap in one place on the floor. No more leaky bottles all over the place. 

Many RVers also use pool noodles in the RV for this purpose. Who would have thought. Check it out!


What are your favorite RV organization tips? Leave a comment below to share your genius ideas!
 Facebook Comments
One moment, please. If the comments fail to load, FB may have been too slow responding so try reloading.