Some of the links listed on this page are affiliate links. This means that, at zero cost to you, we will earn an affiliate commission from the vendor if you click through the link and finalize a purchase. We strive to always keep all our content free to the reader. Thanks.
The members of the Cool RV Stuff Facebook group are full of amazing ideas. Seriously, I'm impressed on the daily with the creative solutions people dream up. 


One common problem RVers run into is a lack of storage space. It seems like there are always too many things to pack and store. Organizing the inside of your rig is a challenge, but many RVers have next to no outdoor storage compartments to speak of. 


If you run into this problem, you're in luck. Here is an amazing and classy way to get more storage. This storage solution is courtesy of Joseph Sweeney, who kindly shared his idea and his photos for this post. 
How to Revamp Your Own RV Storage Trunk
Back in the olden days, people would travel with actual trunks attached to the backs of their cars. In fact, that is where the term for your car's trunk originated in the U.S. 


Joseph had the idea of adding a trunk to his RV. Here's how you can make your own classy, functional way to store extra RV supplies. 


Step 1: Find an Old Trunk
You might be surprised by how many people have a trunk such as this sitting around, gathering dust in the garage. If you aren't one of those people, no worries. You might be able to find one in your local online garage sale or Facebook marketplace. Joseph purchased his old trunk for only $50. 
Step 2: Prep Your Trunk
If you have an older trunk, you'll need to do some prep work to get it ready. You can do this by sanding down the trunk. Joseph used a brass brush wheel for his drill and said it worked wonders at removing the rust and grime.
Step 3: Paint Your Trunk
The sky is the limit with what you want your additional storage space to look like. Rustoleum is a great paint for outdoor use and stands up well to the weather. In fact, Joel and I even used Rustoleum to repaint our 1977 VW bus several years ago, and it is still holding up strong. Any enamel paint meant for outdoor use will probably do the trick. The secret is to putting on many, many coats.

For the gold, you could go with enamel paint or do what Joseph did and grab some run-of-the-mill craft paint from a place like Hobby Lobby.
Step 4: Protect the Paint Job
Once you paint your trunk and have it ready to go, Joseph recommends adding a coat of Marine Spar Varnish to protect the paint. If the weather is bad, throw a barbeque grill cover over it and you're set to go.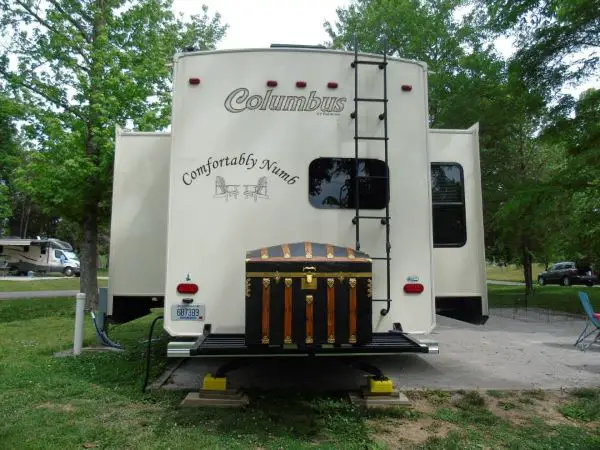 Step 5: Enjoy Your Extra Storage
Adding such a unique type of extra storage space is an easy way to have more room and have a classy addition to your rig. You can use it for pretty much anything that can fit inside. It can be a wonderful conversation starter with your campground neighbors as well.


Got a Cool RV Idea? Share it with us below and we'd love to feature you too! 
 Facebook Comments
One moment, please. If the comments fail to load, FB may have been too slow responding so try reloading.