Some of the links listed on this page are affiliate links. This means that, at zero cost to you, we will earn an affiliate commission from the vendor if you click through the link and finalize a purchase. We strive to always keep all our content free to the reader. Thanks.
If you're looking for the best RV pet fences on the market, you've come to the right place. Nothing is more frustrating than trying to relax by the fire, only to have to untangle your dog's tether yet again. When you have a portable pet fence to bring RVing, your pets can have more room to stretch their legs while still staying safe and contained. It makes camping more enjoyable for you and your pet.  


Even with a fence, it is important that you don't leave your pets unattended at the campground. Think how awful it would be if they got out of the fence in a place that was unfamiliar to them, potentially thousands of miles from home. So use your cool new pet fence only when you're around to supervise the pooch.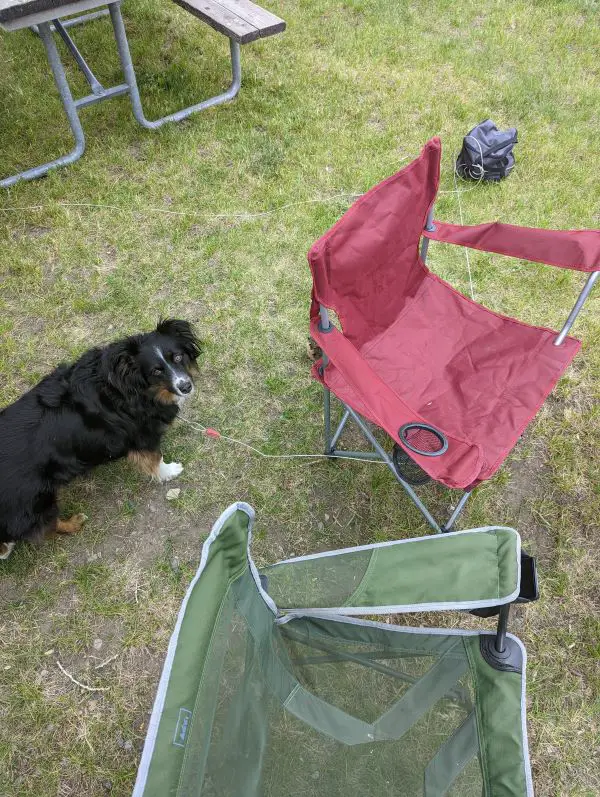 Things to Consider When Purchasing RV Pet Fences
Before you buy a fence, you need to consider your dog or dogs. Are they likely to jump over the fence and run off? If so, a fence is not the best solution. Some big dogs might also knock down fencing. But if your pup is chill and you just don't want them to wander off, having a pet fence for an RV is an ideal solution for camping with pets. 


You should also consider how much space you want inside the fencing. You can purchase some pet fencing with multiple smaller panels so you can get the desired amount of space for your pet. You'll also want to keep in mind the size of your campsites to make sure your new fence will fit. The bigger your fence, the more room you need inside your RV to store it during transport as well. Not to mention the added weight. 


Finally, think about how to stabilize the fence, especially if your dog might try to knock it down. Will you be able to stake it down to the ground or do you need to use some sort of weight to hold it in place at your site? This may depend on the ground where you camp.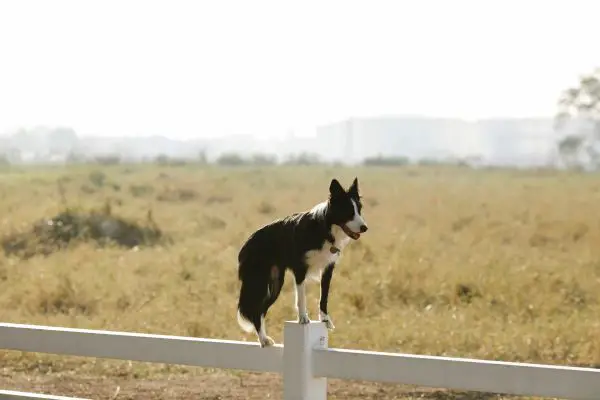 RV Pet Fences Rules to be Aware Of
Before you purchase your pet fence, you should also keep in mind the fact that some RV parks do not allow fences to be set up. Make sure you follow all RV park rules. Please also be a good dog owner and ensure your pup isn't barking all day long. No one wants to listen to that while they are trying to relax. 


The Best RV Pet Fences
Here are some of the top choices for fencing that you can set up outside your RV. 

1 New World Dog Fence
This RV pet fence is perfect for those who want a quick and easy setup and takedown. The fence gives your pet 16 square feet of interior space and comes in a variety of heights. You can choose fencing as short as 24 inches tall for small dogs, up to 48 inches tall for larger dogs.


With an average rating of 4.7 stars, this fence is a solid choice if you need little room for your dog. If you want to run and play in it, you'll probably be disappointed, though. It is simply too small for that. The small size and weight could be a plus for some, however. 


Assembly is also quick and easy, making it perfect for RVers who are on the move to new sites often. It also doesn't need to be staked into the ground. This fence is one of the most budget-friendly options on the market as well. 

2 FXW Dog Fence for RVing
If you are willing to spend a bit more, this fencing option is a step up in terms of stability and room for your pet. You can purchase either 8, 16, 32, or 48 panels for the fence. The 16-panel RV dog fence gives your pup 110 square feet of room to stretch their legs.


You can also configure the panels to be set up in multiple different shapes to suit your needs. This fence stakes into the ground to be extra sturdy. Just make sure the ground where you will be camping will work for this. 


For the height, you can select 24 inches tall, 32 inches tall, or 40 inches tall. (However, as of this writing, some options are out of stock). The stakes have a round top, so you don't have to worry about your pet hurting their paws if they put them up on the top of the fence. 


A final feature that is excellent for RVing is that the panels fold flat for easy storage in your rig.


3 Toocapro RV Pet Fence
The Toocapro pet fences come in various sizes to meet the needs of almost any dog. This fence has 16 panels and is 24 inches tall. If that doesn't work for you, you can find it in 32 or 40-inch height options as well. With the 16-panel option, your doggo will have 110 square feet to roam. 


The fence stakes into the ground so it works best where the surface is soft. It also has a special door latch so your genius dog can't let themselves out. The stakes have a round top, so you don't have to worry about your pet hurting their paws if they put them up on the top of the fence.


Choosing the Right RV Pet Fences
Choosing the right RV pet fence doesn't have to be a hassle. You'll be much happier allowing your pup to roam around their RV yard without getting tangled in everything in sight. So grab yourself one of the best RV pet fences and enjoy a more relaxing sit by the fire next time. 
 Facebook Comments
One moment, please. If the comments fail to load, FB may have been too slow responding so try reloading.