Some of the links listed on this page are affiliate links. This means that, at zero cost to you, we will earn an affiliate commission from the vendor if you click through the link and finalize a purchase. We strive to always keep all our content free to the reader. Thanks.
RV ice makers are a hot topic in the Cool RV Stuff Facebook group. Some people can't live without them, while others scoff at the ridiculousness of it all. I've been dreaming of a portable ice maker pretty much since we moved into the RV. I hate drinking lukewarm water. That's all there is to it.


However, there seems to be a lot of discussion between the two camps. The ice makers and the ice buyers. 


RV ice makers are a hot topic in the Cool RV Stuff Facebook group. Some people can't live without them, while others scoff at the ridiculousness of it all. I've been dreaming of a portable ice maker pretty much since we moved into the RV. I hate drinking lukewarm water. That's all there is to it. 


Maybe It's a Luxury, But I've Never Had Such Tasty Camping Drinks Before 
Having an ice maker may be a certain luxury. After all, RV ice makers are a bit of a spendy purchase. Amazon's lowest price RV ice maker is around $100 and there are some as expensive as $500 or more. 


However, fans of the portable RV ice makers swear they can't live without them. Is anything really better than having an ice-cold drink whenever you want it? 


With an ice maker in your RV, you won't have the inconvenience of running to and from the store to buy more ice when you run out. Not to mention, even in a cooler, your bag of ice is bound to melt well before you finish a week-long camping adventure. 


For those who say to use an ice cube tray, you clearly don't have much in your freezer. I have so much stuff crammed in there that finding a level spot for an ice cube tray is next to impossible. 


For full-timers and seasonal campers, buying bags of ice all the time isn't just an inconvenience. The price will also add up over time. The break-even point will depend on how often you camp and how much ice you go through.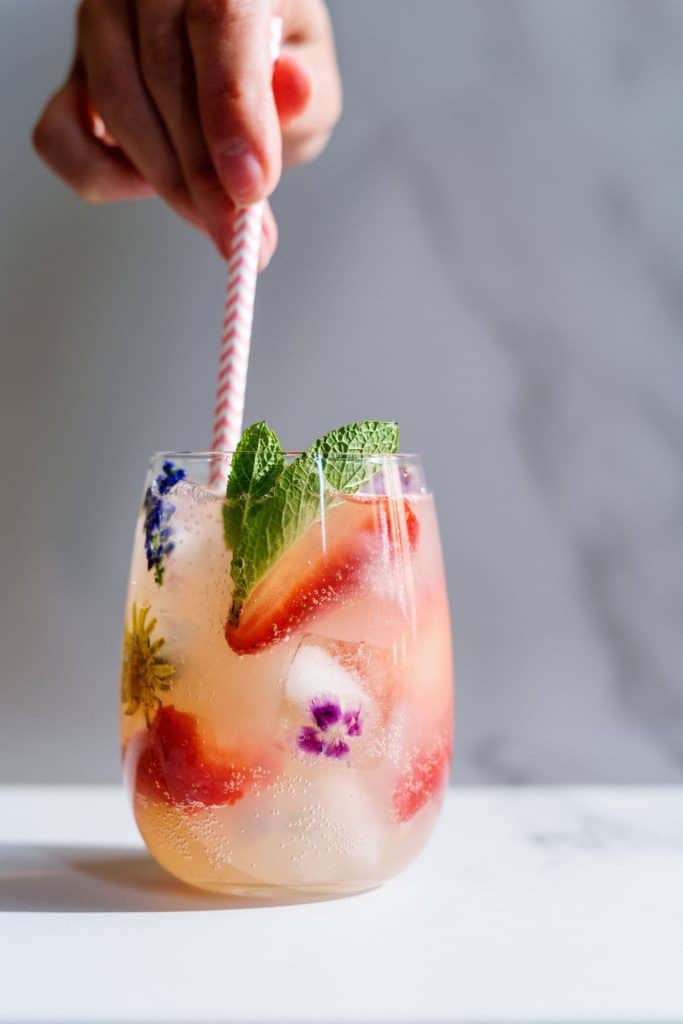 Why Don't You Just Buy a Bag of Ice?
Then there are campers who think RV ice makers are a luxury at best and a waste of counter space and money at worst. After all, you can just buy a bag of ice and stick it in your cooler. 


They might even argue that if you don't want the ice to melt, you can put it in your freezer. However, have you seen how tiny an RV freezer is? You definitely won't be able to fit an entire 10-pound bag of ice in there. 


Ice buyers also love to remind you how slow RV ice makers are. You won't have ice instantly like you will if you just buy a bag. They've definitely got a point there that you can't really argue with.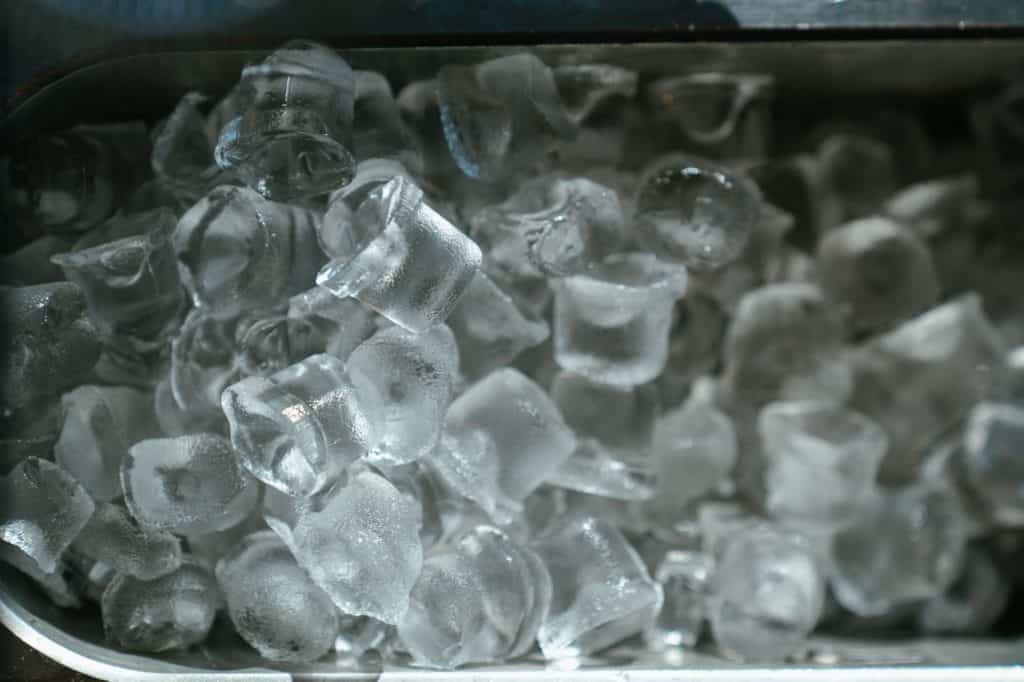 Which RV Ice Makers are Best?
If you've decided you can't live without an ice maker in your camper, you might as well get the best one. Every ice maker (just like every product) has pros and cons. Here they are for some of the top choices out there. 


Most Popular Affordable Ice Maker: Igloo ICEB26AQ Countertop Portable Ice Maker
Pros: The Igloo ICEB26AQ portable ice maker gets 4.4 out of 5 stars from Amazon buyers. It can make nine ice cubes in seven minutes. This is a slick feature because if you just need enough for a couple of water bottles or a few mixed drinks, you can turn it on and be ready to go in a matter of minutes. 


Having a removable basket is also convenient so you can pull it out and dump it into a storage bag or cooler if needed. This ice maker is also quite compact meaning it won't take up a ton of your precious counter space. 


Also, here's a sneaky trick. Amazon defaults to showing you the "pretty-colored" ice maker. But if you look at the plain white one, it is significantly cheaper (as of this writing). 


Cons: This RV ice maker weighs 26 pounds. While that may not seem like a lot, it is a decent amount of weight in the RV world. Saving weight means better gas mileage and a safer drive. You won't find many ice makers that are lighter, but it is a point for the ice buyer crew. 


Another downside is if you want ice fast, this little guy is not going to cut it. It takes nearly 24 hours to make about 20 pounds of ice. Buying a 20 pound bag is definitely the way to go if you need things quickly. 


It doesn't have as high of ratings as some other ice makers available. However, it is still one of Amazon's best-selling ice makers. 


Highest Rated RV Ice Maker: Crownful Ice Maker Countertop Ice Machine
Pros: At 4.7 out of 5 stars, the Crownful RV ice maker comes in above the crowd. It also has one of the lowest price tags I've seen. High ratings and cheap? That sounds like my kind of machine. 


Melted ice also returns to the reservoir to be turned into fresh ice which is a convenient feature. If you forget about your ice, you won't have to worry about water leaking all over the counter. It also has a smart shut-off feature that stops making ice when the ice basket is full. 


The Crownful RV ice maker also takes up slightly less counter space than the Igloo ice maker. 


Cons: The Crownful ice maker is slower than the Igloo model. It will take 8-10 minutes to make nine ice cubes. 


Most High End RV Ice Maker: GE Profile Opal
Pros: Having a portable ice maker is convenient, but usually it requires a lot of babysitting. You need to turn the ice maker on and off as needed or when the basket gets full. The GE Profile Opal has a sensor that automatically turns the ice maker on and off when it starts to get empty or full. 


You can also schedule it to make ice at a certain time so you'll always have some ready for after-dinner drinks. If you forget to use the ice, it will simply melt, re-enter the reservoir, and turn into fresh ice. 


This ice maker also makes small nugget ice chips which many people are a fan of instead of large cubes. 


Cons: This ice maker is a bit over the top for RV camping. Plus, it comes with a massive price tag. It is nearly 5x the cost of other RV ice makers. 


It also weighs a whopping 47 pounds and takes up substantially more counter space than most other countertop ice makers on the market. 


It is one of Amazon's best-selling portable ice makers. Just make sure you have room for it in your rig before purchasing.
What is the Best Way to Get Ice in your RV?
Which camp do you fall into?
Are RV ice makers a must-have luxury camping item?


Or are they a total waste of time, money, and counter space? 
 Facebook Comments
One moment, please. If the comments fail to load, FB may have been too slow responding so try reloading.