Some of the links listed on this page are affiliate links. This means that, at zero cost to you, we will earn an affiliate commission from the vendor if you click through the link and finalize a purchase. We strive to always keep all our content free to the reader. Thanks.
Are you an RVer looking for the best camp chairs to make your outdoor adventures extra comfortable? Look no further! We've done the research and have come up with a list of chairs that are perfect for RVers. 


We've rounded up the best chairs recommended by your fellow RVers in the Cool RV Stuff Facebook group to give you the ultimate list. Keep reading to find out which chair is perfect for your RVing adventures!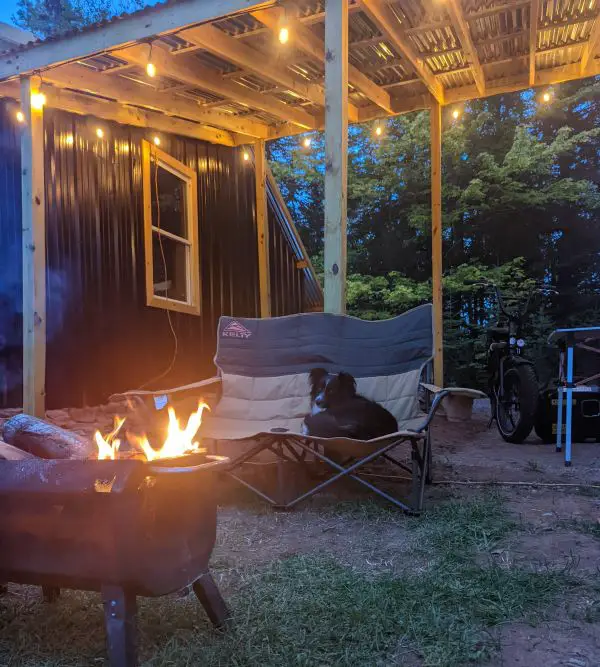 The Best Two-Person Camp Chair
Are you looking for the perfect camping chair to share with a friend or special someone? Or maybe even your furry friend. Look no further!


Kelty Loveseat Camp Chair
Joel and I recently got a Kelty Low Loveseat chair and we love it! After trying a friend's around the fire, we knew we had to have one. It is great for lounging and since it is low to the ground, you stay extra warm at the fire.


Plus, it's super comfortable! The front legs also have a little shock so when you get in and out it cushions the movement. We even have room for our (small) dog Luna to cuddle between us! But they also make an extra large loveseat specifically designed to be "pup compatible" which I love.


Another fantastic feature is the bag. The easy design means you don't have to deal with the obnoxious part of many other camp chairs, trying to shove it back in a tiny bag at the end of the trip. The bag also unrolls to lay flat so you can use it as a place for your pup to sit off the dirty ground if they like a little comfort too.


Since the Kelty Low Loveseat is low to the ground, it is definitely not the best for RVers who have a hard time getting in and out of lower seats due to knee, hip, or back issues. However, for everyone else, I definitely recommend it. Fortunately, there is a regular version of the Kelty Loveseat that isn't low to the ground. Perfect for those who like to cuddle without getting stuck in their chair.


Worth every penny! But don't just take my word for it. Kelty has consistently positive reviews from users so you know you're getting a quality product. If you're looking for a great RV gift for your special someone, you can't go wrong with one of these chairs.



Click to Buy the Regular Loveseat

Click to Buy the Single Person Reclining Chair


The Best Rocking Camp Chair Choices
Whether you're camping in the great outdoors or just relaxing on your back patio, a rocking camp chair is an essential item for comfort. With so many options available, it's difficult to know which one is right for you. There are two chairs that we see consistently recommended by other RVers so those are the only two we're going to share. No more needing to read through "The 500 Best Rocking Camp Chair Choices" like other sites have when most of them aren't worth even considering.


GCI Outdoor Roadtrip Rocker
The GCI Outdoor Roadtrip Rocker is the perfect rocking camp chair for outdoor relaxation. It's frequently recommended by RVers in our Facebook group and is an Amazon best-seller, so you know it's a quality product. This rocker camp chair offers great comfort and its height makes it easy to get in and out of with no struggle.


Plus, it packs down to be quite small and fits into an over-the-shoulder carrying bag, weighing only 12.8 pounds. This is less than some other camping chairs offering similar features and comfort. Nothing beats relaxing around a campfire except maybe relaxing around a campfire in this comfy rocker!


Click to buy the GCI Roadtrip Rocker


GCI Outdoor Freestyle Rocker
The GCI Outdoor Freestyle Rocker is another go-to chair for campers and RVers who want a quality rocking camp chair. We see it recommended in our Facebook group every time someone asks about the best camping chair. It's just the right height, so no more straining your joints getting up and down. Its simple design also includes a cup holder and a breathable mesh back. 


It folds up flat for easy storage, plus it has an attached handle for carrying. It isn't as convenient if you have to carry a chair for a long distance, but for sitting around your campsite, the GCI Outdoor Freestyle Rocker is perfect.


There is also an extra large Freestyle Rocker if you need more space. As a bonus, the XL version also comes with an attached side table and cup holder.


Click to buy the GCI Freestyle Rocker


Click to buy the Extra Large GCI Freestyle Rocker


The Best Reclining Camp Chair
Are you looking for the best reclining camp chair? If so, you've come to the right place. Reclining camp chairs offer superior comfort and relaxation while outdoors. They are perfect for camping trips, beach days, or just hanging out in your backyard. With the right recliner chair, you can make any outdoor activity much more enjoyable.


GCI Outdoor Zero Gravity Reclining Camp Chair
GCI Outdoor strikes again. This time, it is with their Zero Gravity chair. If you are looking for the best reclining camp chair, this product is perfect for you. It features a headrest and footrest that give you the perfect level of support, plus the recline feature allows you to sit at any angle you want. 


Even without reclining, you can lift the leg rest to get more comfortable. This chair also folds flat for storage in your RV, although it can be bulky, so make sure you have plenty of room. The GCI Outdoor Zero Gravity Chair is the perfect way to relax if you've got the space for it.


Click to buy the GCI Zero Gravity Chair


Kuma Outdoor Off-Grid Reclining Camp Chair
The Off-Grid Camp Chair from Kuma is perfect for anyone with bad knees or hips. Many RVers recommend it since it's not too low to the ground making getting in and out a breeze. It also has seven reclining positions. This lets you recline as much or as little as you need to get comfortable.


Plus, it has a padded seat, back, and headrest besides having armrests for extra comfort. It also has a cupholder, so you can enjoy your beverages with ease. The lightweight design makes it easy to transport without straining or struggling. It doesn't pack into a bag like some other RV camp chairs, but if you're looking for a reclining camp chair, you will not find anything that is super compact. 


Click to Buy the Kuma Outdoor Off-Grid Camp Chair


The Best RV Camp Chairs for Lounging Around
RVing is meant to be relaxing, but if you're sitting around the fire with an achy back because your camp chair is lousy, you won't be so relaxed. Luckily there are plenty of excellent choices for RVers. Whether you're camping, picnicking, or just hanging out with friends, these chairs provide unparalleled comfort and sustainability. 


They have also been recommended time and time again by real RVers. So, no matter what you're looking for in RV camp chairs, we've got you covered. So keep reading to find your perfect camp chair.


Alpha Camp Hammock Camp Chair
The Alpha Camp Hammock Chair is the perfect pick for anyone looking for an outdoor chair that offers both comfort and convenience. Lightweight at only 12 pounds, it can support up to 350 pounds and features a padded headrest and durable breathable material.


It is ideal for long summer days of lounging in the sun. Forget struggling with straps and finding the perfectly spaced trees. With this hammock chair, you get all the comfort of a hammock without any of the fuss. Get ready to relax and unwind in style with Alpha Camp's Hammock Chair!


Click to Buy the Alpha Camp Hammock Chair


MacSports Club Camp Chair
The MacSports Club Chair is the perfect companion for camping trips and outdoor activities. If you're looking for a comfortable chair, that's easy to transport, this one fits the bill! The chair is spacious and supports up to 350 pounds so you can cozy up any way you like. 


The Club Chair also comes with an easy-access side pocket. Every RVer I've heard from who has used this chair has fallen in love. Now it's your turn!


Click to Buy the MacSports Club Chair


YETI Trailhead RV Camp Chair
This RV camp chair from YETI is the perfect companion for any outdoor adventure! It provides much better back support than many other camp chairs that can leave you sinking in. Designed to conform to your body, it eliminates pressure points and supports up to 500 pounds.


Not only that, but it also has sturdy armrests (no more floppy fabric ones!) and a cup holder for your favorite fireside beverage. Best of all, it's foldable and even packs up into a bag for carrying, unlike many chairs of a similar style. The biggest downside of this chair is the price tag. In true YETI style, the chair is built to last and so the price tag is higher than many other chairs that made our list.


Click to Buy the YETI Trailhead Camp Chair


The Best Camp Chairs for RVers
In conclusion, it's clear that when it comes to the best camp chairs for RVers, there are a variety of options available. Whether you're looking for something lightweight and easy to transport, or something more relaxing like a reclining camp chair, there is an option out there for everyone.


The best camp chairs depend on your own needs and preferences. So make sure you consider what is most important to you before making a purchase. Ultimately, the right camping chair for you will ensure that your time spent on the road is comfortable and enjoyable. Happy RVing!
 Facebook Comments
One moment, please. If the comments fail to load, FB may have been too slow responding so try reloading.