Some of the links listed on this page are affiliate links. This means that, at zero cost to you, we will earn an affiliate commission from the vendor if you click through the link and finalize a purchase. We strive to always keep all our content free to the reader. Thanks.
RVing is not an affordable hobby by any stretch of the imagination. It is expensive to purchase an RV, expensive to outfit an RV, and expensive to maintain an RV. Will the spending never end? 


If you're bored with the stock appearance of your RV's interior, you might be wondering if a total remodel is in order. We've all seen the fantastic before and after pictures many RVers post. But the fact of the matter is most of us don't have the money (or the time) for a total overall. So what's an RVer to do? Fortunately, there are some affordable ways to make your RV look nicer and feel homier. 


Best of all, these are projects you can do slowly but surely. By the end, you might not even recognize your RV! 


Ditch the Valences
Removing our valences was one of the best decisions we made for our RV. They are truly hideous (or at least ours were) and I still can't figure out who is in charge of designing them. Even if you don't replace the curtains, just taking down the valences will be a huge improvement. It costs $0 and it will also save you some weight, considering how many and how heavy those suckers are.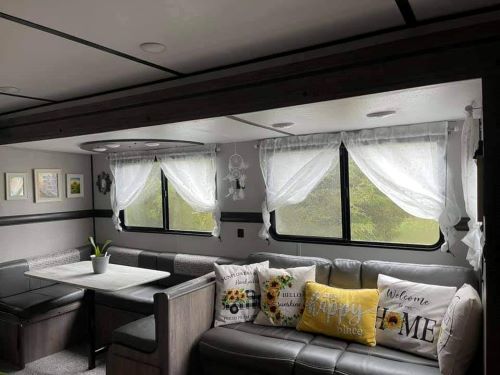 Upgrade Your Wallpaper 
When we purchased our RV, it had a hideous brown wallpaper stripe with swirls on it (also brown, of course). We were able to fairly easily peel it off our kitchen and bathroom walls, and it made things look so much nicer. We tested the removal on a small section in the bathroom just in case it didn't want to place nice when we removed it. A bit of goo-gone was needed in some places, but that was it. 


If you want to make things even better, adding your own peel and stick wallpaper is an affordable way to make your RV look nicer. There are hundreds of styles to choose from, so you're bound to find something that fits your preferences. 


Recover Your Dinette Cushions 
Although this project can be a bit more time-consuming, recovering your cushions is another affordable way to make your RV look nicer. Joel and I finally ditched our hideous dinette cushion covers. I couldn't be happier with the upgrade. If you're handy with a sewing machine, you can complete the job fairly affordably on your own.


Add New Curtains
Once you take down your valences, upgrading your curtains is another simple way to make your RV look nicer. You can get curtains to fit just about every budget and style. It is amazing how big of a difference this change can make.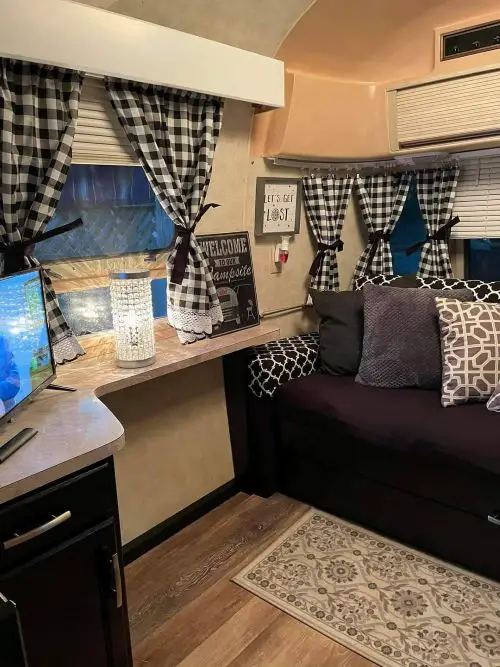 Replace Your Old Light Bulbs with LEDs
The light bulbs that came with your RV may not provide the best lighting. Upgrading to LED lights will make your small space seem much brighter and larger. Not only that, but fluorescent light bulbs can get extremely hot. We even had one of our light covers burn and melt. So, upgrade those light bulbs for a classier, brighter feel and a safer RV. 


Use Decorative Dish Towels 
It is amazing what a dish towel can do. You have to use them anyway, so they might as well be fun! We rotate through some festive holiday towels to bring a bit of holiday spirit to our rig since we travel full time. Even if you aren't full-time, some bright and happy towels can really spruce up your RV. Camping-themed dish towels are also a fun addition. These also make great RV gifts.


I definitely don't have the eye for interior design like some of our Facebook group members. But even a little something makes my RV feel homier.
Put Some Artwork on the Walls 
Don't be afraid to add some artwork to your walls. Most RVers have success with command strips to hang paintings, although extremely humid environments aren't ideal for this. If you're concerned about ruining your walls, test a command strip in a discreet location. After that, pick artwork that will make your RV feel like home.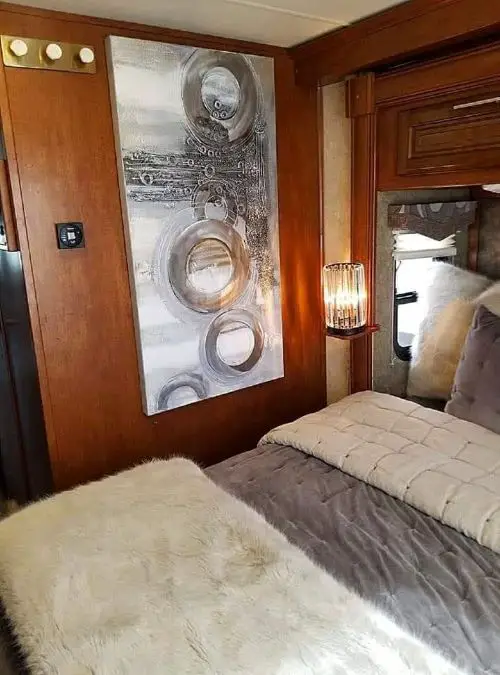 Install a Stick On Backsplash 
Another easy and affordable way to make your RV look nicer is to add a stick-on backsplash. You can add it behind the kitchen sink or the bathroom sink. One member of the Cool RV Stuff Facebook group even added stick-on tile around the fireplace and it looks fabulous. See below for the finished product.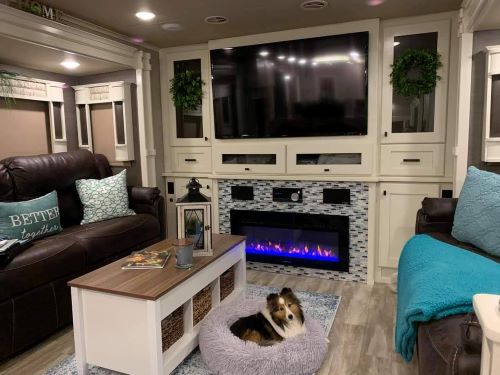 Try Peel and Stick Shiplap 
Why stop with a backsplash. Peel and stick shiplap is another affordable way to spruce up your RV. It comes in a variety of colors to fit with any color scheme you've got going on.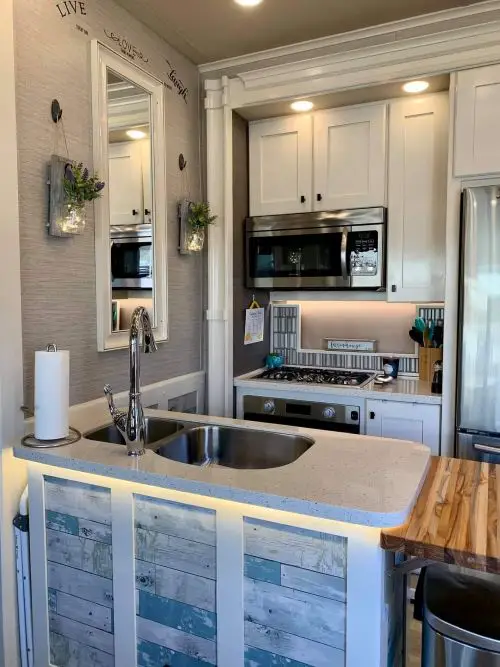 Get a Fun Interior Rug 
You can make your RV look much more inviting with another simple upgrade. Adding an area rug or a runner can bring some personality to your RV. Best of all, adding a rug is a cheap way to make yourself more at home. 


Put Throw Pillows on the Couch 
Throw pillows are one of the easiest and cheapest ways to make your RV look nicer. There are so many options. Best of all, you don't have to settle for just one. You can add as many as you like or rotate through the pillowcase to keep things fresh. 
Give Wall Decals a Try 
Wall decals can add a splash of personality. You can pick an already designed wall decal or get one custom-made. 


Paint Your Cabinets 
If you're feeling brave and have some time on your hands, painting your cabinets is another way to make your RV look fancier. This project isn't for the faint of heart. It will take time and effort. However, paint is pretty cheap and can give your RV an all-new look. Even painting just your handles can make for an upgraded look.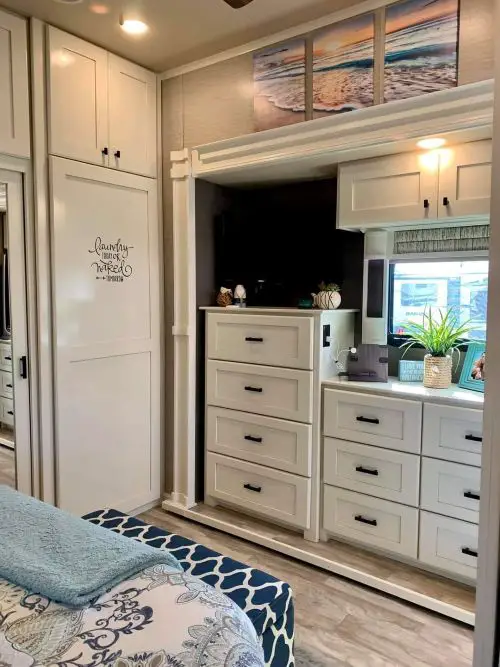 Pick an Accent Color 
To make your RV classy and cohesive throughout, try picking an accent color. You can use it for your towels, rugs, blankets, bin and so on. You'll have to purchase most of these things anyway, but having an accent color can make your RV look so much nicer.


Put a Plant Out 
One final affordable way to make your RV look nicer is to get a house plant…. er… RV plant. Having a little potted plant brings some life to your RV (literally). If you don't have a green thumb, you can't go wrong with a succulent.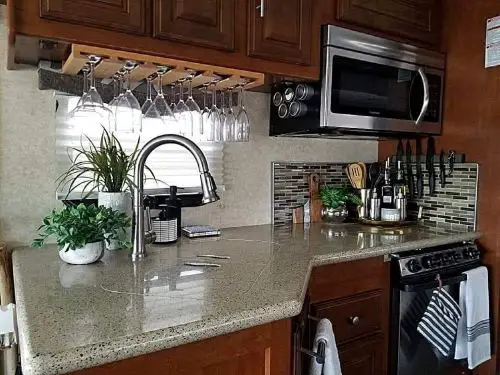 What other affordable decor ideas do you have? Drop a picture in the comments.
 Facebook Comments
One moment, please. If the comments fail to load, FB may have been too slow responding so try reloading.