Some of the links listed on this page are affiliate links. This means that, at zero cost to you, we will earn an affiliate commission from the vendor if you click through the link and finalize a purchase. We strive to always keep all our content free to the reader. Thanks.
As of 2023, campers with generators are becoming increasingly popular! Gone are the days of worrying about electricity when you're out in the great outdoors. With a generator on board, campers can now enjoy longer trips and stay tuned-in with all the comforts of home.


Whether you're looking for overnight stays or extended trips, a generator can power all the conveniences of your camper. That way you don't miss out on any of the fun. From TVs, microwaves, and lights to your stovetop or refrigerator, a generator can help keep you connected while you explore.


Joel and I have used our generator to visit some pretty incredible places that don't have power hookups. Without a generator we wouldn't be able to travel nearly as freely. That's why I recommend every RVer have a generator or solar panels (or both like us).


With the right setup, you'll be camping in style and comfort. So if you're looking to take your RVing experience to the next level, look no further. Consider getting one of these campers with generators in 2023! 


Bigfoot 2500

One camper with a generator is the Bigfoot 2500 RV. The Bigfoot 2500 RV campers with generators are an excellent option for campers looking to make their next road trip an enjoyable and comfortable one. They have a variety of options. You can choose between either truck top or towable versions that come in 17 or 25 feet sizes. 


The Bigfoot 2500 travel trailers have a dry weight ranging from 3,170 pounds up to 5,500 pounds. They sleep 2-4 people comfortably. These campers include features such as electric jacks for easy setup and teardown and plenty of room to sleep. Pre-wired solar energy capabilities also let you use either agenerator or solar power depending on the situation. You'll still be able to use shore power for camping in comfort at RV parks as well.


Forest River XLR Boost Campers with Generators 
The Forest River XLR Boost campers provide a great way to camp in style and comfort. These campers come in either travel trailer or fifth wheel versions. They range from 26 to 39 feet long, giving you plenty of room for your family and friends. With 27 floor plans available, you can choose the perfect one that fits your needs.

The campers also include 15k BTU air conditioner, full kitchen, residential-size walk-in shower, power awning and more making it easy to enjoy all the comforts of home while camping out in nature. Additionally, with an optional built-in 4.5 or 5.5 Yamaha generator add-on you will have access to electricity wherever you go!




Forest River XLR Hyperlite 2513 Campers with Generator
Many RVers are excited about campers with generators these days, especially the Forest River XLR Hyperlite 2513. It was recently awarded the "Travel Trailer Toy Hauler of the Year" from RV News – how cool is that? At just under 30 feet long, it has plenty of space for a designated bedroom. It also has a queen bed, full kitchen, bathroom, seating area and electric fireplace. 


Plus, the toy hauler garage even doubles as an outdoor living area with a patio deck that folds down. Finally, to top it off, this campers comes with a 5.5 Yamaha generator. That means you can camp off grid anywhere you would like to go. In fact, the smaller size of this toy hauler makes it easier to take on the back roads and get to some pretty remote locations. 




Keystone Fuzion Impact Edition Campers with Generator 
The Keystone Fuzion Impact Edition campers with generators are the perfect choice for anyone looking for a luxurious camp experience. These campers come in four different floor plans, ranging from 39 to 44 feet long. This gives you plenty of room to store all your gear and enjoy spacious living. 


The Keystone Fuzion Impact Edition campers offer a king-sized bed, an oversized shower in the full bath, and even an additional half bath in the garage. Plus, they come equipped with either an Onan 4000-watt gasoline generator or an Onan 5500-watt gasoline generator. They also have the option to upgrade to up 600 watts of solar power which is great for environmentally conscious RVers. 

Joel and I have a camper with a generator and solar panels. Being able to have a quiet experience when boondocking is fantastic. However, we still like to have our generator as a backup for cloudy days. Having both options is a no brainer for any avid RVer.


Keystone Alpine
Here is another Keystone camper to make the list. Keystone Alpine fifth wheels are the ultimate campers for those who like to explore off the beaten path. With high ceilings and frameless windows, they offer a spacious and residential feel that's perfect for adventures. Not only that, but they come with an optional 5,550 watt Cummins Onan LP gas generator so you can easily camp off-grid! You can even add up to 600 watts of solar power.


For campers who want some luxury, they have 10 floor plans ranging from 35 to 41 feet long. There are features like king-sized beds, residential fridges, dual air conditioners and stainless steel appliances. So if you're looking for campers with generators that offer a luxurious experience too, the Keystone Alpine fifth wheels are a solid choice. 


KZ Sportster Campers with Generators 
The KZ Sportster campers are a splendid choice for those looking for the perfect blend of luxury and convenience. With six floor plans to choose from, these campers can sleep up to eight people comfortably. Key features include the climate package with insulated, heated, and enclosed underbelly, 4.0 or 5.5 kW generator options, and generator prep with a 30-gallon fuel tank. 


For those who want even more power on their camping trips, an upgrade option of up to 2200 watts of solar power is available as well. Whether you're just getting started in your camping journey or are a seasoned camper looking for the ultimate camp experience, the KZ Sportster campers with generators have something for everyone!


Northwood Artic Fox North Fork Travel Trailers with Generators
The Northwood Artic Fox North Fork campers are designed for those who want a home away from home. These campers come with several options, including 7 floor plans ranging from 22 to 32 feet. They come with the option of being generator ready or having an onboard 3.6 Onan LP generator. Joel and I have an Onan generator on our motorhome and it has been going strong for many years now.


If you're a camper looking to do some boondocking in peace, you can also have up to several hundred watts of solar. That way you'll have a renewable source of power while off-grid camping. With these features, the Northwood Artic Fox North Fork campers are perfect for adventurer. You'll get the comforts of home without sacrificing convenience and freedom in the wild.
 

Northwood Arctic Fox Grande Ronde Campers with Generators Built In
The Northwood Artic Fox Grande Ronde is another fifth wheel from the Northwood brand. These campers are perfect for RVers who want a generator ready camper to hit the road. They come with either a 3.6 or 5.5 Onan LP generator, so you can make sure you have all the electricity your heart desires. And if that's not enough, they offer optional solar panel upgrades so you can camp off-grid. Plus, they have a certified off-road chassis. This means you can camp more places than you could with a less capable rig. 


Inside there's and extra large fridge, solid countertops, stainless steel appliances and a spacious bedroom. These campers sleep 3-4 people, so camping with the whole family is easy. Basically, it's the perfect camper to ensure you have a great time on any camping trip. 


Northwood Wolf Creek 850
The Northwood Wolf Creek 850 truck top camper is the perfect small camper with a generator. With an optional 2.5 Onan generator, you can enjoy off-grid adventures. You'll never have to worry since you'll have a reliable source of power for all your needs. 


You don't need to worry about its size either; it's compact nature and small weight of 2008 pounds doesn't compromise on comfort. It can sleep up to four campers, although it may be tight for that many people. But don't worry, it still has all the essentials you need such as a bathroom, kitchenette, dinette and bed. 
Northwood Nash 17K Campers with Generators
Northwood is apparently very passionate about helping RVers get out there and explore outside the confines of an RV park. Full hookups may be a thing of the past if you get the Northwood Nash 17K. The Northwood Nash 17K is an ideal campers-with-generators choice for anyone looking to hit the road in style and comfort.


At just 17 feet long, it's a perfect size for couples or families with one or two small children. It features a 60″ x 80″ bed, full bathroom, and a fully equipped kitchenette – including all the necessities for camp cooking. If you prefer you can also cook outdoors with one of these good old-fashioned campfire cooking kits.


Plus, it comes generator ready. With the option to upgrade to a 2.5 Onan Generator, you can rest assured that your camp setup will have all the power you need. (The only thing it can't do is the air conditioner although you could install a SoftStart). It's simple, efficient and stylish – what more could you ask for? As I mentioned earlier, the Onan generator we have in our camper is reliable and easy to operate. It gives us all the power we could need with just the push of a button.


CrossRoads Redwood Campers With Generators 
The CrossRoads Redwood campers with generators are the ultimate luxury campers! They come with eight different floor plans ranging from 36.5 feet to 45 feet. These campers with generators have a 5.5 Onan LP generator, water softener, on demand water heater, and electric theater seating with built-in massager. 


Since I have personally used an Onan 5.5 generator (mine is gas), I can say that they are a quality product. You won't have any trouble running your air conditioner with that bad boy.


This camper also comes with residential luxuries such as appliances, carpeting, storage, and more. I love that you don't have to sacrifice luxury for functionality with campers like these! Plus, it's a great way to camp in style even off-grid without having to worry about your power needs. 


CrossRoads Redwood campers are perfect for RVers who want the highest quality and most luxurious camping experience. 


DRV Mobile Suites
The DRV Mobile Suites fifth wheel campers are truly luxurious and perfect for campers who want the convenience of having a generator. These campers come in a variety of floor plans that can sleep anywhere from 3 to 4 people. They are ideal for small families or groups of friends. 


Not only that, but they are made with quality materials that make them last longer and withstand full-time use. With so many campers with subpar workmanship, campers should always prioritize quality when picking out their RV. Each floor plan also has the option to add an Onan 5,500 Marquis Gold generator so campers can enjoy all the comforts of home even when they're roughing it outdoors.


Although considering how much we love our Onan generator, I would hardly consider boondocking to be roughing it. It's basically like having a house on wheels if you ask me.
Jayco North Point Fifth Wheels With Generators
Jayco North Point fifth wheels are the ultimate campers for luxury and convenience. Whether you're planning a weekend camping trip or an extended stay, these campers have everything you need to make your stay comfortable. They come with generators, so you can enjoy all the comforts of home while still being able to get off the grid. The 5,500W Onan Microquiet generator is perfect for powering your campers and keeping you comfortable. 


They are also ready for solar power for even more off-grid flexibility. And with six floor plans, they sleep from 5 to 10 people depending on the size. This will give you plenty of space to spread out and relax. Plus, they come standard with all the extras like an air conditioner in the main area and bedroom, a 40,000 BTU furnace for cold weather camping, a residential walk-in shower, and more. 


So if you're looking for the perfect camper with generators to take your camping up a notch, the Jayco North Point Fifth Wheels are it. 


Pros of Campers Generators in 2023
Having campers with generators built in is beneficial for many reasons. For starters, the generator is already built into the camper and ready to go. No need for set up or take down before or after your trip. And, you'll never forget it! You also won't have to worry about someone stealing your onboard generator like you would with a portable generator. 


 Plus, having an onboard generator can often be more powerful than a stand-alone unit. Most of them are powerful enough to run the air conditioning, which is a huge plus. Some campers even allow you to run the generator while driving. This is especially helpful for running your fridge (if needed) or keeping your rig cool in warm climates.


Joel and I have had several cross country trips in our Class A motorhome. We have run the generator to keep the RV cold during travel. Without it we were absolutely melting.


On top of that, campers with generators are often incredibly easy to operate.  All in all, campers with generators that are built in are a great way to make life on the road a little bit easier! 



Joel and I have an onbaord Onan 5500 Marquis Gold generator in our Class A motorhome. Our rig is a lot bigger than some campers with generators which is why we need the extra power. But the convenience of being able to go anywhere we want to regardless of having hookups is fantastic.



Just check out this amazing spot we were able to boondock at recently. Although we also have solar panels on our RV, it was pretty cloudy when we were at this spot. Without a generator we would have had to pack up shop and miss out on these stunning views.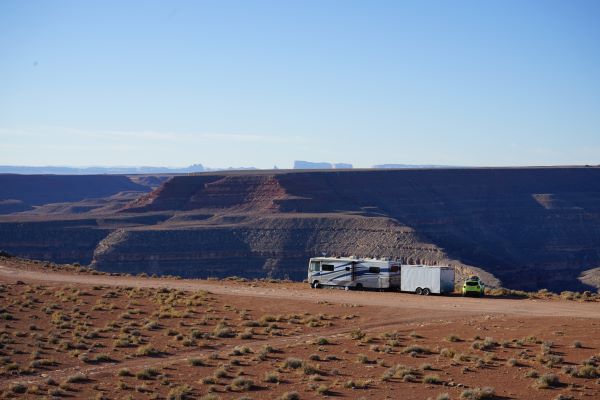 Cons of Campers with Generators Built-In 
Campers with generators come at an added cost. Not only does it increase the initial price of the RV, but maintenance can also be more expensive. This is especially true if you don't know how to take care of it yourself. You may have to take your whole RV to the shop or have an RV tech come to your campsite if something stops working. 


Like any generator, onboard generators need oil changes and other maintenance to work properly. Another drawback is that you can't use it for anything besides RVing since it is built in. So if you ever wanted to use your generator for something else, this isn't the way to go. 


Lastly, campers with generators can be quite loud — but stand-alone units can be too. One major draw of a portable generator is that you can move it further away from the RV or position it somewhere the noise will be less bothersome. 


Another thing to consider is not having too big of a generator. Joel and I use our built-in generator when we are camping in the summer. However, when we don't need to run the AC units, we usually use a much smaller portable generator. That's because the larger the generator the louder it is and the more gas it uses.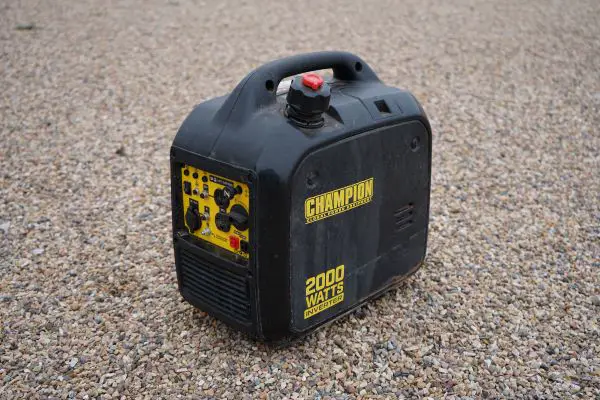 Frequently Asked Questions About Campers with Generators 
Using a camper with a generator is a great way to enjoy the RV lifestyle while on the go. But, like any RV system, generators need to be used with care and caution. In the next section, you'll find answers to some of the most common questions about RV generators and how to safely use them.


From how altitude impacts generator functioning to understanding how long you can run a generator. If you have any questions about campers with generators – this is the place to find the answers! So let's get started! 


How Long Can I Run My Camper Generator?
The answer to the question, "How long can I run my camper generator?" depends on your camper, power use, and your generator. Generally, you should be able to run a generator for around 6 to 16 hours at a time. Some camper generators can even run for up to 24 hours or longer if properly maintained. As long as you keep refilling the generator so you don't run out of fuel, you can continue to run it. 


However, there are a few things you should keep in mind before running your camper generator for an extended period. Make sure that the engine is properly tuned and maintained so it runs efficiently, as well as having enough oil and fuel to last the duration of use. Additionally, the generator should be in a well-ventilated area so that it doesn't overheat.


Make sure you never run it close to obstructions. Once when we were running our generator at my in-laws driveway our carbon monixide detector went off. Turns out it was because of where our RV was positioned. So also, if you don't have a carbon monixide, I absolutely recommend it. It could save your life!


By taking these precautions and understanding your camper's model and specs, you can get a better idea of how long you can expect to run your camper generator. With the right camper generator, you can enjoy hours of uninterrupted power and energy wherever your camper takes you!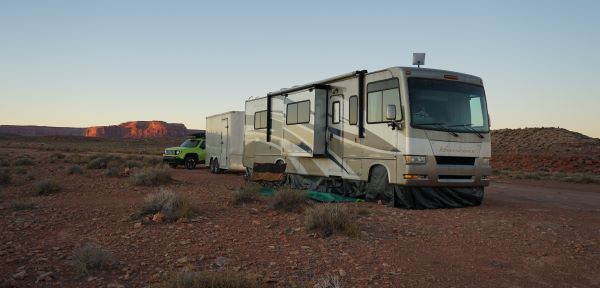 What to Do If RV Generator Won't Start?
If your portable or onboard RV generator won't start, the first step is to check the fuel filter. A clogged or dirty RV generator fuel filter can prevent it from running. Make sure that you replace the fuel filter regularly to prevent it from becoming clogged or dirty.


Another common cause of the RV generator not starting is a bad spark plug (or glow plug if you have a diesel generator). RV generators use spark plugs to ignite the fuel and keep the RV generator running. So, if the spark plug is worn or damaged, it won't be able to ignite the fuel properly. Check your RV generator's spark plug regularly and replace it when necessary.


If these two issues are not the cause, it could be a problem with RV generator's carburetor if you have a gasoline-powered portable generator. Check the RV generator's carburetor for dirt or debris and clean it out if needed. If cleaning doesn't solve the issue, you may need to replace the carburetor entirely.


If all else fails and the RV generator won't start, it could be an electrical issue. Check the wiring for damage and make sure that all the wires are securely connected. If everything looks alright, then you may need to take your RV generator to a professional mechanic for servicing.


No matter the RV generator problem, always take safety precautions and never attempt repairs without proper knowledge or experience. If you're not comfortable working on the RV generator yourself, the best option is to consult a professional RV mechanic for help.


Do I Need to Open The Generator Compartment Door During Use?
It depends on the RV generator you're using. Most RV generators will run just fine with the compartment door closed. Joel and I have never had an issue running ours with the compartment closed. However it's always a good idea to check your owner's manual for specific instructions. If the manual specifies that the compartment door should be open during use, then follow those guidelines. This will ensure optimal performance and safety. 


It may also be worth mentioning that you should always use RV generators outdoors to ensure proper ventilation. Additionally, it's important to keep the RV generator compartment clean and free of any material that may block the flow of air or cause a fire hazard. If your onboard generator seems to overheat, open the compartment door for good measure.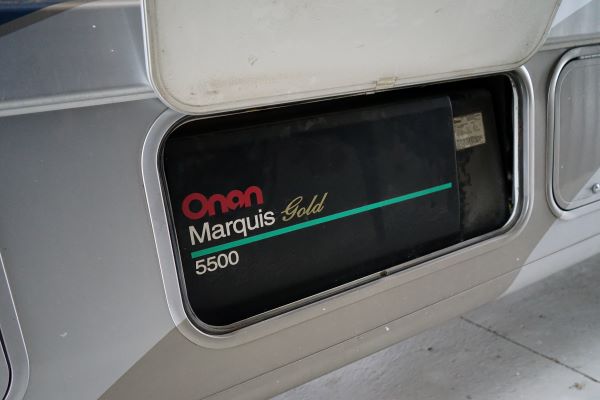 How Do I Start a Built-In Generator? 
Starting your built-in RV generator is surprisingly easy! All you need to do is follow a few simple steps.


1. If you have a camper with a generator built in, you might need to prime it first. Do this by pressing the "prime" switch. One some models you may instead hold down on the stop button for a few seconds. 


2. Locate the built-in RV generator start switch and hold it down for a few seconds. When you hear the generator kick on you can release the switch.  


3. Wait a few minutes to run appliances. Joel and I always wait to run anything until we hear the "beep" of the microwave turning on. After that, we know our power is up and running and we are good to go.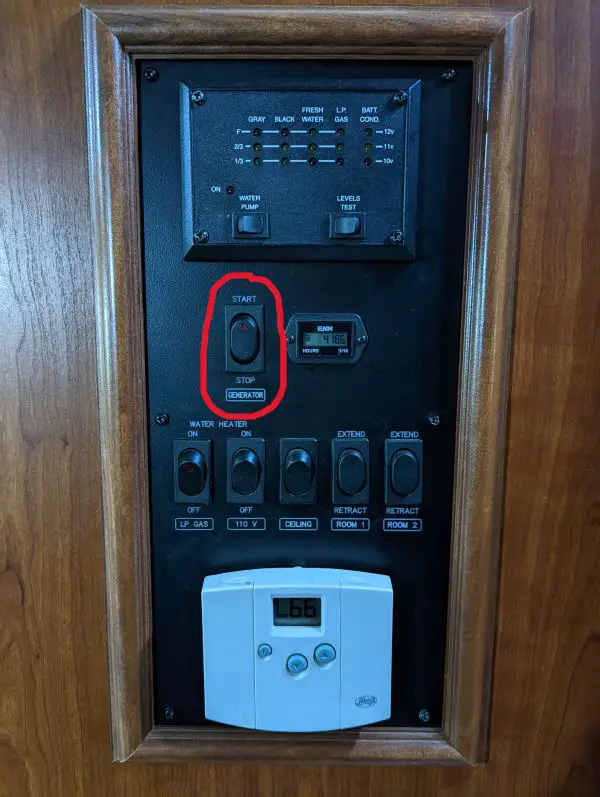 Does a Generator Charge the RV Batteries?
Yes, RV generators can charge RV batteries. Generators typically require a transfer switch to activate the RV's electric system and link it to the generator. When running, the generator can then supply power to not just appliances and lights in the RV but also its battery charging circuits. This allows the genrator to charge RV batteries.


There are also many things you can run on your 12-volt system even without a generator. For example, you can typically use the lights and water pump. Some RVs also have built-in USB charging ports so you can charge your phone without having to turn on the RV generator. 


Many RV fridges can also run off propane rather than electricity. This comes in handy for making overnight stops. If all you are doing is stopping to sleep, chances are you don't need a lot of power. Flipping your fridge to run on propane can keep your food cold without having to run a generator all night long. Not only is this more efficient, but it is also nicer for you and everyone around you. Typically, running a generator all night at an overnight parking lot is considered poor etiquette.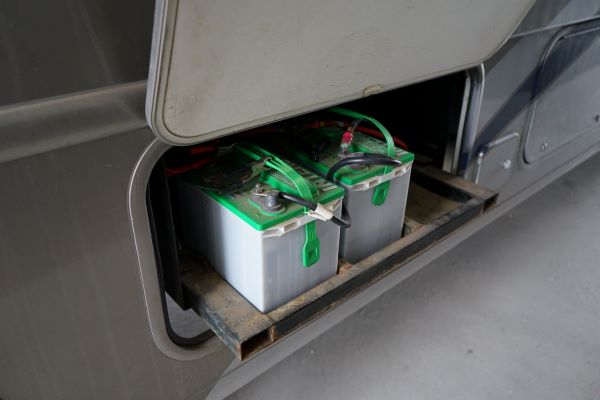 Are Built-in Generators Loud?
Campers with generators built in can be loud, but in my experience aren't much louder than similarly sized standalone generators. However, for a truly peaceful off-grid camping trip, solar is the only option. There are lots of ways to get started with solar power, many of which are much easier than they were in the past. 


Are Generators More Common in Toy Haulers?
Generators are actually most common in motorhomes. That's because motorhomes are often considered one of the most luxurious kinds of RVs. However, toy haulers often appeal to the crowd that likes to get out and explore the backcountry trails on their toys. So it is unsurprising that many toy haulers include a generator or are at least prepped for a generator. 


Do All Campers Have Generators?
No. Not all campers have generators. That's why if you are looking specifically for campers with generators you need to do your research beforehand. If you aren't sure if the camper you are interested in has a generator, just ask the dealer or the seller. They should be able to tell you and also show you how to operate the onboard generator. But even if your preferred camper doesn't have a generator, remember, using a portable RV generator is easy. 


Why Do Travel Trailers Not Have Generators? 
Travel trailers, campers, and other recreational vehicles are a great way to explore the outdoors while still keeping all of your amenities. However, not all campers come with generators. If you're looking for a camper that comes equipped with a generator, you may have to look at different manufacturers or models. The ones I covered above are a fantastic place to start.


Generators can be very useful for powering lights, kitchen appliances, and even air conditioners. However, they are not a necessity in all campers and can add extra weight and cost. That's because most people camp primarily at RV parks or campgrounds with hookups. When hookups are available, they provide a quieter source of power than generators. Shore power can also support higher electrical loads such as running multiple air conditioners. 


How Much Do RV Generators Cost in 2023?
If you're wondering how much RV generators cost in 2023, the answer varies. There are many factors and types of generators for campers. Depending on how much power you need and what type of generator you choose, you could pay anywhere from several hundred dollars to many thousands of dollars. 


Campers with generators onboard will typically have a higher purchase price to account for the generator. However, if you need to replace your onboard generator, expect to pay a lot. The cost of the unit alone for this Cummins Onan 3,600-watt onboard generator costs over $5,000 in 2023. Not to mention the cost of installation since you'll like need to pay a professional to set it up.


If your onboard generator goes out, you might be better off buying a portable generator since you can get the same amount of power for a much lower price tag. No installation needed. 


So are Campers with Generators in 2023 Worth It?
Campers with generators in 2023 are absolutely worth it for some RVers. If you want to enjoy boondocking in your RV, then having either an onboard generator or a portable generator is absolutely worth it. Just check out this photo of another place Joel and I boondocked this fall if you don't believe me. We were right outside Moab camping for free with only a few other people around. This would never have been possible without our generator (and solar panels).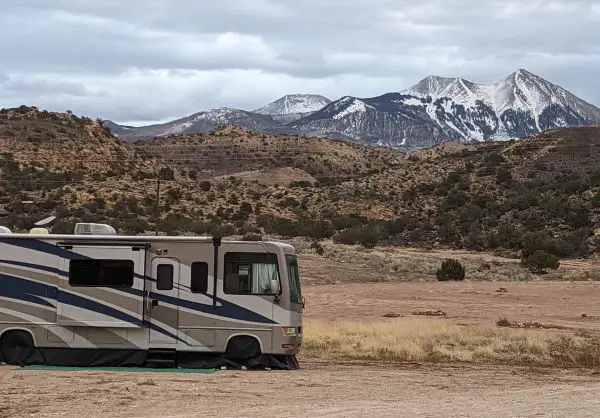 Campers with generators provide a convenient way to stay powered no matter where you may roam. . Knowing which camper and generator is best suited for your individual needs will help ensure that you have a safe and enjoyable trip each time you take off in your rig. Soon you'll be able to stay in some of the most beautiful places imaginable.
 Facebook Comments
One moment, please. If the comments fail to load, FB may have been too slow responding so try reloading.