Some of the links listed on this page are affiliate links. This means that, at zero cost to you, we will earn an affiliate commission from the vendor if you click through the link and finalize a purchase. We strive to always keep all our content free to the reader. Thanks.
All pet parents know pets are more than just animals. They are part of the family. As much as you may want to bring them along on all your RV adventures, there are times you can't. Not all places you want to visit are pet-friendly, which means your furry friend may be stuck behind in the RV. 


If your pet is well behaved, you don't have to worry about them disrupting the rest of the campground. There still is one major concern, though. Temperature. Temperatures that are too high or too low can be life threatening for pets.


 An RV can heat up quickly in the summer. That's why I highly recommend an RV temperature monitor and a camera. They will let you monitor your pet from afar and many options even give you real-time updates. 


Just make sure you stay close enough to your RV that if trouble strikes, you can get back in time. Or in the worst-case scenario, prepare to call the RV park and ask them to save your pet if you can't. 


Keep reading to learn about some options for camera systems, temperature monitors, and two-in-one systems. After all, no one wants a sad pet!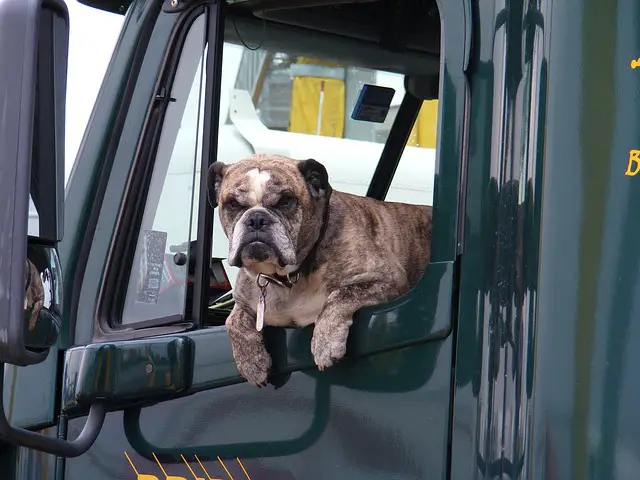 RV Temperature Monitors
One of the most important ways to keep your pet safe (and comfortable) on the road is with an RV temperature monitor. You'll get immediate updates if temperatures reach a certain threshold. That way you'll have time to rush back to the RV in case it gets too hot or the power goes out. 


Some RVs can even be set to turn on the generator to keep the AC running in case of a power outage. 


Waggle RV Temperature Monitor
One of the most popular RV temperature monitors out there is Waggle. The creators designed it specifically with RVs and pets in mind. Waggle is a wireless temperature monitoring system with a built-in rechargeable battery. It is also equipped with its own 4G Verizon cellular coverage. This means you don't have to worry about having Wi-Fi or a hotspot at the RV to receive notifications. 


NOTE: Great news! We were able to contact Waggle directly and get a discount for all our readers. If you use our links to Waggle, the best current discount will be applied. (40% off at the time of writing this.)


Waggle monitors temperature and humidity and sends instant updates to your smartphone. Because it has a built-in cellular connection, you'll have to pay a fee for ongoing use. They offer monthly, quarterly, or yearly plans. There is even an option with GPS tracking included in case your RV is ever stolen. 


According to the Waggle website, as of this writing, they expect prices to increase soon due to the global chip shortage. So if you're searching for a pet temperature monitor, now is the best time to get one. 


MarCELL RV Temperature Monitor
Another popular temperature and humidity monitoring system is MarCELL. Similar to Waggle, MarCELL provides real-time monitoring using its integrated Verizon coverage with a monthly fee. 


You have the option to receive instant alerts via text, email, or phone call. It includes a power plug to plug into the outlet and a battery backup so you'll continue to receive updates in the event of a power outage. 


Govee Temperature and Humidity Monitor
If you prefer to use your existing Wi-Fi or hotspot connection rather than pay an additional monthly fee, Govee temperature monitors are a fantastic choice. Best of all, the monitor itself is much cheaper than any of the other options.


Joel and I have the Govee for our RV and have been pleased with it. The initial internet pairing can be a bit of a pain but once it is set up, you're done. We receive instant notifications if the temperature or humidity goes outside our set threshold. It is battery operated so if the power goes out we will continue to receive notifications. 


It definitely takes the stress out of RVing with pets.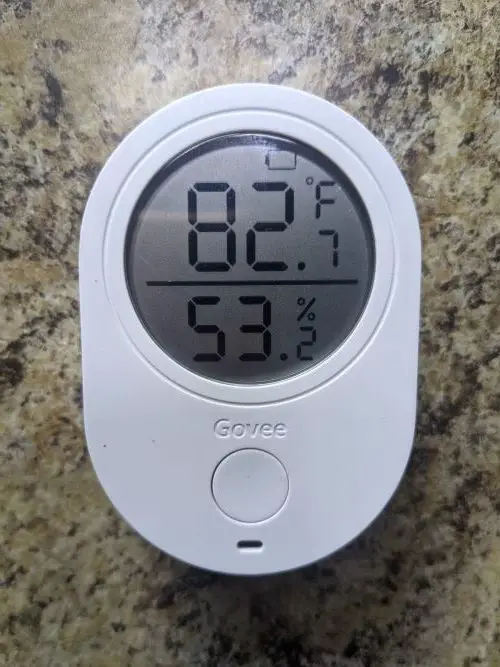 RV Cameras to Monitor Your Pets
There are tons of cameras to choose from for monitoring your pets. I'm not going to lie. Sometimes we like to spy on our pup, Luna, just to see what she is up to. It also helps to add a bit of extra security when we're away from home. 


If you choose just a camera, you can place a thermometer in view of the camera to let you see the temperature. The problem is, if you don't check your camera regularly, the temperature could rise quickly in a short amount of time. And time is critical when it comes to a hot RV.


We use a camera and a separate temperature monitor. The reason we opted for the two separate systems was that it was more affordable than a two-in-one system. After buying all the startup supplies for our RV, saving some money, and getting the job done worked well for us. 


While it isn't possible to review all the cameras and temperature monitors out there, I've rounded up some of the top choices among RVers. If you have a favorite I missed, feel free to leave a comment with your choice. 


Wyze
Joel and I use the Wyze Cam Pan camera. It is simple to set up and use as long as you have a Wi-Fi or hotspot connection to leave behind. We have a Jetpack that stays at home so we don't have to rely on spotty park Wi-Fi but as long as the connection isn't horrible, it should work. 


The Wyze camera has night vision, motion detection, and will send you alerts regarding motion and sound. It also captures a brief clip (about 12 seconds) of any audio or motion recording for free. Simply connect the Wi-Fi plug it into your outlet and you can monitor from the Wyze app on your smartphone. 


You can also use the Wyze camera to talk to your pets. Just in case they decide to jump up on your table while you're away. Not that I'm speaking from experience….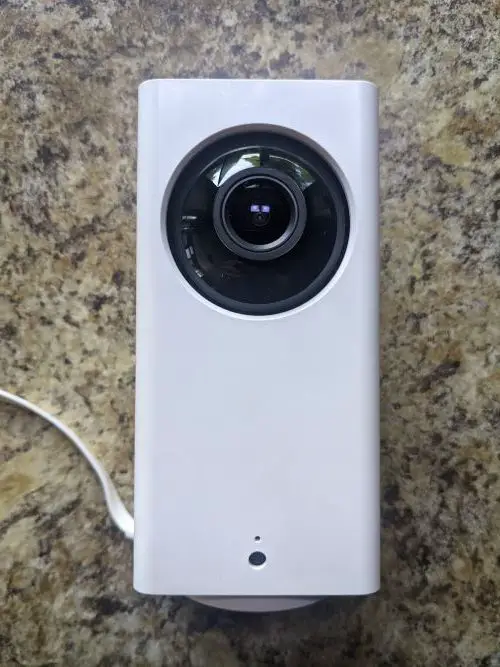 Ring RV Camera
Ring is popular for use at home, but it's not just for doorbells. Many RVers like to add extra security on the road as well. It also serves as a great pet spy cam. Ring offers many indoor and outdoor cameras that are perfect for RVs. 


They require a Wi-Fi connection but provide real-time monitoring and two-way audio. If you want to add a protection plan for an additional fee, Ring will also record all the videos it captures. There are both battery-operated cameras and cameras you plug into an outlet. 


Furbo Pet Camera
Add some extra fun to your pet monitoring with the Furbo camera and treat dispenser. This pet camera is a more expensive option, but your pet will really appreciate the treats while you're gone. Furbo has wide-angle HD video with night vision and two-way audio so you can tell your pet how good they are. 


You'll need to plug the camera in and connect to Wi-Fi to use it. If your dog is a barker Furbo may be a smart choice. That's because it has a bark sensor and notifies you if Fido is getting a little too loud. 


Two-in-One RV Temperature Monitors and Cameras 
If you want to skip the hassle of extra devices, purchasing a two-in-one camera and temperature monitor for your pet is the way to go. 


Blink Security Camera
The Blink Security Camera is one of the best options for an RV temperature monitor and camera all in one. The Blink Mini does NOT have temperature monitoring. It is just a camera. If you're looking for temperature monitoring, you'll need to choose another option within the Blink lineup. With all the other cameras, you can set your own temperature thresholds for high and low temps and get notifications if needed. 


Blink cameras are wireless and battery-operated. Subscription plans allow you to save video but you can also use it free for live monitoring if you just want to check in on your pet. You will receive motion and audio alerts and can use the camera to talk to your pets through the smartphone app. 


Canary Security System
The Canary Security System offers indoor and outdoor cameras. Only the Canary Pro models offer temperature monitoring while all models provide live video included with the camera itself. If you want to upgrade to include two-way audio and other features, you must pay a monthly subscription fee. 


It wasn't clear whether the temperature monitoring is included with the camera or if you have to upgrade to a subscription for this feature. It also doesn't indicate whether you can receive temperature alerts or set desired temperature ranges. This makes it less desirable than the Blink system in my opinion. 


Do you have an RV temperature monitor or camera for your pet? Which model do you like best?
 Facebook Comments
One moment, please. If the comments fail to load, FB may have been too slow responding so try reloading.