Some of the links listed on this page are affiliate links. This means that, at zero cost to you, we will earn an affiliate commission from the vendor if you click through the link and finalize a purchase. We strive to always keep all our content free to the reader. Thanks.
RVing brings us to plenty of new and amazing places. The problem with them being new is that you never know just quite what you're going to get. Ending up at a subpar RV park is less than ideal. However, an even great concern is water quality. Keep reading to learn about RV water filters and find out if you really need one. 


Is an RV Water Filter Really Necessary?
Technically, RV water filters isn't necessary. You can get water into your RV without it. However, most RVers highly recommend them, myself included. The reason is that you know nothing about water quality when you roll up to an RV park. Drinking contaminated water can cause both short and long-term health problems. 


After seeing water that looked almost like mud coming out of the spigot at one of our sites, I can't imagine not having a filter. There are lots of RV water filter options to choose from and they all have different pros and cons. 


What is an Inline Water Filter 
An inline water filter is hooked up to your drinking water hose outside your RV. This means it filters all the water coming into your RV. Many people prefer this type of water filtration system because it is simple to use. Just screw it onto your hose and you're ready. It is also the most affordable RV water filter type available but doesn't offer as much filtration as some other options. 


There are differing opinions on where you should hook up your inline filter. At the RV or at the spigot. Some people say hooking it up at the RV is best. The rationale is that if your hose sits in the sun all day, there is potential for bacteria, mold, or algae to form in it. If you filter at the RV, you get all this out before it enters your rig. 


One way to prevent this issue in the first place is to take proper care of your water hose. Store it in a clean place and try to get as much water out as possible before doing so. Some RVers screw the two ends together to prevent dirt or debris from entering the hose when it is in storage. You can also store it in a hose caddy. 


You should also NEVER store your freshwater hose in the same compartment as your sewer hose (for hopefully obvious reasons). 


The people who prefer to hook up at the spigot do so because then they don't have additional weight hanging on the RV water inlet. The rationale is that this weight could potentially cause damage over the life of the RV. 


According to most inline water filter manufacturers, you can do either. 


Best Inline RV Water Filter
Most RVers use the Camco TastePURE inline RV water filters including Joel and me. It is easy to use and provides protection against multiple contaminants. They also last a long time depending on the quality of the water you are using.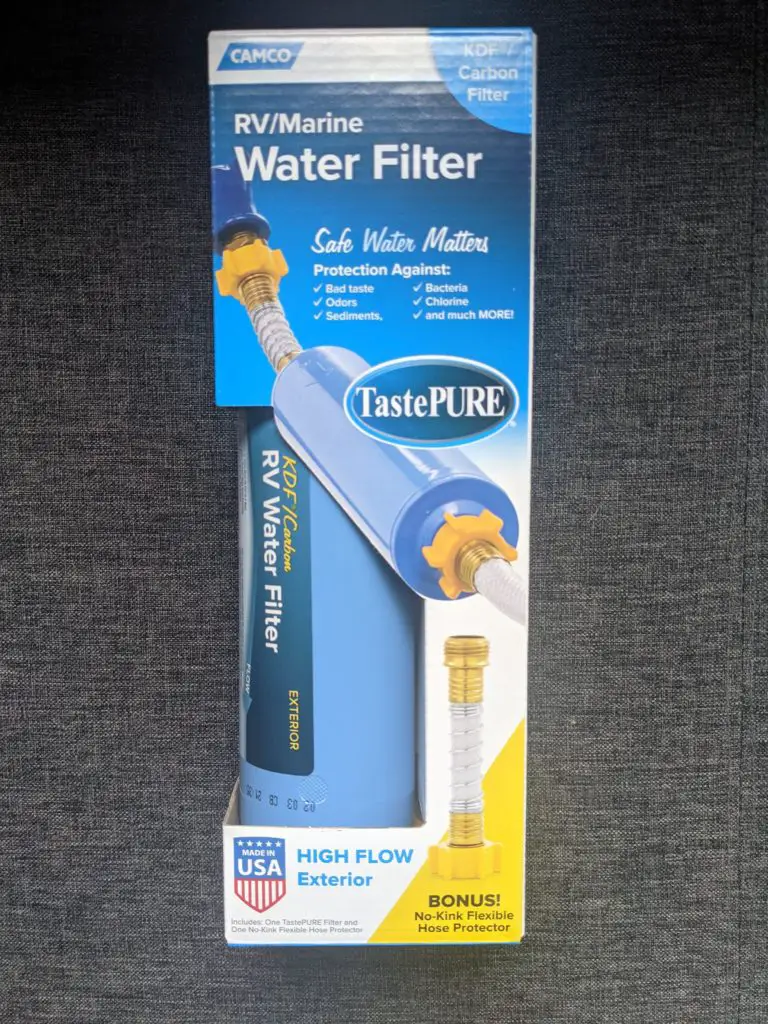 What is a Canister RV Water Filter
Line traditional inline water filters, canister water filters also filter all the water entering your rig. One major difference is that canisters typically provide superior filtration. You can choose to use one, two, or three canisters. 


Having the flexibility to use more canisters for filtering out different contaminants is appealing to some RVers. The major downside is that they are more expensive and larger. It is a classic case of, "you get what you pay for". 


Best Canister RV Water Filters
The winner for the best canister filter is Clearsource. It gets a 4.8 out of 5 stars on Amazon which is practically unheard of. They stand out above the crowd for quality and filtration. Another good option is the Camco Taste PURE canister system. 
What is a Gravity-Fed Water Filter
With gravity-fed RV water filters, you simply pour water in the top and gravity does the work. As the water flows down and through the filter, it is cleaned and ready for drinking. With this type of filter, you will only be filtering your drinking water rather than everything entering the RV. Some people like a gravity-fed option to conserve electricity such as when you are boondocking. 


Best Gravity Fed-RV Water Filter
The most popular choice for a gravity-fed RV water filter is a Berkey. They come in various sizes with the Travel Berkey being a popular choice for RVers. They also look classy sitting on your countertop. 


There are other options out there, but most of them are more geared towards tent camping. You could also opt for something like a Brita pitcher but you can't filter nearly as much water at once with this option. 


What is a UV Light Water Filter?
If you want the best filtration there is for your drinking water, a UV light filter is the way to go. Most UV light water filters filter out over 99.99% of contaminants. This level of filtration makes them much more effective than other filter options. 


You'll have to install a UV light water filter inside your RV and it only filters drinking water, not everything coming into the rig. The only downsides I see are that they are expensive and require installation. 


Best UV Light RV Water Filter 
The product most RVers recommend is the Acuva water purifier. I'm going, to be honest here, this RV water filter is extremely expensive. However, it offers 99.9999% filtration and filters up to 900,000 liters. So while the upfront costs are huge, it might end up saving you money in the long run. I'm going to stick with my cheap inline filter but to each their own!


Do you use an RV water filter? Which one do you think is best?
 Facebook Comments
One moment, please. If the comments fail to load, FB may have been too slow responding so try reloading.